In this modern era, convenience is a top priority for consumers. People want flexible payment options that help them manage their expenses without compromising their lifestyle. One such solution that is gaining popularity is AfterPay. And yes, even though there are apps like Afterpay, it really is the best.
AfterPay is a buy now, pay later service that allows customers to shop and pay in four interest-free installments.
Every day more and more merchants are joining and accepting this payment method to purchase their products and services, offering you a perfect alternative to purchase everything you need at the time you need it.
Such is the case of Walmarts which accept Afterpay, and all the furniture stores that also accept this payment method.
AfterPay Stores
AfterPay has become a popular and convenient way to shop online. This platform allows shoppers to split the total cost of their purchases into smaller, interest-free payments. This is why you can find multiple stores where you can purchase products using this payment method.
Fashion and accessory stores
Fashion-conscious people can enjoy their passion without adjusting their budget. Many popular online fashion retailers and reputable local boutiques now accept AfterPay as a payment option.
Whether you're looking for brand-name clothing or unique accessories, AfterPay allows you to splurge on your favorite items without having to pay the full amount immediately.
With this payment alternative, fashion enthusiasts can create a stylish closet while staying within their budget. Some well-known stores in this sector where you can shop are:
ASOS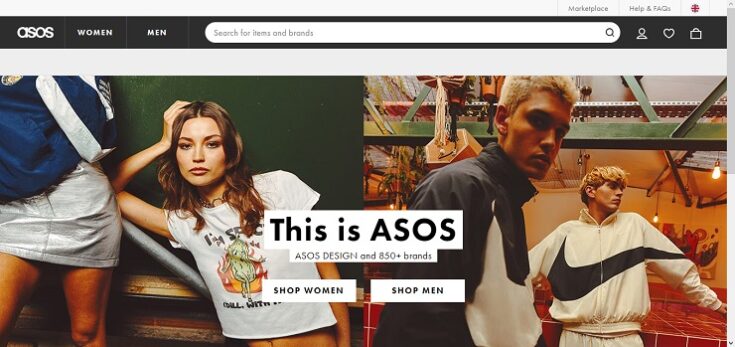 ASOS is an online fashion store that offers a wide selection of men's and women's clothing, footwear, and accessories. With AfterPay you can split the cost of your purchase into four biweekly payments.
Showpo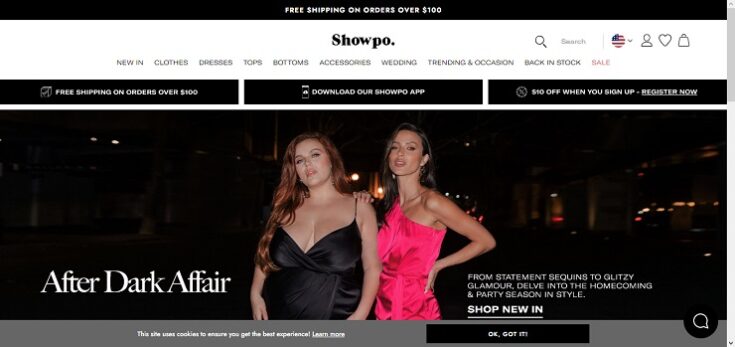 An Australian fashion brand known for its on-trend styles. Showpo offers AfterPay to its customers in Australia, the United States, and New Zealand.
Princess Polly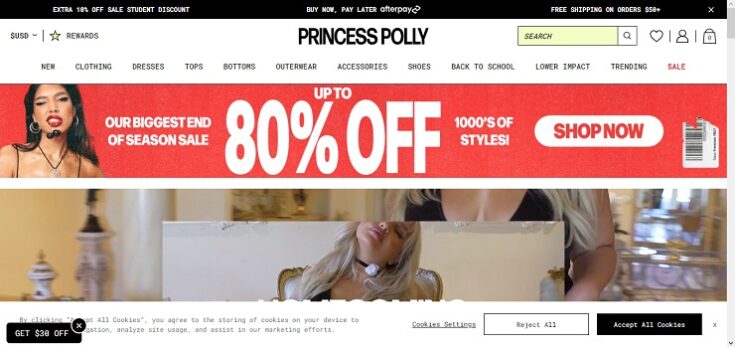 An online women's fashion retailer with a wide variety of clothing, accessories and footwear. Princess Polly offers AfterPay as a payment option for its customers in Australia and the United States.
Beauty and personal care stores
As part of the options for shopping with AfterPay, you will find different alternatives dedicated to beauty and personal care. Some of the most recognized brands in the sector offer this payment method so that you can purchase everything you want and pay for it later.
Sephora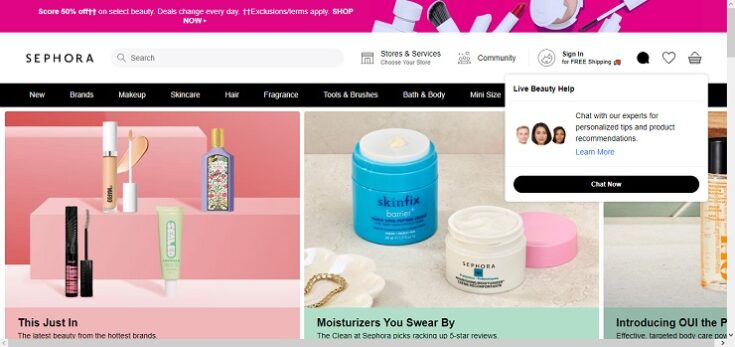 Sephora is a popular cosmetics and beauty products store that accepts AfterPay in its physical and online stores. You can buy your favorite products and split the payment into four biweekly installments.
Ulta Beauty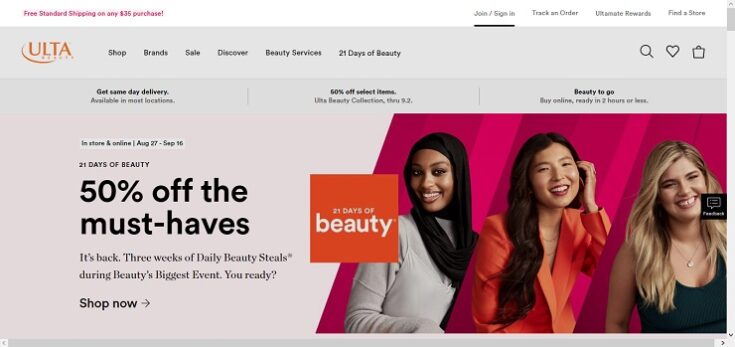 Similar to Sephora, Ulta Beauty is another great beauty retailer that accepts AfterPay. You can enjoy the latest trends in makeup, hair care, and skin care.
Home and Electronics Stores
If you want to give your home a makeover, but don't have enough money to pay for all your purchases right away, don't worry, many of the home stores accept AfterPay as part of their payment methods. You just need to find the ones that best suit your needs.
Similarly, to digitize your home or acquire the specialized equipment you need to improve your work, you can use AfterPay and buy it when you need it, but pay later. Some stores where you can do this are:
Target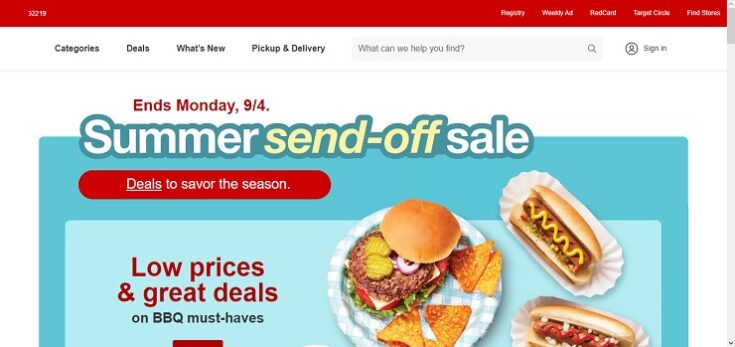 This discount retailer offers AfterPay in its online store. You can find a wide range of products for the home, electronics, furniture, clothing, and more. Target is the best.
Apple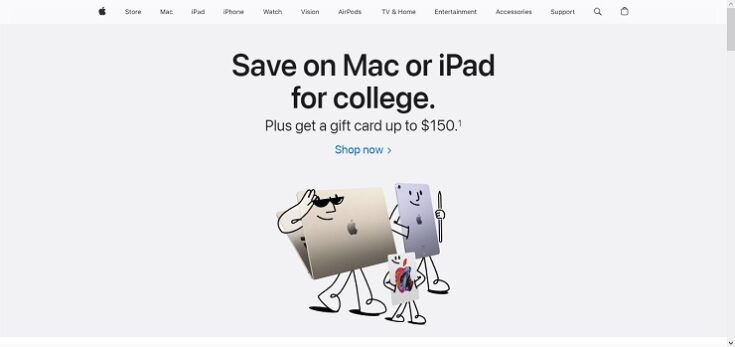 If you want to buy Apple products you can use AfterPay at their online store. Splitting the cost of a new iPhone, iPad, MacBook, or any other Apple product into bi-weekly payments is easier than ever.
Health and fitness stores
Investing in your wellness is always an excellent idea, purchasing accessories, clothing, or specialized equipment to improve your health is essential.
It is no secret that many of these options do not have the most affordable prices in the market; therefore, some stores dedicated to this sector accept AfterPay as part of the payment methods, some of them are:
Adidas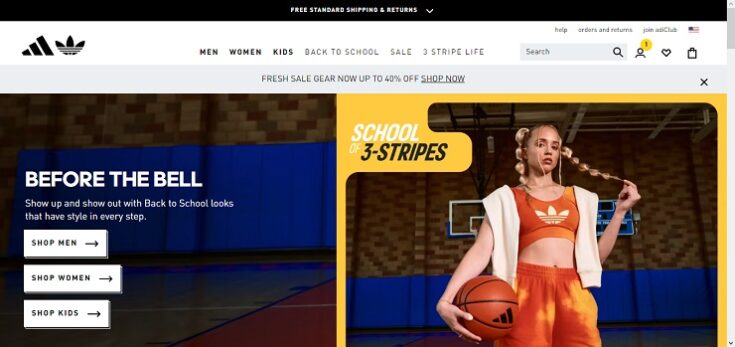 This renowned sportswear brand accepts AfterPay in its online store. At Adidas, you can buy sneakers, sportswear, and accessories for your favorite physical activities.
The North Face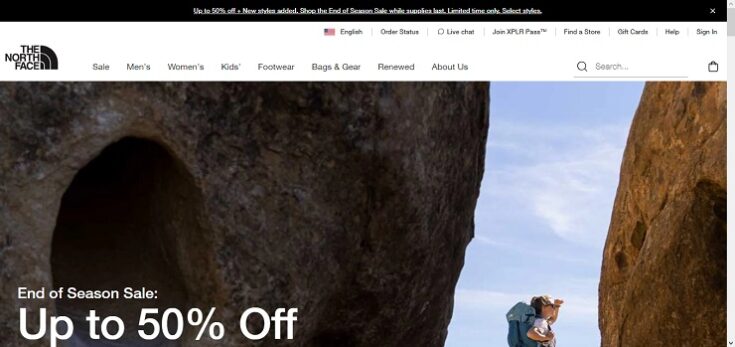 If you are a lover of nature and outdoor activities, The North Face offers AfterPay on its online store. You'll be able to equip yourself with quality clothing, footwear, and equipment for your outdoor adventures.
How do I find stores that accept AfterPay?
Finding stores where you can pay with AfterPay is simple through the search engine on the service's official website. From the search engine on the home page, you can search for the products you want or need and you will see the places where you can buy them with the order today and pay later service.
Similarly, through the official pages of the stores you like the most, you can evaluate whether AfterPay is among the payment options. Many of the popular stores have this service active, some of the most recognized where you can make purchases are:
Stores
Anthropology
Bed bath and beyond
Buy Baby
Calvin Klein
Carter
CVS
Dick's Sporting Goods
Dillard's
DSW
ELF Cosmetics
Brighter
Shoe Drawer
Forever 21
Home Depot
Levi's
Lululemon
Nike
Nordstrom
Mascotaintelligent
Pier 1
Puma
Rugged
Her in
Target
The Container Store
Ulta Beauty
Fair Way
-
These are just some of the most popular and eye-catching among users, however, the list is much longer considering the benefits that businesses have when accepting this type of payment.
Once again, the best way to find out where to purchase products or services with this payment method is by doing a search through the search engine on its official website.
Likewise, online you can find different customized search engines for stores that accept AfterPay, you just need to take a little time to do the necessary research and find the ideal place for your purchases.
References