Walmart, a multinational company, can undoubtedly make our lives easier thanks to the number of discounts and products it has to offer in each of its branches. But, did you know that they also sell car batteries?
Well, yes, although many do not believe it, since they associate Walmart directly with the sale of household products. The superstore chain sells car batteries, among other car accessories that seek to facilitate the useful life of your vehicle. Always maintaining its culture that seeks to offer the most affordable prices in the market above all things.
How much does it cost to replace a battery at Walmart?
Walmart offers the sale of vehicle batteries for a price below the average you can find in the market. Thus becoming an option to consider once your battery starts to fail or you want to replace it. The price depends directly on the brand, size and capacity.
Batteries at Walmart usually have a cost ranging from $65 to $140 per unit, depending on the specific brand and model. Thus offering you the battery that best suits your vehicle and its needs. Undoubtedly an added service that will save you a lot of time when it comes to getting one.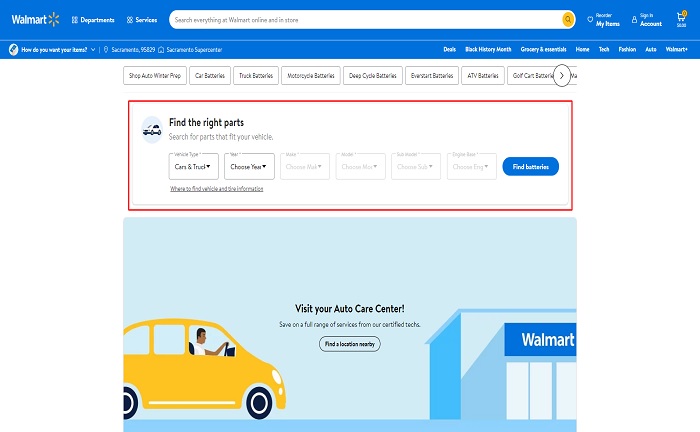 On Walmart's website you can search for the battery model you require and evaluate its price to determine if it is the best option for you. If you decide to buy it and you are a student, you could opt for a Walmart student discount and evaluate if it is applicable. Also, as a regular customer you can ask if it is possible to pay with Walmart's Buy Now, Pay Later option or with a Walmart gift card.
Do Walmart batteries come with a warranty?
If your battery is still under warranty and mysteriously starts to fail, you don't have to worry. Walmart offers the ability to replace it with one that meets true performance expectations and doesn't fail. So do not hesitate to go to the Walmart location where you purchased it for replacement.
It's important to clarify that on the side of the battery, you will find the purchase and warranty dates. So you will always have it at hand in case it fails for some reason. Among the reasons for failure considered for the warranty to be fulfilled are:
The battery cannot hold any charge
If it shows signs of corrosion
Your vehicle does not receive the required electrical charge
The battery does not charge to its maximum capacity
Walmart Auto Center
Another key point in Walmart's work is that among its services is the installation of the batteries you purchase. To obtain it, you will have to schedule an appointment at the Walmart Auto Center, where the installation and check-up service will be offered.
Likewise, this will depend on your location, since not all Walmart stores have an Auto Center available. Therefore, we encourage you to check beforehand through their website to confirm the location of the Auto Center closest to you.
Scheduling an appointment at the Auto Center is not necessary, but it is recommended whenever you want to save time. Sometimes you may find yourself waiting in lines that can slow you down.
Are Walmart car batteries any good?
Walmart's batteries are considered by their users to be of good quality, although this will depend on the brand you choose. But they are mostly made by Johnson Controls, a battery manufacturer that ensures quality and durability in their products.
This makes Walmart a high-quality battery retailer that seeks to ensure as much as possible an adequate duration for the vehicle. Likewise, if we compare them with other options in the market we can appreciate that they are at a lower price.
It is worth noting that Johnson Controls also makes some of the batteries that are considered premiums in the market. Which puts Walmart batteries as cheaper options to the so-called premiums that meet the same expectations.
Does Walmart sell good car batteries?
As we have seen, Walmart batteries are considered an incredible option if we compare quality and price among the other available options. This is while ensuring great quality and excellent performance.
Likewise, these batteries have passed a testing period on par with higher quality and higher cost batteries. Thus being a much cheaper option that could be directly compared to high-end options.
This is presented together with the already mentioned battery replacement that they offer, which will be totally free as long as you have purchased the battery from them. Otherwise, you will still have the possibility to replace the battery at the Auto Center for $10.
Does Walmart give you money for old batteries?
If you plan to replace an old battery at Walmart, they offer to buy it from you for a rebate fee of about $12 in exchange for it. Thus presenting a rebate on the purchase and full payment for the new battery.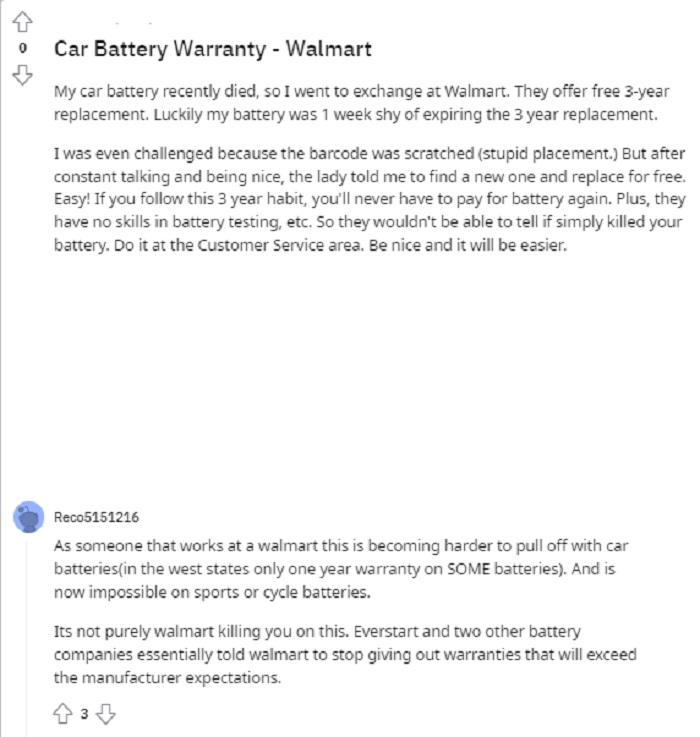 I have to emphasize that for this the new battery must be purchased at Walmart stores; otherwise, the old battery cannot be sold. So this is an ideal option for those who want to take advantage of Walmart's fantastic prices while replacing the battery.
Something that along with Walmart's warranty plans becomes an incredible value proposition.
How do I find the right car battery at Walmart?
One value-added point that you acquire when you buy a battery at Walmart is the ability to purchase their support service. This is to ensure that you choose the right battery for your vehicle and that it can have the correct life span without interruptions.
Walmart is aware that not all of its customers will know the characteristics necessary for a battery to work properly. That's why they offer both online and in-person battery selection assistance. This is based on the specific model of your vehicle and analysis carried out by a team of experts.
Likewise, thanks to the online service, you will be able to choose from the best available options together with the characteristics of your vehicle, putting a list of batteries that would work in your car in front of you, giving you the final purchase decision.
References