The application process for a job is always stressful since you don't know how soon you will be called or if you even meet the requirements. Walmart, despite being a well-known multinational company, is also an outstanding employer.
Walmart currently employs more than 2 million U.S. citizens. And it is constantly on the lookout for new human talent that allows it to continue to grow and expand. Obviously, some are not only interested in
Walmart giftcards
,
Walmart Buy Now, Pay Later,
or
student discounts;
there are those who want to work for the company.
Actually, the application process is quite fast. You can go to the recruiting website, research available positions in your location, and complete the application process. You will be called in 1 week or less if you meet all the assessments and requirements.
How do I get a job at Walmart with no Experience?
The requirements demanded by Walmart branches are becoming less and less, in fact, any citizen with up-to-date documentation can apply for a position. After all, they are interested in the availability of your schedule, so consider it if you are a student.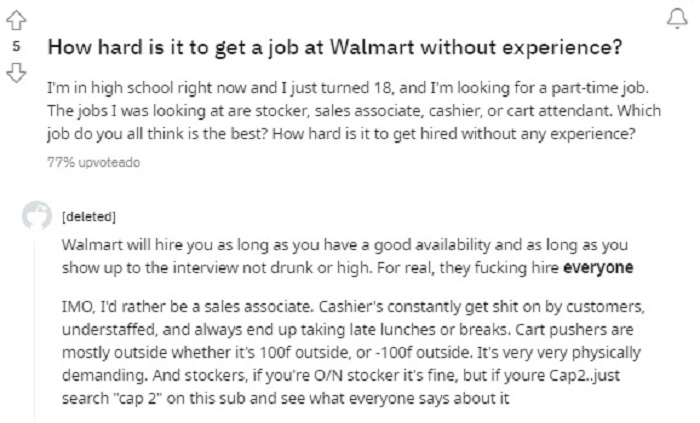 Walmart's mission statement includes the development of knowledge and skills. So, if you don't have work experience, you can still fill out and submit an application to work at Walmart. Since they have staff to train new members.
The question also depends on what position you want to apply for. Since, if you are applying for the job of a cashier or stock clerk, you do not need to send a broad and extensive work record. However, you must have passed the evaluations and choices shown on the application.
How do you apply at Walmart?
The process of selecting talents or workers at Walmart is quite simple. It all starts by logging into the website:
In the middle of the screen, you will see a box to search for available jobs at the Walmart closest to your location
In the first tab, you can narrow down the list of proposals to just a certain area. For example; technology, corporate, stores, and clubs, among others
You can also perform a manual search in the browser or keyword search engine. For example, the word "cashier"
You can activate your GPS location and the system will automatically show you the available positions near you
Generate your credentials or account to fill out the job proposal
It should be noted that, although they do not ask for extensive work experience, it is very important to pass the tests or evaluations, as well as the other selection filters. Such as a drug test and a criminal background check.
Subsequently, you will be summoned to a couple of on-site interviews, which you must perform correctly and positively, as it is also another test. If you are selected, they will contact you within a week, maximum of two weeks, but they always take less time.
What age does Walmart hire, and how old to work at Walmart?
Walmart has as one of its main purposes to support the determination of young people who want to start working. Therefore, employee vacancies can be filled by teenagers, 16 years old being the minimum age to apply for any low or medium position.
On the other hand, if you need personnel in liquor or tobacco sales, you must be of legal age to apply for that job. Likewise, if you want to apply for a corporate or specialized position, you need to be 21 years of age or older.
Does Walmart hire felons, qualifications to get a job at Walmart
Even if the term felon is too aggressive, we can say that the company does not usually hire people with criminal records. However, this criterion has been relaxed over time, so that some of these applicants can get a vacancy.
The criteria required by these potential employees with a criminal record to be able to work in a branch are:
Reduced convictions for good behavior
Misdemeanors. Although this may depend on the type of conviction and the plea that has been entered
No pending charges
No drug-related offenses
Requirements to be hired
How do I check my application status for Walmart?
As mentioned above, the process to hire and communicate with the new team member can take up to two weeks at the most. Unfortunately, we are unable to monitor the status of your online application, and we understand that the wait is stressful.
However, there is an alternative to be sure that you have been rejected, and that is to call the specific company or branch where you applied. Since it is very rare for this company to notify about the rejection of an applicant.
It is also an option to ask someone you know who works at the store or go directly to the place where you applied. They will be able to tell you exactly what the status of your application is.
How long does it take to get hired at Walmart?
Thanks to the number of workers already on the collection team, recruitment processes are taking less and less time. If an applicant has the proper documentation, passes medical and behavioral tests, has no criminal record, and attends interviews, it can take less than a week to get hired. It will take up to a week to call you on your contact phone numbers to get you on the job as soon as possible.
So, we can state that the standard time to be called by the company is approximately within 5 to 7 days. In very few cases, it has been recorded that it takes up to two weeks to contact employees, but that has to do with background investigations.
If during that period of time you were not contacted, you can call the store management which, in the case of applicants, you can also go to in person. That way, you can inquire about the status of your application.
References
Was this Content Helpful?