Transferring money is quite risky, especially when large amounts are involved. This is why escrow exists so that you can manage the funds, documents, or goods involved in the transaction according to the instructions agreed upon by both parties.
The escrow process provides security and trust for all parties involved, as the agent acts as an impartial intermediary. You must know how to find an escrow near you so that you can conduct any transaction without risk of fraud, misrepresentation, or non-compliance.
What does escrow mean and how does it work?
Escrow serves as a protective mechanism that instils confidence and safeguards transactions in the commercial and financial realm. By appointing a neutral escrow agent, who acts as a trusted custodian, all parties can ensure that the agreed-upon conditions are met before the transfer occurs.
This arrangement offers the buyer high security, as their funds or goods are securely held until the predetermined terms are fulfilled. The seller also benefits from escrow by having the assurance that funds will be available before delivering goods or services, thereby reducing the risk of non-payment or non-performance.
What are the use cases of escrow?
Escrow finds application in various scenarios. The most common are real estate transactions, online purchases, business acquisitions, intellectual property, construction projects, domain name transfers, vehicle sales, mergers, international trade, franchise agreements, etc.
Best escrow companies near me
If you are looking to secure your transactions and protect your interests, it is essential to have the services of a quality escrow company. Below is a researched selection of escrow companies in your area that stand out for their excellence and professionalism.
J.P. Morgan • Escrow Services
J.P. Morgan's Escrow Services team provides comprehensive support and foreign exchange services in 135 currencies through a global network of escrow specialists. They have extensive experience in cross-border escrow solutions and in-depth knowledge of local intricacies impacting escrow transactions.
With a dedicated team of over 100 professionals worldwide, J.P. Morgan's Escrow Services is committed to assisting clients with their transactional needs anytime and from any escrow office location. Their expertise spans time zones and jurisdictions, allowing them to coordinate and minimize risks associated with cross-border transactions effectively.
For specific information on J.P. Morgan Escrow Services, call their global line at 1-800-873-6577 or email JPMorgan.Escrow.Services@jpmorgan.com.
Northeast: 212-552-2068 or 212-552-2057.
Mid-Atlantic and Southeast: 864-729-6241.
Midwest: 312-954-0078.
Southwest: 713-216-2129.
West: 415-315-3920.
NOTE: J.P. Morgan does not offer escrow services to purchase automobiles or equipment.
American Escrow Company • Texas
If you need an Escrow company nearest you, American Escrow Company, a subsidiary of Republic Title of Texas, Inc., serves as an independent and neutral custodial agent for "title-less" transactions involving multiple parties needing a trusted third party to handle funds and documents without conducting closings.
The company's role extends to assisting developers engaged in significant projects nationwide, facilitating the disbursement and receipt of loans and capital funds. American Escrow is involved in bankruptcy proceedings, litigation disputes, pending mediation settlements, and post-closing warranty matters related to business sales.
To find an American Escrow Company near me, you must follow the steps below:
Go to the American Escrow Company's website.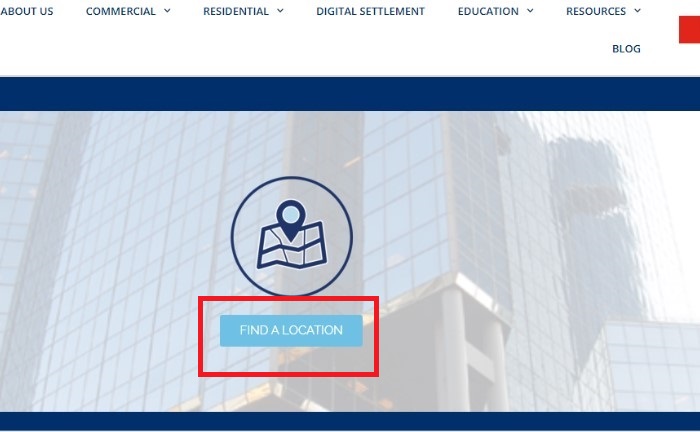 Scroll until you find the option "Find a location," or you will see the option "Locations" on the top right side of the screen, and click on it.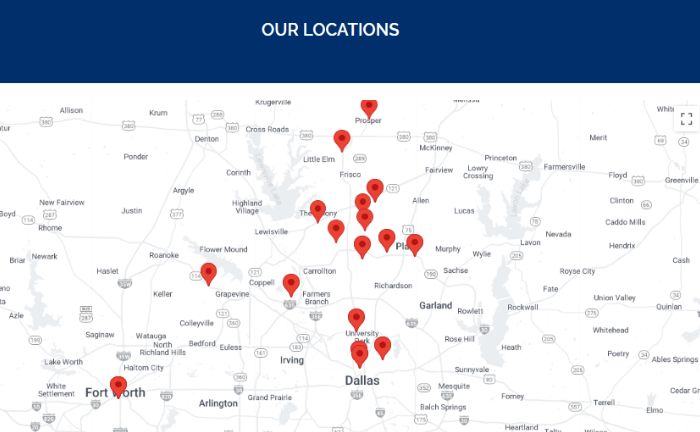 Select the escrow's red pin nearest your location and get the branch's address.
Another way to find the escrow nearby is to look at the profiles of the team specialists. Underneath their picture, you will discover which sector each escrow officer near me belongs to.
Heritage Land Transfer Escrow Agency • Pennsylvania and New Jersey
Live in Pennsylvania or New Jersey? You can find Heritage Land Transfer Escrow Agency near you and works with in-house attorneys instead of subcontracting legal services, ensuring reliability and efficiency.
They offer low guaranteed rates for their services and have served over 50,000 clients with an excellent reputation among buyers and real estate professionals. In addition to escrow services, they offer title and settlement services, providing a comprehensive solution for real estate settlement needs.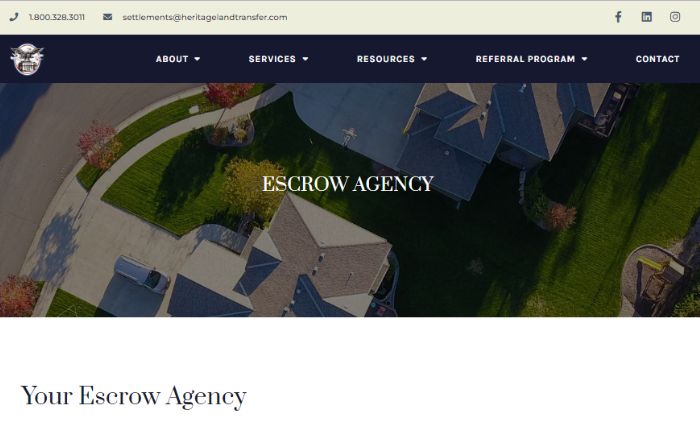 You can contact this reliable and reputable escrow company near your location on the Escrow Agency website or the Heritage Land Transfer corporate headquarters at 1576 McDaniel Drive in West Chester, PA 19380. Also, you can reach the company by calling 1-800-328-3011, or if you are in Pennsylvania, you can call 610-429-9200. If you want to mail them, write to settlements@heritagelandtransfer.com.
U.S. Escrow Services • Colorado
U.S. Escrow Services, Inc. is a trusted company with 38 years of experience, offering various services to support clients in financial and business transactions. They provide cash, tri-party, document, computer source code escrow, payment bond alternatives, commercial purchase and sale closings, and business consulting.
Additionally, they serve as trustees for source codes and documents of large companies. U.S. Escrow maintains trust accounts with reputable banks like Bank of America, Wells Fargo Bank, and Verus Bank of Commerce, ensuring secure funds management. Transactions are conducted securely over a virtual private network (VPN), providing an added layer of protection.
If you want to contact U.S. escrow, you can message them through their website and submit your information or doubts. Also, you can call 303-224-0404 or mail to 5445 DTC Parkway, P4, Greenwood Village, CO 80111, to speak to an agent.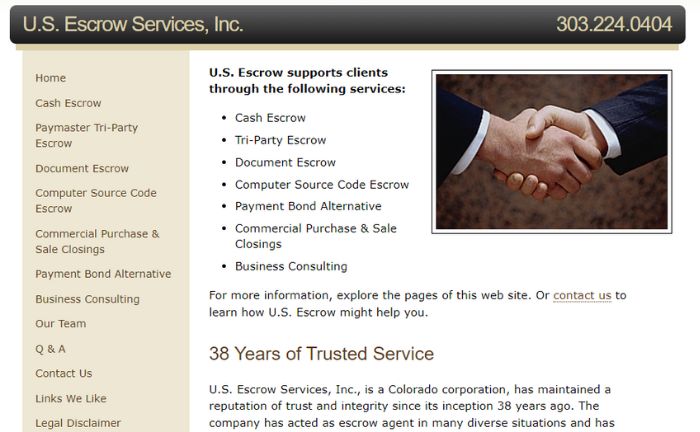 West Coast escrow • California
West Coast Escrow strives to be a reliable partner to the real estate industry by enhancing the customer's journey home. The company is dedicated to the closing process and ensures the satisfaction of all parties involved, including buyers, sellers, agents, and lenders.
As a provider of escrow settlement services, West Coast Escrow is committed to delivering a positive experience for everyone involved in the real estate transaction. The agency has offices in California and is part of the Anywhere Integrated Services Family of Companies, a national organization with a local presence and extensive experience operating in all 50 states.
To locate the nearest escrow office, learn more about their services, and request an appointment with an escrow agent, visit their website.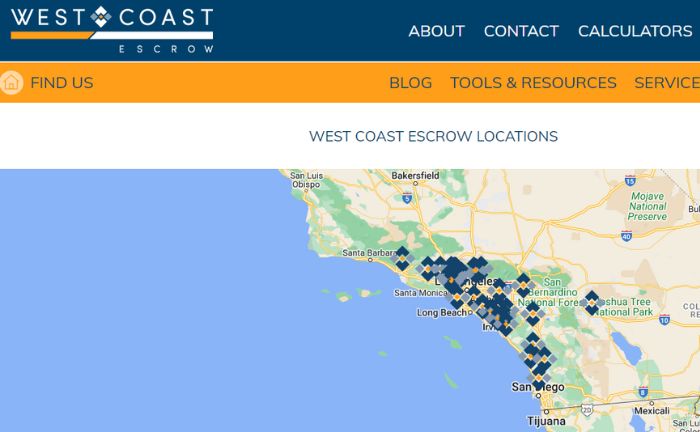 TitleOne • Idaho, Washington, and Montana
The company specializes in escrow services for real estate transactions, serving as a neutral intermediary for buying, selling, and refinancing properties. They offer short-term and long-term escrow services, with the long-term department specifically handling purchase contracts.
Their services include secure document storage and accurate management of payments, ensuring that funds are received, disbursed, and recorded according to the agreed-upon instructions between buyers and sellers.
If you need an escrow office nearest you, this company is located at P.O. Box 177, 211 West 13th Street, Burley, ID 83318 (you can find other locations here). The agency can be reached by email at longtermescrow@titleonecorp.com, phone at 208-878-3524, or fax at 866-781-5520.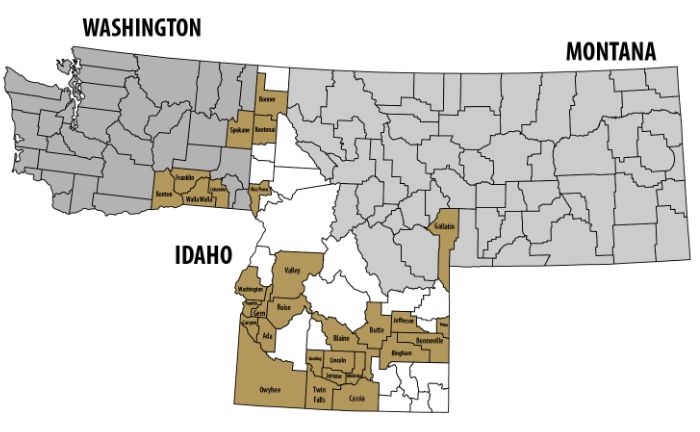 Online escrow
The escrow.com is an online service offering a secure system for buyers and sellers engaging in transactions. Acting as a neutral third party, it facilitates secure transactions for high-value assets such as real estate, automobiles, and digital assets.
Buyers and sellers deposit funds into a secure account, and once all conditions are met, Escrow.com releases the funds to the seller. The platform also provides services like domain verification and a fee calculator to estimate associated costs.
Telephone support is available Monday through Friday from 8:00 a.m. to 4:00 p.m. Pacific Time and toll-free numbers are provided for the U.S. and Canada (888-511-8600) and Australia (1300ESCROW/372769). If you are in other countries, you can call +1-415-801-2270.
You can also email support@escrow.com, or if you need to send any mail correspondence, the address is 180 Montgomery St, Suite 650, in San Francisco, CA 94104.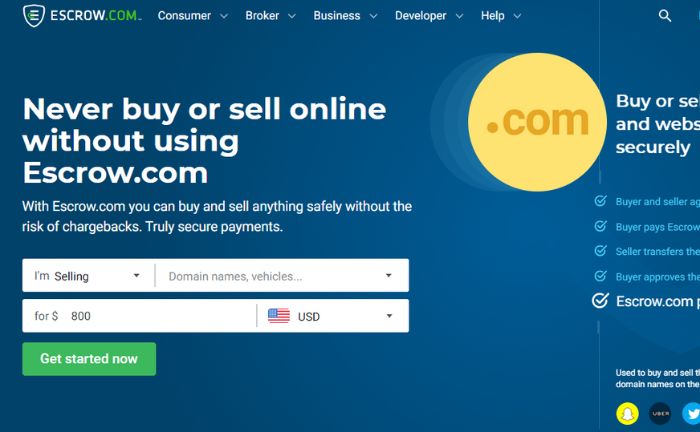 Top rated by Yelp escrow company
We've got you covered if you're searching for an escrow company near you. We've compiled a list of the highest-rated escrow companies on Yelp in various regions nationwide. With our help, you can easily find a reputable escrow service provider that meets your needs.
To find the best escrow nearby me, Yelp is an excellent option. All you have to do is go to the Yelp website and, in the search engine, enter "Escrow Companies" and, next to it, enter your address, neighborhood, city, state, or ZIP code. Then, check the "Highest Rated" option in the search filters, as shown in the image below.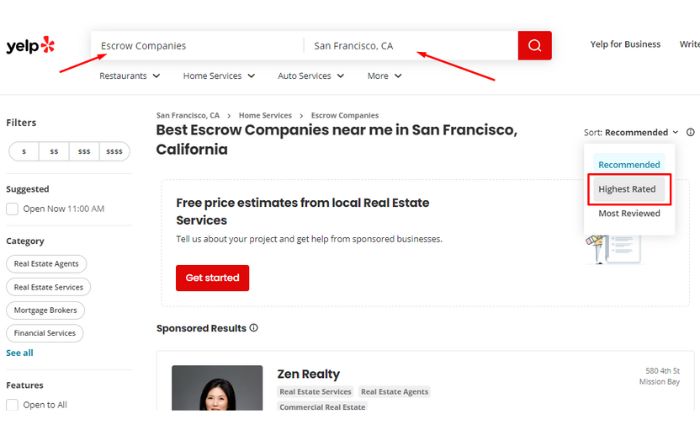 Find Escrow Company Near Me in San Francisco
If you live in San Francisco and need escrow services near you, the escrow companies and agents have their respective addresses, hours of operation, and phone numbers. Each firm has specific hours of operation, but generally, they offer escrow services from Mondays through Sundays. Some companies have extended hours, while others operate 24 hours a day.
| | | | | |
| --- | --- | --- | --- | --- |
| Escrow company/agent | Website | Direction | Operation Hours | Telephone |
| Tim Gullicksen - Corcoran Icon Properties | gullicksengroup.com | 2282 Market St San Francisco, CA 94114 | From Mondays to Sundays from 9:00 AM - 9:00 PM. | (415) 370-5277 |
| Rentals In SF | rentalsinsf.com | 1318 Hayes St San Francisco, CA 94117 | From Mondays to Sundays from 8:15 AM - 7:00 PM | (415) 699-3263 |
| Tanya Dzhibrailova & Neil H. Bui - NHB Real Estate | propertiesbytanya.com | 775 Monterey Blvd San Francisco, CA 94127 | From Mondays to Sundays from 7:00 AM - 11:00 PM. | (415) 531-6779 |
| Ruth Krishnan - San Francisco Real Estate | ruthkrishnan.com | 1400 Van Ness Ave San Francisco, CA 94109 | From Mondays to Sundays from 9:00 AM - 8:00 PM | (415) 735-5867 |
| Danielle Lazier - Vivre Real Estate | vivrerealestate.com | 3915 24th St Unit B San Francisco, CA 94114 | From Mondays to Sundays - Open 24 hours | (628) 246-1465 |
Find escrow agency Near Me in Seattle
If you are in Washington, several escrow offices in Seattle near your location offer professional assistance in handling financial and business transactions. These offices are convenient and accessible and can provide you with the necessary protection for your interests. You can contact these escrow companies in real estate or commercial marketing for more information and benefit from their reliable services.
| | | | | |
| --- | --- | --- | --- | --- |
| Escrow company/agent | Website | Direction | Operation Hours | Telephone |
| Flyhomes | flyhomes.com | 1201 Western Ave Ste 100 Seattle, WA 98101 | From Mondays to Sundays from 8:00 AM - 8:00 PM. | (855) 935-9466 |
| The Mortgage Reel | themortgagereel.com | 425 Pontius Ave N Ste 430 Seattle, WA 98109 | From Mondays to Friday from 8:00 AM - 7:00 PM. / Saturdays and Sundays from 9:00 AM to 12:00 PM. | (206) 219-3088 |
| Every Door Real Estate | everydoorrealestate.com | 5506 6th Ave S Ste 204 Seattle, WA 98108 | From Mondays to Sundays open 24 hours. | (206) 741-0380 |
| Brooke Davis Real Estate Team | brookedavisrealestate.com | 2737 77th Ave SE Ste 100 Mercer Island, WA 98040 | From Mondays to Sundays from 9:00 AM - 6:00 PM. | (206) 851-0521 |
| WaLaw Realty | walawrealty.com | 2303 W Commodore Way Ste 306 Seattle, WA 98199 | From Mondays to Friday from 8:00 AM - 5:00 PM | (206) 357-4224 |
Find escrow agency nearest you in Las Vegas
In Las Vegas, numerous agencies and escrow agents are conveniently located throughout the city so that you can find an escrow office near you. These offices act as trusted intermediaries in real estate transactions, ensuring a smooth and secure process for buyers and sellers.
With their knowledge of the local market and commitment to professionalism, these Las Vegas agencies and escrow agents are well-equipped to help you navigate the complexities of real estate.
| | | | | |
| --- | --- | --- | --- | --- |
| Escrow company/agent | Website | Direction | Operation Hours | Telephone |
| Shane Nguyen - Top Agent - 1st Priority Realty | shanenguyentopagent.com | 6370 W Flamingo Rd Unit 5 Las Vegas, NV 89103 | From Mondays to Sundays from 7:00 AM - 7:00 PM. | (702) 292-5004 |
| Eloff Perez - Las Vegas Realty Specialists - Black & Cherry RE | lasvegasrealtyspecialists.com | 2421 W Horizon Ridge Pkwy Ste 110 Henderson, NV 89052 | From Mondays to Sundays from 9:00 AM - 7:00 PM. | (833) 515-6238 |
| Jessica Hallenbeck - Signature Real Estate Group | hallenbeckteam.com | 8912 Spanish Ridge Ave Ste 210 Las Vegas, NV 89148 | From Mondays to Thursday from 8:00 AM - 7:00 PM. / Fridays from 8:00 AM - 5:00 PM / Sundays from 9:00 AM - 2:00 PM / Sundays closed. | (702) 970-7007 |
| Xpand Realty & Property Management | xpandrealty.com | 5920 S Rainbow Blvd Ste 7 Las Vegas, NV 89118 | From Mondays to Fridays from 9:00 AM - 5:00 PM. | (702) 565-8838 |
| Family Property Management | familypm.com | 10161 Park Run Dr Ste 150 Las Vegas, NV 89145 | From Mondays to Fridays from 9:00 AM - 5:00 PM. | (702) 721-9783 |
References
"Coast To Coast." West Coast Escrow, https://www.westcoastescrow.com/coasttocoast?Region=Los%20Angeles%20County.
"Escrow Agency – Heritage Land Transfer." Heritage Land Transfer – Full Service Title Insurance Agency – Residential and Commercial Real Estate, https://www.facebook.com/HeritageLandTransfer/, 11 Nov. 2021, https://landtransfer.com/real-estate-escrow-services-agency/.
"Top 10 Best Escrow Companies in San Francisco, CA – June 2023 – Yelp." Yelp, https://www.yelp.com/search?find_desc=Escrow+Companies&find_loc=San+Francisco%2C+CA