The Party City chain of retail stores is a specialist in party supplies, offering its customers first-class products. So if you're planning a party or need party supplies for any reason, you may have looked for what you need at one of their stores.
Founded in 1986, the company is headquartered in East Hanover, New Jersey, and operates more than 800 stores throughout the United States, Canada, Mexico, and Puerto Rico.
The company offers a wide variety of products for a wide variety of celebrations ranging from birthdays and weddings to Halloween or themed stores, giving you the option to purchase products online through their web portal.
Party City nearest me in New York
New York has one of the largest amounts of Party City stores. In this list, we leave you just ten of all those you can find, but surely some of them are very close to you. Keep in mind that customers have assured good treatment in each one, according to Google My Business reviews.
| | |
| --- | --- |
| Address | Phone Number |
| 733 NJ-440, Jersey City, NJ 07304 | +1 201-984-4034 |
| 38 W 14th St, New York, NY 10011 | +1 929-523-2739 |
| 223 W 34th St., New York, NY 1000 | +1 929-523-2767 |
| 660 Columbus Ave, New York, NY 10025 | +1 929-523-2804 |
| 48-18 Northern Blvd, Queens, NY 11101 | +1 347-345-1292 |
| 30-10 Whitestone Expy, Queens, NY 11354 | +1 718-321-3414 |
| 3797-3849 Nostrand Ave., Brooklyn, NY 11235 | +1 347-378-0985 |
| 625 Atlantic Ave, Brooklyn, NY 11217 | +1 347-384-5813 |
| 1 Fordham Plaza, Bronx, NY 10458 | +1 347-391-6714 |
| 815 Hutchinson River Pkwy, Bronx, NY 10473 | +1 929-523-2624 |
Party City closest to me in California
In this case we leave you a list with stores in several cities in California because it is also one of the states with more Party City branches. Keep in mind that any of the stores have a great variety of products for all your celebrations.
| | |
| --- | --- |
| Address | Phone Number |
| 2935 Los Feliz Blvd, Los Angeles, CA 90039 | +1 213-631-7686 |
| 2480 S Sepulveda Blvd, Los Angeles, CA 90064 | +1 213-631-7723 |
| 7600 S Alameda St, Huntington Park, CA 90255 | +1 323-282-5721 |
| 14735 Ventura Blvd, Sherman Oaks, CA 91403 | +1 818-981-0099 |
| 2011 N Hollywood Way, Burbank, CA 91505 | +1 818-276-9348 |
| 25361 Crenshaw Blvd, Torrance, CA 90505 | +1 424-323-5981 |
| 208 Towne Center Dr, Compton, CA 90220 | +1 424-260-5755 |
| 19389 Victory Blvd, Reseda, CA 91335 | +1 818-614-9894 |
| 7882 Van Nuys Blvd, Van Nuys, CA 91402 | +1 818-742-2213 |
| 6559 Fallbrook Ave, West Hills, CA 91307 | +1 747-444-0202 |
How can I get to a Party City near me?
In case you are looking for a Party City near your location, the company allows you to find the nearest branch thanks to its website.
In its Store Locator, you will be able to find one of the more than 800 branches throughout the United States that can solve your problems.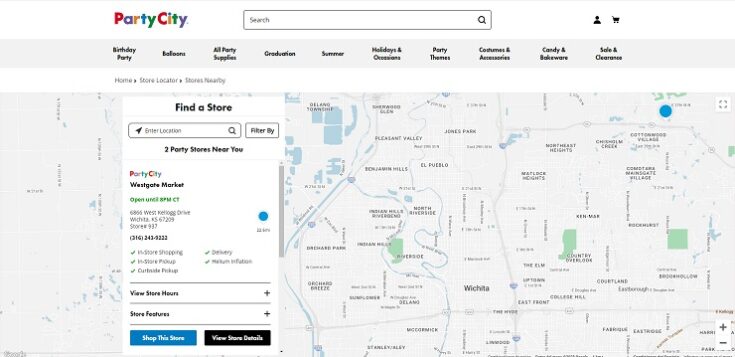 Once here you will see a map with highlights marking the major branches in the United States.
Using this search engine you will have to enter your address, zip code, city, or some reference point regarding your area.
You will also be able to filter the stores according to the needs you have in mind and the items you need to buy.
Once you have entered this information you will be able to directly access specific data regarding the branch, such as its working hours, contact numbers, and important information.
How many Party City locations are there in the United States?
Party City is undoubtedly the number 1 party retailer in the United States and around the world, providing a truly great sales portal with over 850 stores in the United States alone, plus dozens of stores throughout Mexico, Puerto Rico, and Canada. In addition to the possibility of buying internationally through the website that is available worldwide.
A curious fact about this retail chain is that, although its headquarters is located in New York, the state with more branches is California, with about 105 stores. California surpasses Texas which has 90 branches spread out offering premium party products.
Each of these locations has a specialized service with premium party products ranging from A to Z, looking to remain a leader in the market with the new offering of premium party supplies.
What is the Party City catalog like?
As a party and event supply store, Party City offers a wide variety of products for celebrations. Thus, its catalog includes costumes, decorations, balloons, cakes, accessories, and all kinds of supplies in general that can enhance the special occasions you organize.
It is in this way that the company presents itself as an ally for customers when organizing a meeting or party regardless of its scale. It also gives the customer the opportunity to organize the needs of the party and to buy the necessary items onlineto pick them up at the store.
A curiosity of this store is that they usually constantly update the products presented there. Thus, the user will constantly find new possibilities, either in terms of products or in terms of party themes themselves. This is a step towards enjoying a truly complete catalog.
Can you return inflated balloons to Party City?
Although Party City offers the possibility of using and inflating balloons purchased in the store, these are not eligible for returns since we are talking about personalized and, therefore, perishable items that have a set shelf life and cannot be kept in the store.
Likewise, the retail chain encourages contacting the store's customer service in case of any doubt. So if you need to return an inflated balloon because of a problem, you can contact them and inquire about it.
Inflated balloons cannot be returned unless there is a special circumstance that warrants such an event. Thus clarifying in their return policy the fact that a balloon will only be replaced under special cases such as damage during transport.
As long as Party City has been responsible for the transportation and during a listing of the first 30 days of the purchase.
Can you bring other balloons to Party City?
When we talk about Party City we are talking about quality in terms of balloons, so many people buy them there directly. However, if you have purchased balloons from another store you may want to inflate them at Party City with their balloon inflation service. This is possible regardless of whether the balloons came from another source.
Undoubtedly an incredible point that is not normally considered by other party retailers who will only inflate balloons purchased there. However, at Party City, you will have to pay the additional cost of inflation for having brought these balloons. A cost that is normally included in the invoice for the balloons when you buy them there.