In the state of Arizona, we have the Arizona Health Care Cost Containment System, known as AHCCCS. Through this, you can save a lot of money on medical expenses, so it is good to know the dentists that accept AHCCCS near you so they can take care of you.
Providers may or may not have a contract with all MCOs. However, this type of support for dental services is not accepted in all cases, especially if we are talking about emergencies.
Dentists that accept AHCCCS near me in Phoenix
In Phoenix, we come across many specialized dentists we can trust. They usually offer friendly care and will give you all the medical treatments you need, but not all of them work with all dental plans. They are usually open all day, and some even late at night.
| | | |
| --- | --- | --- |
| Dental Center | Address | Phone Number |
| JC Family Dental | 401 E Bell Rd Suite #14 Phoenix, AZ 85022 | 602-375-8646 |
| Magic Smiles | 5109 W. Thomas Rd. #300 Phoenix, AZ 85031 | 602-472-3553 |
| Western Dental & Orthodontics | 4550 E Thomas Rd, Phoenix, AZ 85018 | 602-281-7072 |
| General Dentistry 4 Kids | 3202 E Greenway Rd Suite #1287, Phoenix, AZ 85032 | 602-996-6065 |
Dentists that accept AHCCCS near me in Mesa
You can come across very good professionals in Mesa who will help you with any ailment. Some of the professionals will help you get a better smile or even assist you in times of emergency. In these clinics, you will find all the treatments, and some of them offer you the possibility to opt for the aids available in Arizona.
| | | |
| --- | --- | --- |
| Dental Center | Address | Phone Number |
| Kidstastic Dental | 1240 West Southern Avenue, Suite 112, Mesa, AZ 85202 | 855-637-9913 |
| Dental Depot | 2311 W Broadway Rd Mesa, AZ 85202 | 623-343-2984 |
| Mesa Dental Home | 849 N Dobson Rd. Unit 108, Mesa, AZ 85201 | 480-834-7777 |
How do I find a dentist who accepts government assistance in Arizona?
There are different dental clinics that accept the Arizona Health Care Cost Containment System. You can check if any of them accept these benefits directly on the official website by following these steps:
Enter the official Arizona government website by clicking here.
Once there, you must search by specialty and enter "Dentist." You can also search for a dentist specializing in something specific.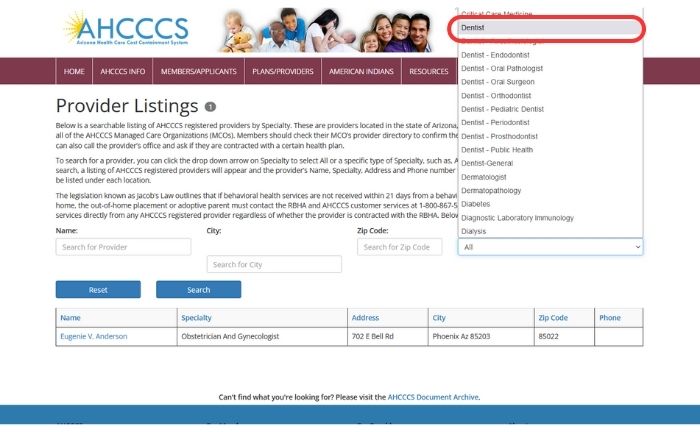 Once you do the search, you will be shown a list of all AHCCCS-accepting dentists where you can use your benefits.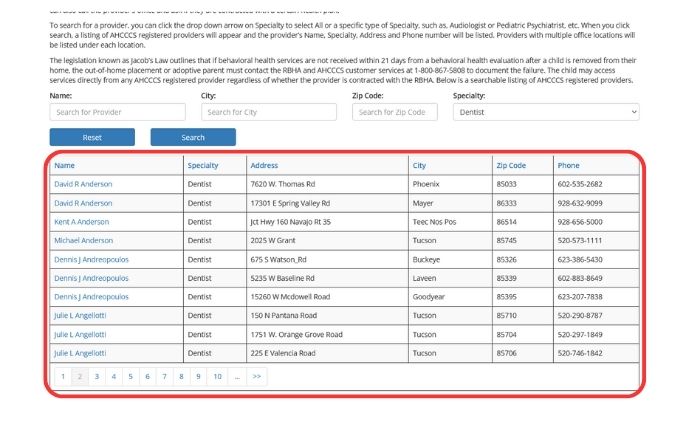 Please note that some dentists are not listed here and may still accept this program. Therefore, it is important to always confirm with your dentist to verify if you can use your benefits there. Also, some dentists may be listed and may not necessarily accept your benefits.
In this list, you will only see the names of the registered dentists, but not the names of the clinics.
It is, therefore, vital that you ask at the dental center to be absolutely sure.
What medical services are covered?
With the AHCCCS plan, you have different health services covered, and you work with doctors, hospitals, pharmacies, specialists, etc. However, the coverage offered is limited, and for this reason, it should always be taken into consideration that the service must be contracted with an authorized medical center.
There are many medical services offered by this plan, but we are going to focus specifically on dental services. These will be:
Dental examinations for children under 21 years of age.
Dental treatment for children under 21 years of age.
Dental emergencies for adults 21 years of age and older, with a limit of $1,000 per contract year.
It should be taken into consideration that dental treatments for adults are usually covered by insurance that must be contracted separately. For this reason, it is always good to have a dental service and not have to pay too much.
If you additionally have Medicare, some of the services offered in the Arizona Health Care Cost Containment System will not be available.
Coverage of ALTCS care services
AHCCCS has contracts to provide some long-term care services or ALTCS. In these cases, it functions as a health maintenance organization or HMO. These programs work with doctors, nursing homes, assisted living facilities, hospitals, and others to provide care.
In these cases, they offer services such as:
Nursing Center
Hospice
Assisted living center
Home care services
Home delivered meals
Case management
Dental services with a coverage of up to $1000 per contract year
There are multiple coverage options for beneficiaries of these plans. However, you must take into consideration the services you can receive depending on your age.
Income limits to apply for this program
In case you want to apply to be part of this program, there are income limits, which will be a gross income before taxes and deductions. For one person, the income limit must be less than $1,616, and this will increase by approximately $570 for each additional family member.
In the case of applicants under age 26 who were in foster care in DCS custody while turning 18, you may qualify for health insurance regardless of the money you receive.
Health insurance for adults from 19 to 64 years of age offers different medical care. However, if we talk about dental care, it will only cover dental emergencies, so it is essential to consider this before going to the dentist.
How do I apply to become an AHCCCS beneficiary?
In case you want to apply for this Arizona state benefit plan, you will have the option to do it from home. You simply have to do it from the Health–e–Arizona PLUS website. When you enter the page, you simply have to click on "Apply Online" to start your process.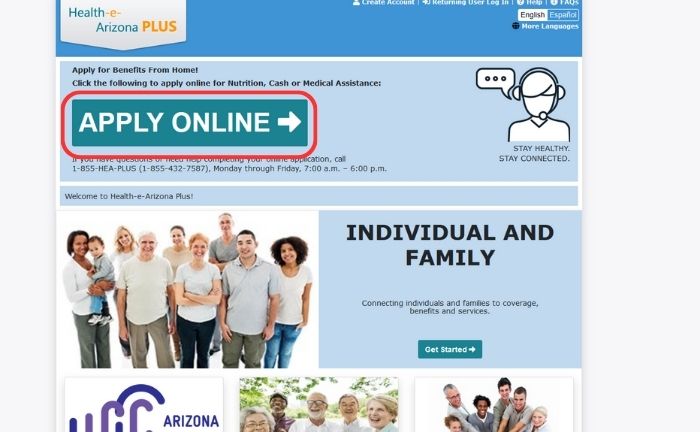 Once you continue with the process, you will need to create an account to continue with the process. You must simply follow the steps that the system will guide you through to make your application. It is vital that you provide all the information requested and that it is accurate so that you can complete the whole process without any errors.
It is also possible to apply for benefits by printing the application form and submitting it to the Department of Economic Security DES. This process does not apply to people who need ALTCS services. For these cases, it is important to apply in person by filling out different forms.
What are the co-payment amounts due for services?
It should be noted that no co-payments will be charged for persons under 19 years of age, as well as for the seriously mentally ill and the elderly. In case of hospitalizations, emergency services, family planning, and pregnancy medical care, among others, no co-payments will be charged.
However, some services may require a co-payment, such as prescriptions or therapies, which may require a $2.30 co-payment, while physician office visits may require a co-payment of $3.40.
Total copayment amounts cannot exceed 5% of the family's total income during a calendar quarter. If this limit is reached, no further copayments will be charged for the remainder of the quarter.
If the co-payment limit has been reached, and AHCCCS has not informed you, receipts or proof of payment must be sent directly to the administration.
What health plans does AHCCCS have available?
All health plans have the same covered medical services, so the choice will not be based on this. It is best to check with your primary care physician or hospital to find out if you are contracted with the health plan of your choice.
American Indian members can choose to use the Indian health plan or enroll in AHCCCS Complete Care. In case you do not choose a health plan, one will be automatically assigned to you. To learn about all the available plans you can do it directly from the official website of the health plans.
References