In the United States, unemployment benefits are available when people have lost their jobs or have difficulty finding a new one. But unemployment benefits sometimes take a while to arrive or only come once a month, and the day-to-day financial urgency can be desperate.
That's why many people wonder: can I borrow money while unemployed? The answer is yes! So-called payday loans exist, and people with unemployment benefits can access them.
First, you need to know what payday loans are and why they can help you solve an urgent financial problem. You should also know how unemployment benefits can help you get it and what you need to do to prove that you are unemployed with benefits. Let's clear up your doubts!
What are payday loans?
A payday loan consists of a monetary amount that is lent to you immediately and must be repaid the next day that you receive any kind of payment. For example, if you are unemployed and on benefits or financial aid, you must pay back the payday money as soon as you receive the benefits.
In each state of the country, the payday loan conditions are different. You have to look for information to find the most convenient for you, although usually, the loans do not exceed $500.
To get a payday loan, you must prove that you will be able to pay back the money as soon as you receive your salary or state assistance.
If you are unemployed but have no benefits, you can also show that you are generating some money on the side. Also, if you are a person with an illness or disability and receive assistance, you can get a payday loan.
The only important condition to getting this type of loan is to show that you will receive some money to pay back the money you borrowed at some point in the month.
Unemployment benefits: how you can get the loan you want
To find a payday loan, you have to search the internet for information on the best places to find one in your city or state.
Once you find one that interests you, you should prepare some documentation to help you get the loan because of your unemployment status. The documentation is usually as follows:
An official document certifying your unemployment status and your financial benefits. The paper should give specifics such as the date you usually receive financial assistance.
Another document specifying that your credit score is very low. This would explain why you can't take out other types of loans and need a payday loan to survive until unemployment benefits arrives.
If you do not have unemployment benefits, you can also send a bank statement showing that you receive some income each month. This can even be an investment you have made, indicating that you have some monetary amount.
What is the price of a payday loan?
Getting a payday loan to advance a month's money is not free. Although the government has tried to limit the interest on these loans, some are quite high.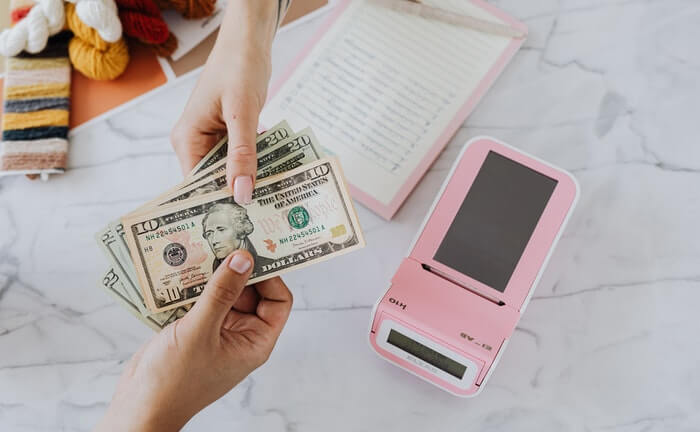 When you have submitted all the paperwork to get a payday loan with your unemployment benefits, they can decide how much money to give you. Sometimes it's $100, and sometimes it can go as high as $5,000.
There is no fixed interest rate when paying back these payday loans. But if we look across the board at all the places where they give these loans, the price can be anywhere from $10 to $30 extra for every $100 borrowed.
A payday loan may be right if you have good unemployment benefits or are close to finding a new job. That way, you'll tackle your debts today and pay them off when you can. But you need to be aware of all the conditions attached to these loans and know if it's worth it for you.
Was this Content Helpful?