The buy now pay later system has more and more users who are looking to save money in some way by paying for their products in installments. That is why many sneaker stores have taken the step to receive this payment method. Thus making it easier for their users to adjust their purchases in installments.
While many dislike making this type of purchase because of the possibility of affecting your credit history. The truth is that as long as you pay your installments on time, the "buy now pay later" system is undoubtedly a valid option for everything. Especially for expenses that exceed your budget otherwise.
Can you finance sneakers?
A sneaker collection is difficult to maintain, especially if we see it from the economic perspective where we must constantly update it. That is why many users decide for one reason or another to start financing their sneakers.
This is possible thanks to different companies such as Afterpay, which has undoubtedly become one of the go-to options in the market. This is thanks to the wide possibilities of acquiring products and paying for them in comfortable installments that fit your possibilities. This is without the payment of fees unless you are late with your payment transactions.
In the same way, many large sneaker stores present their own sales systems with buy now pay later or financing that suits you. So it never hurts to research the payment methods available at the store of your choice. You could be in for a surprise at any moment.
What sneaker stores accept Afterpay?
If you are looking for a new pair of sneakers or shoes in general in Afterpay you will find a real catalog full of possibilities, where you will find from big brands to variants that are a little cheaper but of great quality. No doubt this is a complete catalog available for anyone interested in a good pair of sneakers. Some brands available are:
Adidas
New Balance
Reebok
Shoe Palace
JD sports
Steve Madden
Puma
Culture Kings
Vans
Converse
Just Sneakers
Foot Locker
Sketchers
Among many other options that will suit both the model you are looking for and the desired budget. Thus creating an arc of possibilities both economic and quality among major brands in which you can pay for sneakers in installments.
How do I pay with Afterpay?
To shop with any of these stores you must go either to Afterpay's mobile shopping app or to their website. Once there you will have to search for "Sneakers" and before you will appear this wide catalog of different options in which you will choose the one of your preference.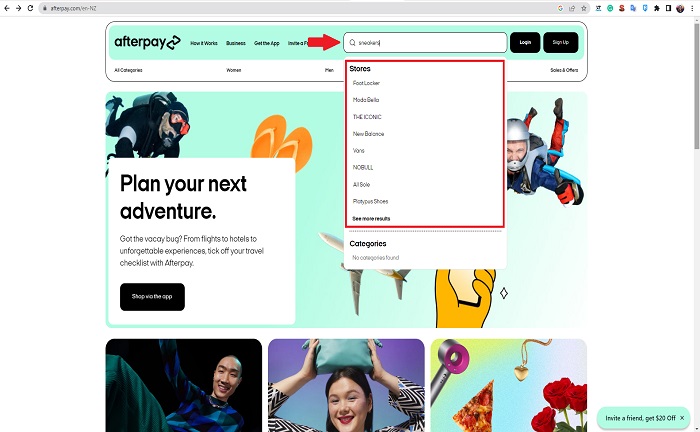 I have to point out that some of them will have a small window that says "In-store" this means that with these sneakers you will only be able to buy directly in the store and not through the web. When you click on the option you choose, the system will take you directly to the store page.
Here you will just go through the normal checkout process, but with the difference that you will choose Afterpay as your payment method once you have completed the process. Here you will be presented with the payment possibilities if your purchase has been made and your Afterpay account allows it. It is worth remembering that Afterpay offers a payment plan of 4 installments distributed every 2 weeks from the arrival of the product.
Does Nike accept Afterpay?
The answer is yes, the great distributor of not only sneakers but sportswear in general Nike accepts Afterpay among its payment methods. Thus giving you the possibility to buy and pay in 4 easy installments that will fit your economic possibilities. Although this is only possible for in-store or virtual purchases through resellers.
So if you want to take full advantage of this service you must go to make your purchase at an authorized Nike branch. To achieve this, you must have an Afterpay account approved in advance when you go to the cashier to pay for your purchase. With this account, you will be able to organize your payments in a matter of minutes.
One point to clarify is that these purchases will be made through approved Nike retailers. Therefore, for in-store purchases, you will have to verify that they have an Afterpay reader. While most stores have one already, it's never a bad idea to be prepared in advance.
No additional fees
As with other Afterpay purchases, there is no additional fee for paying in installments for Nike products. While you are not buying directly from Nike, but from resellers, Afterpay will still take care of the payment in full. However, as long as you pay the installments on time, no additional deposits will be made.
Does Converse take Afterpay?
Buying Converse sneakers has never been easier than thanks to Afterpay for the purchase of your desired product. Thanks to an existing partnership between Converse and Afterpay, you have the possibility to purchase official Converse products with your favorite payment method.
So you can make your purchases of Converse products with the possibility of paying in installments for both online and in-store items. To do this you will only need a pre-approved Afterpay account or to go through the approval process which takes a few minutes. Likewise, if you are new to Afterpay, creating an account will only take a moment and you will quickly be approved.
You can easily enjoy the installment payment service in 4 convenient installments that adjust once you have your product. Either with in-person purchases by going to the cashier at the Converse branch or with virtual purchases through the use of Afterpay as a method. It all depends on your needs and capabilities at the time.
References
Was this Content Helpful?