Adding friends is one of the most valuable functions and one of the most popular among Venmo users because it facilitates transferring money to an account you constantly send. Thus, the money is always directed to the correct account whenever you send or receive it.
But it is normal if, at some point, we want to delete a contact to whom we have transferred money before, either for personal or economic reasons, like if you consider that your friends are asking you for a lot of money. This can be done in a simple process that could save you from several inconveniences. Let's see how to remove friends on Venmo.
How can I send money on Venmo?
The process is quite simple if you're looking to use Venmo (like PayPal) to send money to friends and family. Here's a more detailed step-by-step guide on how to send money on Venmo:
Open the Venmo app. Before you can send money, you'll need to ensure you have sufficient funds in your Venmo account, a linked card, or a bank account. If you need to add funds or attach a card or bank account, you can do this in the "Settings" section of the app.
To send money, tap the "Request" icon at the bottom of the main Venmo screen. This will open a new screen where you can enter the transaction details.
Enter the name, phone number, or username of the person you want to send money to. Ensure you have the correct details to ensure the money goes to the right person.
Write down the amount of money you want to send. Be sure to double-check the amount to avoid any mistakes. You can also add an optional note and emoji to provide additional details about the transaction. This can help keep track of what the payment is for, and it adds a personal touch to the transaction.
Select the funding source for the transaction. This could be a linked card, a bank account, or a Venmo balance. Select the correct one if you have multiple funding sources linked to your account.
Before you complete the transaction, review all the details. Make sure the recipient's information, the amount, and the funding source are all correct. Once everything looks good, tap "Pay" to complete the transfer.
After you've sent the money, the recipient will receive a notification in their Venmo account. They can then transfer the funds to their bank account or keep it in their Venmo account for future transactions.
NOTE: Onle send money to people you trust, as transactions are typically instant and cannot be reversed.
Do you have to be friends on Venmo to send money?
No. You don't have to be a friend of someone on Venmo to send them money. You can find them by searching for their name, phone number, email, or Venmo username. Once you choose the recipient, enter the amount and add a note if you like. In fact, you can use Venmo to split bills, pay off loans, or buy things. However, it's essential to know how do you remove friends from Venmo.
Can you unfriend someone on Venmo?
While Venmo is an economic transaction app, they tend to focus a lot on the social aspect of the app, implementing the friends function that, according to many users, can help on many occasions. Still, it can also become problematic, so knowing how to remove Venmo friends is essential.
That is why for those who choose, for one reason or another, to remove a friend from Venmo, the possibility of doing so is given. This will not notify those removed, which is a well-thought-out detail.
If you wonder how to remove someone from Venmo list, you only have to go to their Venmo profile, either from the web or the mobile application. Once there, at the top right, you will find three dots that represent the settings. Through this button, you will find the "Venmo remove friends" option, which will remove them from your contact list. The step-by-step structure on how to delete Venmo friends is more or less like this:
Open Venmo App
Go to that person's profile
Tap the "Friends" checkmark
Select "Unfriend".
That's all! You now know how to unfriend on Venmo.
How do you know if someone has unfriended you on Venmo?
You may not even notice if someone unfriends you on Venmo. If someone removes you from Venmo, you will not be notified about their decision to remove you. So, the only way you'll notice that they've removed you is by going into their profile and looking for the transaction feed; while this is a great social feature, it can also be problematic.
Likewise, if they search for you in the app,
they will still have the ability to add you to the app
. Provided that you do not decide to go further and block the person from your
Venmo account
, which is also possible.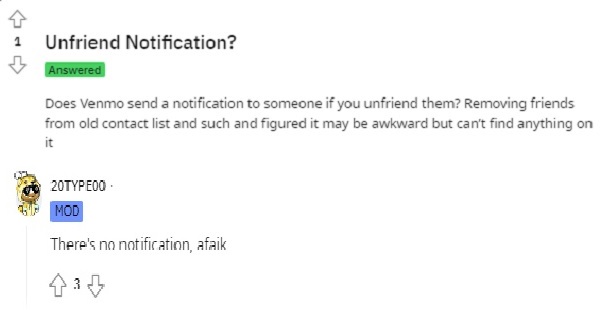 Likewise, you can mute transactions if you would rather not remove a friend from Venmo for one reason or another. This way, even if they are still on your contact list, they cannot see your transactions in the application. A great option if your decision is not to eliminate someone but to stop them from seeing your financial movements.
Can you block someone on Venmo? What do you see when someone blocks you on Venmo?
Although some users often find it helpful to delete and re-download the app when they block someone, this is not a feature intentionally offered by Venmo. They do not present the ability to block in the conventional sense but delete the user.
So when you want to stop appearing available to someone, the best thing to do is to delete them and hide your transactions. However, there are cases of users who have contacted Venmo customer service looking to block someone.
Similarly, changing the email or number linked to the account is recommended to stop being visible to the other user. Many users believe this may be a solution to remove other users from the account altogether. So, when I remove a friend on venmo do they know? The best part is that there is no way to realize someone has blocked a user.
How can I hide my Venmo transactions?
Now, not only do you need to know how to pay with your Venmo balance or how to activate your Venmo debit card, but it is also essential to know if transactions can be hidden. The answer is yes.
From the Venmo advertising section, you can hide all types of transactions from your friends, choosing whether these are private from now on or until you decide to change this setting.
This is a possibility that Venmo has imposed to allow those who have their Venmo account linked to their Facebook account or phone number to hide transactions. Since this function was available, many users reported that strangers could verify their economic movements.
This is one of the reasons why Venmo's social function has been considered problematic on many occasions. That is why it is advisable to hide transactions unless you have constant control over your friend list.
To be considered
How can I see my friends list?
From the Venmo application, it is possible to check your friend list and keep it under control to check who can or cannot see your social transactions. You can do this from your profile to see all of your friends. Here, you can also go to the profile of each contact you have added to verify their identity.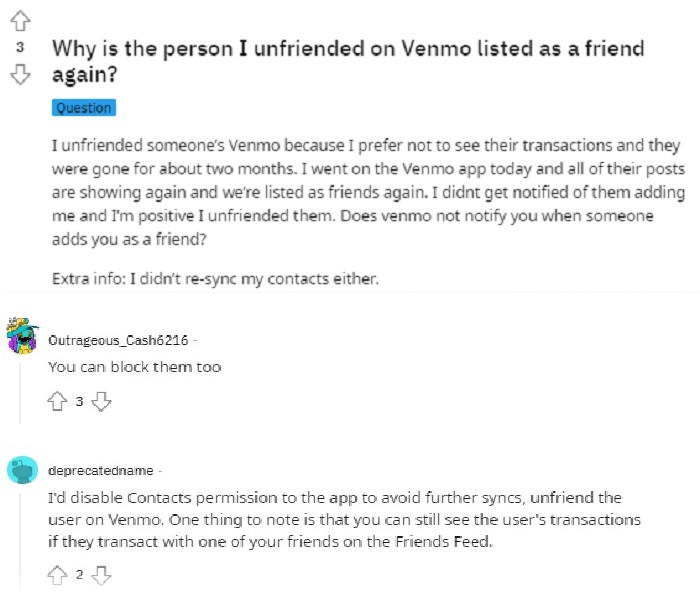 You will also have the possibility to check the list of friends of other users from their profiles, as is the case of them with yours. However, this function can be turned off in the "Privacy" section, where you can choose who can or cannot see your friends.
In the same way, your account will appear as a friend if other users have added you, but from the privacy section, you will also have the possibility to block your profile from appearing on other users' pages. Something that many do not usually like and choose to disable for privacy reasons.
Now that you have learned how to remove people from Venmo (or how to unfriend someone on Venmo), you must try it!
References