Venmo's person-to-person payment system has led the platform to become one of those methods that everyone should consider. Something that has encouraged the tens of thousands of users of the platform to try to make the most of it, even taking advantage of the activation of Venmo debit accounts.
Among them is the feature of being able to transfer money back to their bank accounts as needed. This is entirely possible with Venmo, and while it will take some time, it can be done seamlessly, regardless of whether you direct the money to your bank account or to one of your cards.

How can I transfer to my Venmo Account?
When we have a Venmo account the first thing we want to do is to increase the available transaction balance. To achieve this, rather than immediately linking a bank account, it is recommended to carry out the personal verification that allows you to have the Venmo balance available.
This balance acts as a wallet within the payment application, serving as an additional intermediary that is not your bank account directly. Although, like any personal balance, the Venmo wallet will need you to deposit the money to be used. Adding money to Venmo is not complicated.
To do this, you must go to the "manage balance" section, where you can both confirm the account from which you want to transfer to Venmo and make the payment itself.
This will top up your account balance, which you will be able to use after waiting the 3 business days it usually takes to complete the transaction. The best thing is that if you are wondering if
Venmo charges any commission,
in this case, it does not, but if you want it to get processed immediately, then it will require a commission fee.

How can I send money to bank accounts with Venmo?
Sending money from Venmo to another personal account can be a real lifesaver for our economy in a time of trouble. Giving us the possibility to pay for a card, for example, or add the money to a debit card that we are going to use. Undoubtedly one of those functions that every Venmo user should know the ins and outs of.
To do so, you must have previously verified your account, to make use of the money available in your Venmo balance. Once the verification process is done, transferring the balance to a personal account is simple. You must carry out the following steps:
Add the personal bank account to be transferred to
Verify the bank account (not a mandatory step)
Transfer the funds
This will result in a simple process in which you will have your money available in a matter of hours. This transfer can be done without any problems, either from your computer or Venmo's mobile application. Carrying it out as if it were any other payment in a process that will take a few minutes before the money is in the air.
To consider
One point you should consider when carrying out this type of transaction is that as long as you do not use Venmo's instant payment, the balance will take about 3 business days to be available. However, with instant payment, you will be able to avoid this wait in exchange for a small fee that varies according to the transaction.
This will be confirmed in the transfer details section just before the transfer is successfully completed. There you will find the different transaction possibilities and the fees that will be charged for it if you plan to use it.
Likewise, these fees will vary according to the total amounts to be transferred, so it is recommended to verify this information before making the transfer. Often, saving yourself the wait could be really worth it, or it could mean an additional cost that will be charged not from the transaction itself, but from your Venmo balance.
Can I have 2 Venmo Accounts and Venmo myself?
Another point that not everyone usually considers when talking about Venmo is that a user can have more than one account without problems. This is a feature that is amazing for those who want to have an account to share with family or a partner. Or those who simply would like to divide their funds among several accounts.
Although this could in some cases generate real problems when moving money due to economic inconveniences, with Venmo this does not happen thanks to its facilitation system at the time of sending and receiving payments. Thus encouraging each transaction to be carried out without any problem.
So it is possible to Venmo yourself in case you have two accounts within the platform. Similarly, the fact that both Venmo accounts are in your name will not save you time waiting for the transaction. So you will still have to wait the 3 business days that this type of movement usually takes.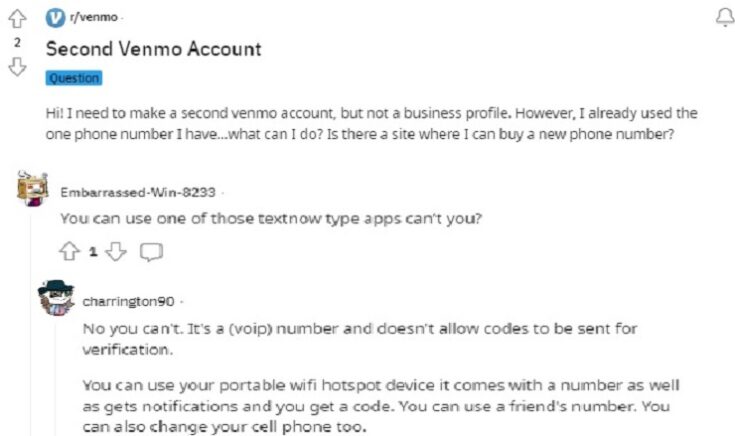 Can you Venmo yourself money from a credit card?
The answer is yes. Although this might sound like an incredible alternative, unfortunately, you will encounter certain blocks to doing so. When sending money from a credit card through Venmo, you're setting rates of up to 3% for each of the transactions you carry out with money from a credit card.
An inconvenience for those who plan to constantly withdraw money from their cards by making use of the application associated with PayPal. Similarly, this will only happen as long as the credit card belongs to the same owner of the Venmo account. However, this opens the possibility of making transfers from non-personal credit cards or using another Venmo account.
Similarly, there are usually certain restrictions when linking credit cards to your Venmo account, such as the fact that a credit card can not be associated with more than one Venmo account, which is a direct impediment to those who have multiple accounts. If you are interested, you should evaluate
Venmo recurring payments
because it will also be useful for this topic.
References
Was this Content Helpful?