Venmo is a mobile payment service that allows users to send and receive money electronically. PayPal owns it, and it is available as a free app on iOS and Android devices. Currently, thousands of users choose to transfer money through this application due to its ease and speed when making transactions.
On the other hand, Venmo allows you to add bank cards and cards from other companies to facilitate access to money from a bank account, for example. In this way, it is much easier to transfer money. In addition, Venmo users can see the transactions made by their contacts, comment, and react to them as if it were a social network.
How to add a Visa gift card to Venmo?
Adding a Visa gift card to Venmo is pretty straightforward, but Venmo may charge a fee for adding a gift card to your Venmo account. Also, remember that not all gift cards are compatible with Venmo, such as those that are allowed to be added: Discover, Visa, American Express, and MasterCard.
Access

Venmo's website

with your username and password or from the mobile app.

Click on "Settings" on the left side of the screen.

Next, go to the "Payment methods" option and click on "Edit payment methods."

A new window will open, and you must click on "Add debit or credit card."

Then, enter your card information (Card number, expiration date, security code, and ZIP code).

Finally, click on the "Add card" button.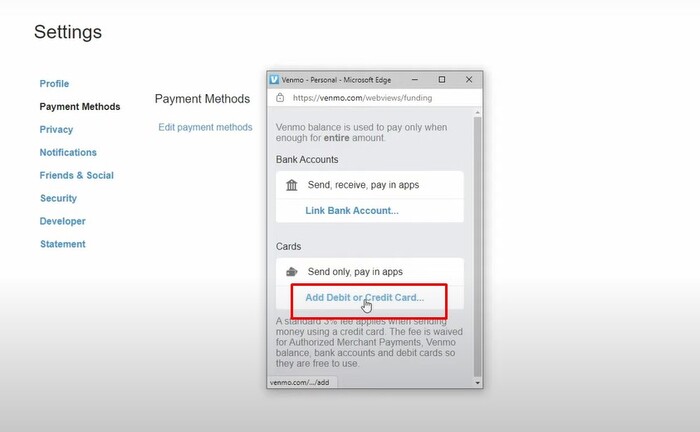 NOTE: Make sure the name on the gift card matches the name on your Venmo account.
Once the Visa gift card is added to your Venmo account, you can send money to other Venmo users, pay for purchases at merchants that accept Venmo, or transfer the funds to your Venmo-linked bank account.
Why can't I add a gift card to Venmo?
Suppose you want to add a card to Venmo and get an error message. In that case, it's probably because it's incompatible with Venmo. Perhaps the card has expired, or the ZIP code or address has been changed, so try to add the gift card to your Venmo ZIP code.
There are several reasons why you might be getting an error when trying to add your gift card to Venmo, so you should try some of these solutions:
Some gift cards can take several hours or even days to activate after they have been purchased. Ensure your card is active before adding it to your Venmo account.

Check that the gift card you are trying to add is compatible with Venmo, as some cards cannot be linked to the digital payment app account.

Verify that the gift card balance is sufficient to cover the transaction cost you wish to make. If the gift card balance is insufficient, Venmo will not allow you to add it as payment.

Ensure you correctly enter the card number, expiration date, and security code.

Gift cards have an expiration date, so make sure the gift card you are trying to add has not expired.
If you have any doubts, contact Venmo customer service so they can solve the issue and clarify why you cannot add a card to your Venmo account.
Can a Canadian send and transfer to an American?
Unfortunately, Canadians cannot send money to Americans through Venmo because the company does not allow this. Venmo is designed for domestic transactions and only allows users with U.S. bank accounts and phone numbers to send and receive money through its platform, so transfers between Canada and the U.S. cannot be made.
However, there are several ways for Canadians to send money to the United States or vice versa. An additional fee will be charged depending on the method used to make this transaction. However, most add an extra cost since it is an international transfer.
What is the cheapest way to send money from Canada to the U.S.?
Several options are available to send money from Canada to the United States conveniently and securely. These two neighboring countries have strong economic and commercial ties. Many transactions are made from one country to the other for various reasons.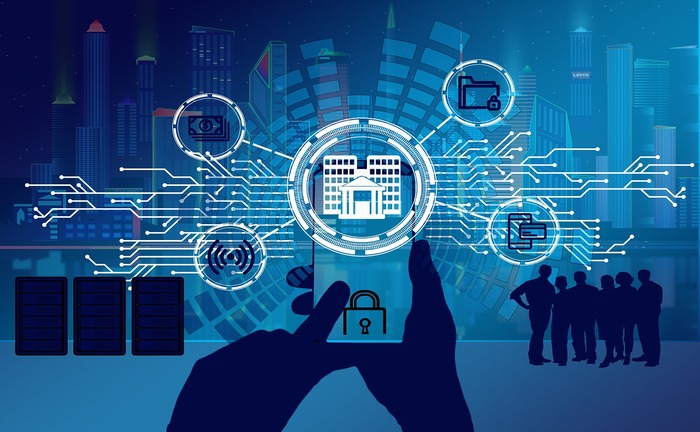 It may be because of bill payments, family or friend-to-friend transfers, payments to suppliers, or commercial investments, among many others. You can use several methods to send money from Canada to the U.S. since you can't do it through Venmo.
International bank transfers:

You can use international money transfer services offered by your bank or specialized online services, such as TransferWise, Xoom, or Remitly, to send money from your Canadian bank account to a U.S. bank account. These services usually have fees and processing times associated with them.

Remittance services:

Several remittance services, such as Western Union or MoneyGram, allow you to send money from Canada to the United States. These services usually have physical branches where you can send and receive cash.

Online peer-to-peer payment platforms:

Some P2P payment platforms, such as PayPal, allow you to send money internationally. However, be aware that fees may be associated with this and that the recipient must also have a PayPal account.

Online currency exchange services:

There are online services that offer to send money from Canada to the United States, such as KnightsbridgeFX, OFX, or CurrencyFair. These services can provide favorable exchange rates, especially for more significant amounts. They may charge lower fees compared to traditional banks.
References