Lids Sports Group is a chain of sports accessory stores in the United States. Currently, it is the largest American sports retailer for Americans as well as the most prominent officially licensed store in the country. It has many payment methods, including gift cards.
As the largest exponential chain in the United States, Lids ensures a close bond with customers to create loyalty to the products they offer.
Lids Sport Group
Lids Sports Group began in 1993 as a retailer of sports caps; in 1995, Lids Hat World Inc. was created and owned by the same company, but they were commercial stores. With time, they began to include sweaters, jerseys, and sets of sports brands to their catalog.
Today, Lids is the largest retailer in the United States for sports apparel, not for workout clothes but for clothes and merch from your favorite sports teams. Among the brands it works with are Fanzz, Just Sports, Seattle Team Shop, Buckeye Corner, Tiger Mania, Sports Fan-Attic, and Jersey City.
Lids Sports Group stores are mainly located in the U.S. but have expanded their reach to Puerto Rico, the United Kingdom, and Canada. Locker Room by Lids has over 1200 stores in these four countries.
Lids Gift Cards
Lids Sports Group offers the convenient option of payment through Gift cards specialized in its merchandise. These Gift cards have codes that can be used when shopping to receive benefits, coupons, or offers. Upon entering the official website, it is possible to see the "Gift Cards" category.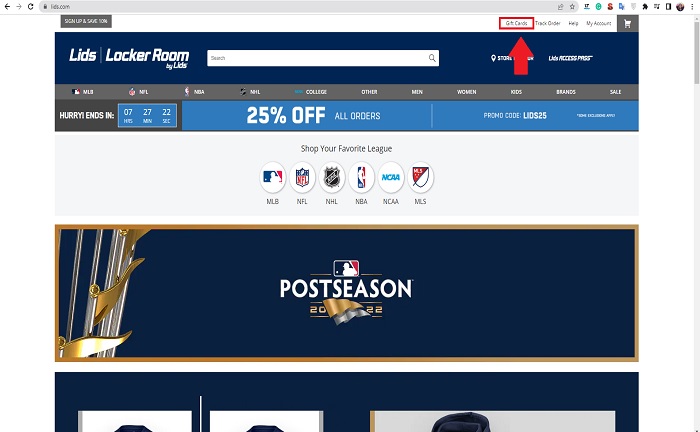 When you click on this button, a box will appear showing the available gift cards, an option to choose the amount, and other text fields where you must enter your name, email, and a message for the person who will receive the gift.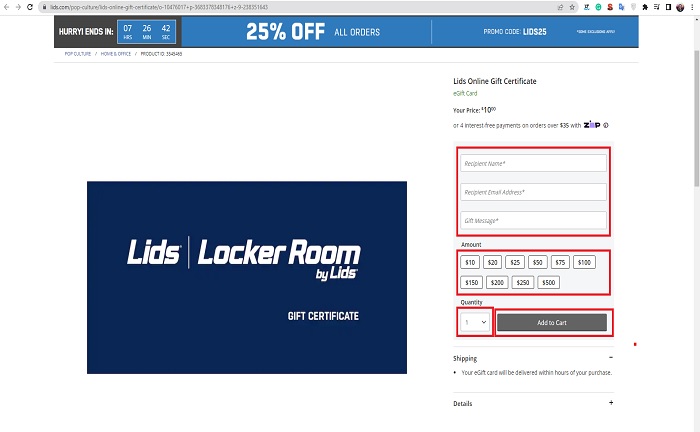 That said, Lids has two types of gift cards we will explain below.
Traditional Gift Card
These traditional gift cards can be purchased either in Lids physical stores or on their website, but they are also available on generic gift card sites such as Amazon, eBay, Gift card granny, and Card Cash.
When purchased from online portals, either on the Lids website or elsewhere, the card will be emailed and sent to the address provided; the physical card arriving in approximately 3 to 10 days.
The gift cards can vary in funds, being with $10 being the lowest amount and $500 the highest; each card can be recharged as many times as you want as long as it does not exceed the amount that was purchased; that is, if you buy a $20 card, you can recharge it, but the amount cannot exceed $20.
The same customer can purchase several gift cards of different amounts. A single person may purchase a maximum of 10 gift cards in a single purchase. If they are gift cards, they are not recharged.
If a gift card is lost, Lids is not responsible for lost funds but can deactivate it so it cannot be used.
eGift Card
This type of gift card has the same benefits as a traditional gift card; the only difference is that it is a digital gift card and will be backed up in the customer's email, not in physical form.
Lids ACCESS PASS Premium Subscription
This is a subscription that, when purchased, comes with a special gift card called ACCESS PASS. With this subscription, the customer receives benefits that others who are not subscribed will not receive, even if they have a traditional gift card.
The Lids Access Pass charges a $10 fee but can be recharged like a regular gift card. The mailing process takes 1 to 3 days, and after it has been delivered you can enjoy the benefits.
Some of the benefits of the Access Pass are a $10 reward for every $100 spent at any Lids store, 20% discounts on hats, 10% off at any physical store, 20% off at online stores, birthday gifts and notifications about limited editions before they are made public.
How to buy with a Gift Card at LIDS?
Making online purchases at LIDS is simple, as is paying with a gift card. The LIDS catalog is available on their website, where the materials, sizes, colors, and brands of the products available are specified.
Once logged in, you can start shopping, choose the product or products from the store, add them to the cart, and once the checkout is done, the payment methods will appear; among them is the option "Gift card/eGift Card" at the end of the list. The customer clicks on the "apply" option, and the system will deduct the money from your gift card.
Benefits of Lids Gift Cards
One of the main reasons people opt to buy Lids gift cards is the benefits and amenities for customers who choose to purchase it. By getting one, LIDS ensures a bond with customers, who develop an identity of their own with the store. Here are some of the benefits of a Lids gift card
Cards do not expire
Once activated, gift cards do not have an expiration date, i.e., if purchased and kept for years, the card will still be active with funds intact and without any recharge or activation fee.
Many options for everybody
Lids gift cards have a variety of funds for different types of customers to suit everyone's needs. Card types include: $10, $20, $25, $50, $50, $75, $100, $150, $200, $250, $500.
A simple and a good gift
Cards are a good gift option, with many options for the gifted, as they can spend the funds however they like in the store.
Rechargable for life
Gift cards sold in physical stores can be recharged as many times as the customer wants; there is no need to buy a new card every time the existing funds run out.
Discounts and sales
Customers who have lids gift cards enjoy discounts that others do not. Each gift card has a code that can be used with coupons when buying online; this means that some discounts or promotions may not be available in physical stores when buying digitally.
References