Jamba Juice is known as a smoothie chain in the United States. Today, it inspires and actively helps people to live a healthy lifestyle. With the trend of creating a closer bond with consumers, Jamba Juice inaugurated a special gift card dedicated to its products.
One incentive is to earn banana points through the Jamba Juice points system through the money used with the gift cards.
Jamba Juice Gift Card
Jamba Juice gift cards are an ideal option for consumer convenience, valid in the 650 physical stores in the country. The activation process is through the Jamba Juice website, and you have the option to send it digitally or by mail. When you enter the website, you will see a "Gift Cards" section.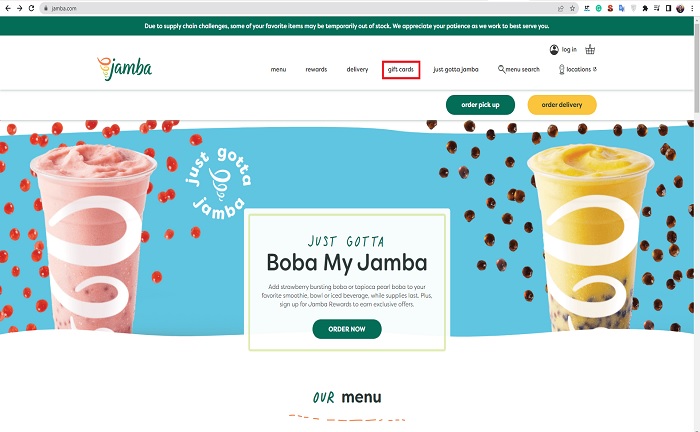 By clicking on it, you will have the option to purchase a gift card or check the balance of the one you already have.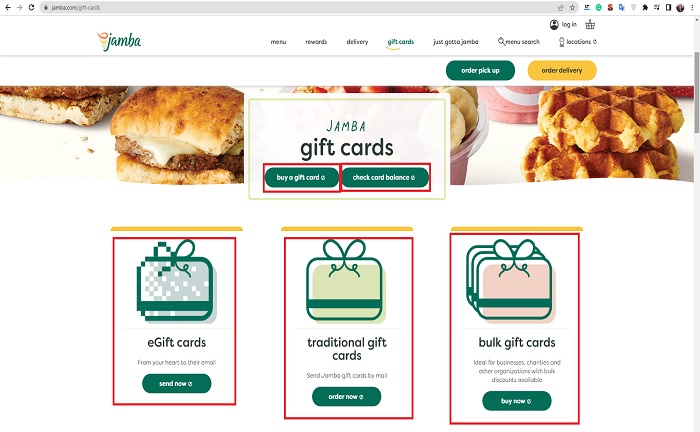 In addition, you can see the gift card options available to send as a gift to someone else.
Another way to purchase a gift card is at Jamba Juice physical locations or at points of sale that sell gift cards. Jamba Juice offers three gift cards for consumers to choose the one that best suits their financial plan.
Jamba Juice's eGift Cards
Jamba Juice offers eGift Cards, which are digital cards to be used on the website, on the app, and in stores. Their benefit is that they are comfortable and convenient, and the customer is less likely to lose it since it is a digital asset, nor can it be stolen.
When purchased, the card is sent directly to the customer's email, where it will remain safe. It can be reloaded even though it is not physical. It is a fast and practical option.
The way to buy in a physical store with this type of card is to show the cell phone with the card so that the code is read and discounted from there. Another option is to carry the printed card.
Jamba Juice's Traditional Gift Card
This is a physical card of the smoothie brand; this can be purchased directly at the store or ordered online; if ordered online, it is sent by mail. They can be reloaded as long as they are purchased at a Jamba Juice store. Cards purchased online or in stores are for one-time use only while supplies last.
Bulk Gift Card
These are cards sold in bulk. They are ideal for businesses, charities, or large companies. This particular card has wholesale discounts with discounts starting at $500.
Benefits of Jamba Gift Cards
Whatever the chosen presentation, Jamba Juice gift cards have a series of benefits and amenities for customers who decide to buy them. However, it is important to know that it is still a system under optimization for a smoother customer experience.
The objective of Jamba Juice is to create a brand identity with its customers, to make them feel loyal, and reward them for it. Check out some of the benefits of acquiring a Jamba Juice gift card:
Benefits
Jamba gift cards have no expiration date.
Gift cards available from $5 to $100.
With Jamba gift cards, fees are eliminated.
It's a great gift for the health-conscious.
With a gift card you are sure to get discounts and promotions at Jamba.
No expiration date
Jamba gift cards do not expire, neither digital nor physical. If stolen or lost, Jamba Juice is not responsible, but if you have the payment receipt, the card number can be tracked so it can be blocked, and a new one can be delivered to the customer with the amount of money registered in the system.
Reloadable for life
In physical stores, options range from $5 to $100; if you want to reload it, they give you the option to go up to $500. You can reload it whenever the customer wants as long as the final amount of the card does not exceed $500.
Since there is no expiration date, there is no time limit to stop reloading the card. However, this option is only for physical cards sold at Jamba Juice. It is also important to know that it can only be reloaded at any physical Jamba Juice store, not just the one purchased; however, it cannot be reloaded digitally.
The digital cards allow for sales options between $5 to $200; however, once the funds are spent, they cannot be reloaded.
No Fees
When paying the bill with the Jamba Gift Card, the business does not charge an administrative tax or customer service fee.
Customers who purchase a physical card on the website will be charged a mailing fee.
Perfect gift
A gift card is a perfect and practical gift since the person will decide how to use it as they wish. It is a simple but meaningful gift.
Discounts
Customers enjoy discounts, coupons, and special promotions that other buyers do not get when buying a gift card. Some discounts are 50% off the first drink purchased with the Gift Card to welcome them to the Jamba Juice Card, 15% off on your birthday, and, if you have already spent $15, a free drink on your birthday.
Also, if you buy gift cards on websites like Amazon, eBay, Card Cash, or Gift card Granny, they usually come with special discounts and coupons; the only disadvantage is that those versions are not reloadable.
References