Klarna's buy now pay later service offers different possibilities to purchase specific products by paying in convenient installments that fit your economic possibilities. So it is normal that as a good saver, you look for different purchase options to take advantage of this service.
Well, let us tell you that if you are a Klarna user and you are looking for any of the Bed Bath Beyond products, you have the possibility of acquiring them with BNPL. This is thanks to the service of Klarna, the payment accommodating company that since 2005 has been growing steadily, to the point of partnering with more than 400,000 merchants around the world.
Bed Bath & Beyond with Klarna
Within its website, Klarna offers a targeted option for Bed Bath and Beyond products. This is due to its partnership as an installment payment system for the housewares company, giving the possibility of acquiring its products by paying in convenient installments for everyone.
Another highlight of this partnership is that by using Klarna to buy in Bed Bath and Beyond you have the possibility of accessing certain discounts; which, although they are offered by the store itself, you can take advantage of only by making use of this payment method. These discounts are usually available only on special occasions.
So it is always worth checking the Klarna website for the savings options presented there. This along with the ability to cancel your purchase in convenient installments that suit your financial possibilities with no collection fees.
How to shop at Bed Bath & Beyond with Klarna?
One point to consider is that, although some promotions are displayed through Klarna, the purchase process is done on the Bed Bath & Beyond website, in which you will find Klarna as a payment method when making your purchase.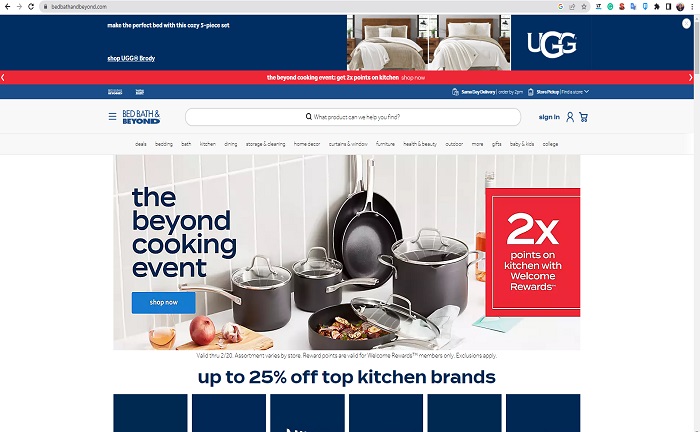 Likewise, when talking about a store that is in partnership with Klarna, you will have the possibility to make these purchases through the payment application. This is a simple process where you will be allowed to choose the payment method with Klarna as an intermediary.
Allowing you to accommodate your purchase as you are approved in different payment plans. Regardless of whether your purchase is done online or whichever Bed Bath and Beyond branch you are trying to buy in. Although it's worth clarifying that if it's promotions you're looking for, you'll need to be a resident of the United States.
Payment Methods with Klarna at Bed Bath & Beyond
Klarna presents to its users 3 specific payment methods according to each of their purchases. This is so that everyone can accommodate payments according to their economic situation. These 3 methods are:
Pay in 4
Pay in 30 days
6-36 Months Financing
With Pay in 4, you have the possibility to receive your Bed Bath & Beyond items in a normal delivery by paying 25% of the total cost in advance. The rest of the payment will be divided into installments. This is similar to Pay in 30 Days in which, as the name says, you will arrange a single payment of the full amount 30 days after receiving your product.
Finally, there are financing plans between 6 and 36 months, which, although they are focused on large purchases, are always worth considering. With these plans, your invoice is divided into convenient installments distributed according to your convenience. Thus leaving a monthly fee to be paid until the total amount is paid in full.
Klarna Coupon System with Bed Bath and Beyond
Many users are not aware of the existence of Bed Bath Beyond discounts whenever they make payments with Klarna. These offers are offered occasionally and you can find them on the Klarna website. They also tend to occur on dates such as Black Friday or Christmas.
These offers are designed to encourage users and customers to try the
buy now pay later payment
system. This is usually seen as a scam or is not taken with the confidence that a company like Klarna deserves. It is worth clarifying that these discounts are presented under
the possibility of paying in 4 installments.
That as we have seen consists of paying 25% of the product in advance and the rest in 3 comfortable installments that fit your possibilities. In which there will not be a fee charge as long as each one of them is paid on time. Likewise, these offers are adjustable to Bed Bath and Beyond coupons, so the user can get additional discounts.
The offer can be availed both online and in-store
Something that many do not know is that Klarna users can shop both online and in-store. Thus making the most of the buy now pay later system at your convenience at the time. To make it virtual it is advisable to have the Chrome extension on your computer or download the Klarna application.

In it, you will find the Bed Bath and Beyond section, in which once you choose the product you will see Klarna among the payment methods. I have to clarify that for this you must have your Klarna session active and validated.
In the case of purchases in the store you must configure your Klarna card for one use. This is possible in the "shop in-store" section of the Klarna mobile app once you are logged in.
Here you will be able to create this card which will link to your Apple Pay or Google Pay account depending on what you want. This is a one-time use online card, so whatever you spend here will only be reflected once and will be charged accordingly.
References
Was this Content Helpful?
YesNo