One of the most widely used payment and collection platforms today is Zelle. Along with PayPal, it is one of the most popular in recent years. And the fact is that cash, almost internationally, has been relegated to a level of little importance. But what happens when we still need to become experts in handling these applications?
The first step is to know how to accept money from Zelle. Here we will proceed to explain the steps to follow to receive a Zelle transfer without a bank account and provide you with other references regarding this electronic payment system from financial institutions such as Bank of America, Chase, and Wells Fargo.
Overview of receiving money with Zelle
Like other platforms, Zelle is created to handle money for individuals and companies in a simple, fast, and secure way. Its most relevant aspect is that if you do not have a bank account with a reputable bank, such as U.S. Bank or Capital One, you only need an email address, debit card, and phone number to access the service.
In other words, no matter what financial institution you have an account with, you can still use Zelle to accept and send money.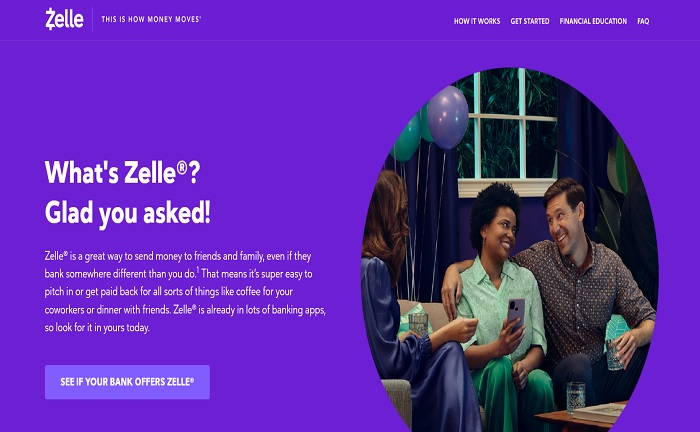 Let's take a look at some critical aspects before reviewing the process of receiving money from Zelle:
Someone sent me money from Zelle; how can I receive it?
If you are already registered with Zelle, then there is no need to go through any paperwork. The money will be sent directly to your account associated with your profile. How long does it take for Zelle to transfer money? Just a few minutes.
In case you are not yet registered in the electronic payment system, then you will have to follow these steps to accept money from Zelle:
You will receive an email or text message that the money was sent to you. There is a button ("Accept Money") to send you the app. Click on it.
Proceed to download the Zelle app, either from Google Play or Apple Store, and click on "Get started."
Depending on the transfer method that was sent to you, enter your email or phone number. Then, select "Continue."
Check the privacy box and click again on "Continue."
In the "Find Your Bank" section, look for your bank. If it is listed, you will be redirected to complete the receipt of the money on your bank's website.
If you do not see your bank or credit union listed, click "Don't see your bank?"
In the "Add Debit Card" section, enter the associated bank account's debit card (Visa or Mastercard). Click on "Continue."
Finally, add your billing address on the next screen and click "Continue" again to finish the procedure on how to accept money from Zelle.
Once you have completed each step, your Zelle account will be ready to receive any future transfers.
Tip: check that your phone number or email is registered with the same name as the recipient. Otherwise, there could be problems in receiving the money.
It is essential to remember that if you do not register with Zelle within 14 days of receiving the transfer, the payment will expire, and the funds will be returned to the account of origin.
How do I receive money from Zelle without a bank account?
This electronic payment system is growing daily, so if your bank still needs to be associated with Zelle, it will surely be shortly. But what happens when you need to receive money from Zelle but need a bank account?
Don't worry; beyond that, you can still use the app. Just download it from the mobile store on your phone and register a debit card. After that, you will be able to receive money safely from any client (if you use it for work) or individual.
However, for the transaction to go through, at least one of the two parties must own a bank part of the Zelle network. Otherwise, you will need a bank account to receive money from Zelle.
Please note: Zelle is on more than 1,700 banking applications. If you want to find out if your bank or credit union is part of this platform, check https://www.zellepay.com/get-started.
Can I receive money on Zelle through Chase Bank?
As we indicated at the beginning, Zelle is part of significant financial and banking entities in the U.S. One of them is Chase Bank. To find out how to receive money on Zelle through Chase, follow these instructions:
Register in the Chase Mobile app. Then, log in.
When you log in, click on "Pay and Transfer."
Click on "Send Money with Zelle."
Accept the terms and conditions and click "Get started."
Choose your bank account and add an email and mobile number (You can add up to 5 emails).
Select "Continue" and enter the code you received on your cell phone.
Click "Done." Now you can start sending and receiving money in Zelle through Chase.
Important: Learning to accept money from Zelle to Bank of America is practically the same procedure as with Chase. What's more, recently, with this bank, you no longer need to download the Zelle app, as it operates directly with the same Bank of America application. Don't worry; all your contact information and payment history will be reflected in the app.
FAQs
What is the limit for sending money to Zelle?
It depends. If your bank offers Zelle, contact the bank directly to find out the limits. This is because they are usually different. Otherwise, the limit to send money with Zelle is $500. Requesting an increase or decrease in the limit will not be possible.
How long does it take to receive money with Zelle?
It usually takes minutes. If more than 3 days have passed, check if you have completed your profile and registration with Zelle. You can also check that you have correctly entered the email or phone number you provided to the sender. If everything is in order and the money is still not coming in, contact your bank or credit union's customer support.
References