There are many ways to save and keep our money safe today; one of these ways is with a DasherDirect card; these are prepaid cards that we can manage physically and electronically.
These have many benefits that can help us not only to save money but also to organize ourselves in the best way as far as finances are concerned. Platforms of this type are very much on trend.
How can I get this DasherDirect card?
To apply for this card you must have a series of considerations and important data to consider, these are:
With those requirements or issues to consider, you can apply for your card without any problems on the website or Dasher application. This cannot be forwarded to family or friends. Each account is unique and you cannot create more than one, this could lead to consequences such as account blocking and deactivations.
Physical card and waiting times
DasherDirect physical cards can take 2 to 3 weeks to arrive. The good thing is that the cards arrive directly at your home. Note that as long as you have the app, you can pay virtually. However, for ATM or supermarket withdrawals, you will have to wait for the debit card.
What savings benefits can I have with my DasherDirect card?
In this card, we find a series of important and relevant benefits that we can consider in our savings. One of these positive points is that by paying with this card at any gas station, we save 2% on billings.
This is an agreement that has a Dasher account. Similarly, you can double your cash back with an additional 2% on gas at Chevron when you sign up for Visa SavingsEdge on your DasherDirect app.
Furthermore, with this card, we can pay bills, services, and any civil-related fees. These cards work at All Point ATMs located throughout the U.S. and there is no fee to use them.
Transaction fees on the DasherDirect card
Some transitions or items of interest related to the Dasher Card cost money to use. For example, in case of theft or loss, you are charged a $5 fee to get a new card. Inactivity on the card also costs $2.50 per month, but this happens if the year of inactivity has passed. Those amounts will start to be charged only on that condition.
Activities or payments abroad will be charged with a 3% commission and if you use ATMs outside the All Point network, the cost for withdrawals will be $2.50 dollars.
What other offers can I get with my DasherDirect card?
These offers and sponsorships where we can get some profit or savings can be found in the application, specifically in the "benefits" section.
Offers
Offers on groceries last up to 5 days.
Offers on gas stations are for up to 2 days.
There are offers for retirees in the CalSavers program where they advise you as a Dasher customer.
Dasher customers with Everlance get deals on tax arrangements at 20% off.
For education with Fijngenoege + Co, you get over 120 courses for only $5 per month.
On the e-bike site you get free trials with Zomoo and damage insurance up to $100.
In these cases, it is necessary to see in which merchants you can apply to these offers and make them without any problem or inconvenience. The places where the DasherDirect card comes in are gas stations (explained above), restaurants, and supermarkets.
These offers at gas stations can be given up to 2 times per day and groceries in the same way, these offers can only be applied 5 times per day, and it is recommended that you check the application to know when they appear and where. Other points where Dasher offers are present are retirement, taxes, education, and even electric bicycles.
In the case of retirement planning, it is allowed for every Dasher customer in California with the CalSavers program, where you can sign up and get advice for being a Dasher customer. Moreover, with Everlance you can arrange a tax write-off or counseling at a 20% discount for being a Dasher customer.
On the subject of education, with Fijngenoegen + Co, a company dedicated to providing educational courses of all kinds, you can get 120 courses for $5 a month by paying with your Dasher card.
And on the electric bike site, you get a free trial with Zoomo and $100 damage insurance. In these cases, you must pay and register your Dasher account for these benefits.
How can I get money or withdraw money with my DasherDirect card?
The DasherDirect card can be handled virtually or physically, through the application with your debit account respectively.
Virtually we can have the option to pay for online purchases, bill payments, transfers, and any transaction that does not require inserting a card. First, you must log in with your username and password.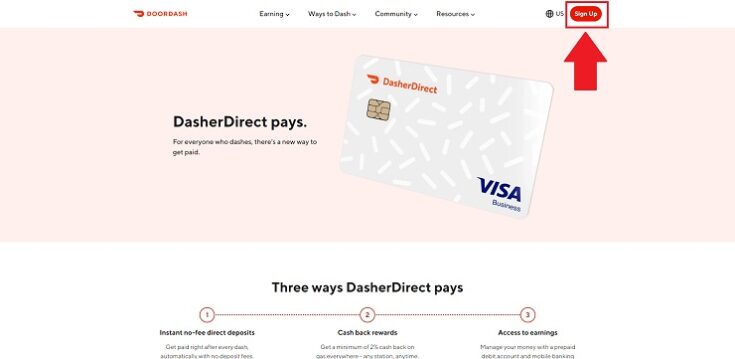 In the "Manage Card" part of the DasherDirect application, you can view your virtual card and interest amounts and activate it for retail stores or mall purchases.
Typically, payments made or sent to this card are available the next day, as are commissions for paying at gas stations (for frequent drivers this is one of the most important earnings).
Another way to earn money and partner is for content creators. With a Dasher card tips sent by followers are automatically associated and can serve as a means of payment registration in apps.
These payments with the physical card can be withdrawn at a selected ATM or in case of not having this account in physical form. Another way to withdraw is to send the payment to another US account you have and withdraw through that section.
Please note that it is not possible to associate other types of accounts such as Paypal or Cash app to these DashDirect cards, for trying something similar your account could be blocked. If you have problems with your card you can contact DoorDash Support, they are the ones in charge of managing and overseeing these operations of the company.
References