The Sezzle alternative payment platform has positioned itself as a viable option for buy now pay later processes. This is thanks to the presentation of its payment plans that favor the user's ability to accommodate payments at their convenience.
Although this is a service that is usually considered as a buyer, for the merchant side it also offers an excellent service. That is why we will now explain a little about how Sezzle works for merchants and what benefits it offers.
How does Sezzle work for merchants?
By offering Sezzle's payment packages that are divided into 4 installments over 6 weeks, subscribing merchants are looking to increase both their sales numbers and the amount they sell. This is thanks to the very attraction that Sezzle offers, being an added value to the possible purchase of users.
This is thanks to the opportunity merchants receive to add an option for interest-free installments to their payment methods. Something that immediately attracts the attention of users looking to save by paying in installments. Undoubtedly, this is Sezzle's biggest differential, the possibility of adding a plus to your business that you didn't have before.
Unlike other BNPL services, in Sezzle the merchant does not have to sign a permanence agreement. Instead, you must create an account and have it approved as a business, and then you can start receiving payments in installments.
| | |
| --- | --- |
| | Sezzle for retailers |
| Does the money arrive in installments? | Once registered, you are recognized as a merchant. However, the money will arrive within 1 to 7 business days. |
| Rates | 6% of the sale plus $0.30 for each transaction |
| Financial risk | Sezzle is responsible for any financial risk |
| Prepayments | One-time payment of 20%. |
Does this mean that my money arrives in installments?
Well, the answer is no, once a retailer has registered in Sezzle to make sales by installments, the system takes it directly as a seller. So the payments that customers make for purchases will be deposited in full.
This minus certain fees according to the specifics of the transaction and the account restrictions. It should also be noted that this money will be processed in a period of 1 to 7 business days, depending on the payment schedule available for your Sezzle account.
Undoubtedly, this makes Sezzle an option that every retailer should consider if they want to grow their business. By simply creating an account, customers can pay in easy installments over 6 weeks. This while you as a merchant receive the full amount in less than 1 week.
Fee system
A point to clarify before creating an account with Sezzle is the transaction fee system for merchants. Sezzle charges 6% of the sale as a fee, this adds up to about $0.30 for each transaction made with them. While this sounds like a lot, you have to consider the benefits that this payment method brings to your business.
Likewise, they offer certain partnerships with businesses looking to accommodate different payment rates. However, this will depend on your relationship with Sezzle and whether or not you come to an agreement with them about the charges.
It is worth noting the fact that these amounts are subtracted once the money has landed in your Sezzle account. So we are talking about 6% of what you wish to withdraw from the account and not from each transaction. Likewise, there will be no other transaction fees if the user is late with the installment payments.
The financial risk lies with Sezzle
The main feature of Sezzle's buy now pay later system for merchants is the fact that the major financial risk falls on them. This is given that the merchant will receive from the moment of purchase the money in full (except for transaction fees). Regardless of whether the user pays the 4 installments or not.
It is important to remember that as a user, the only advance payment you will make when purchasing your product will be 25%. The rest of the money will be divided into 6 weeks without fees, according to your economic capacities.
Although it should be clarified that in the case of a refund:
The merchant must return the money to Sezzle
Transaction fees may be forfeited
Depending on the case Sezzle will leave the following transactions free of charge to the merchant
Refunds must be given by the same method of initial payment
How do I create an account on Sezzle as a merchant?
To start trading with Sezzle as a business you must first go through the approval process when creating an account.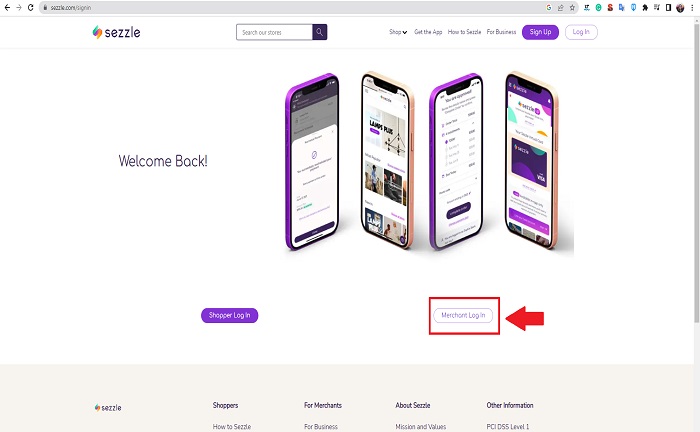 This can be done from their website where an executive briefing will be requested to verify the merchant.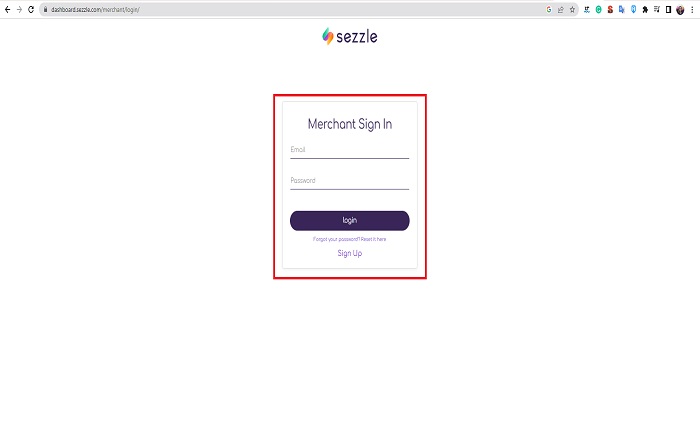 Once your application has been approved you will be directed to the "new business" section where the section for your merchant will be set up. The system will request the data required by your company to start your Sezzle account. Among the data requested, you will see tax confirmation and all kinds of business IDs.
In the same way, Sezzle will request economic information about your business such as annual income or monthly sales. This is to have some access to the amounts that your business usually handles in advance. Thus considering what will be the payment plans of the users who pay you through Sezzle.
Accepting in Sezzle and setting up payments
Once you have done this, the Sezzle team will verify your forms and check if your business can acquire this payment method. In case the information provided is not enough, they will reach out to you to provide the missing data.
Once this process is completed and approved, it is time to add Sezzle to your website if you have one. This is done by activating Sezzle's pay-in-4 core product setup and installing their widgets on your website.
References
Was this Content Helpful?