Delivery companies are increasingly used by users of ordering apps, which generates more jobs as delivery drivers, generally for young people who want to save for their future. DoorDash is one of the US most widely used delivery companies, and its workers have some benefits.
DoorDash has grown significantly, and delivery drivers are on call to deliver in more than 300 cities across the country. Drivers can access different transactions thanks to the company's DasherDirect card.
What is the DasherDirect card, and how is it used?
Oklahoma-based Stride Bank NA issues the DasherDirect card. It is partnered with DoorDash, Payfare, and Visa, so it is accepted by a wide variety of merchants that have Visa as a payment method.
While DasherDirect is not a credit card, it serves the function of a prepaid debit card, providing various benefits to its users, such as being able to withdraw money from more than 20,000 Allpoint ATMs nationwide and without any additional fees.
Do I need a PIN to shop with DasherDirect?
No. As it is a virtual, debit, and prepaid card, you do not need to insert a PIN at the time of payment; you only need to press the green payment confirmation button. However, the PIN may be indispensable, so if you are asked for it, you will probably have to enter your birth year. If you were born in 1993, your PIN would be 1-9-9-3.
Is DasherDirect a Credit Card?
No. DasherDirect is not a credit card. It is a prepaid debit card, meaning you must verify that you have sufficient funds to purchase. If you try to use it as a credit card and want to buy in installments, i.e., a partial payment, it will be rejected for lack of funds.
What can I use my DasherDirect Card for?
The DasherDirect card allows payments with benefits for DoorDash employees. One of these benefits is that every time they fill up with gas, they get a 2% rebate on the final amount. It is an excellent way to save money for drivers who use their mode of transportation frequently.
The DasherDirect card can also be used to make utility or bill payments at locations that support VISA directly from the virtual wallet or service app. The card can also be used to send money to eligible accounts.
To purchase a physical DasherDirect card, you must request it on the company's app or website by entering your contact details and the address where the card will be delivered.
It takes approximately ten days to arrive, if you wish to use your DasherDirect funds, you can do so directly from the virtual wallet app without waiting for the physical card to come.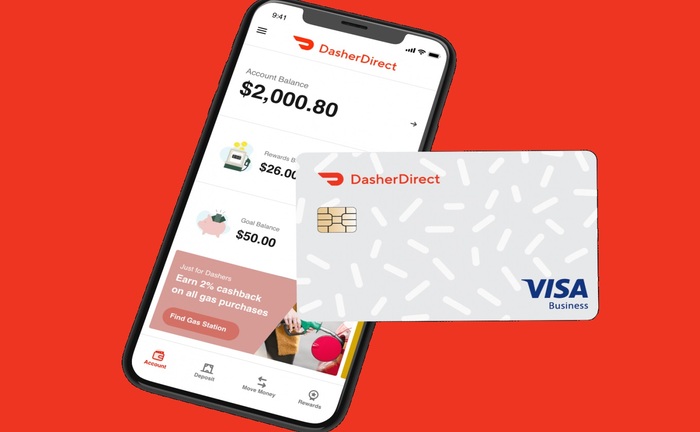 What can I pay with the DasherDirect card?
As mentioned above, with the DasherDirect card, you can pay for bill services physically or virtually. You can make transactions from your virtual wallet to shop online or in stores that accept online payments. Log in to "Manage Card" from the application and make payments without needing a physical card.
On the other hand, from the application, you will have to request the activation of your physical card so that it arrives at your home and you can start using it. It usually comes within ten days after the card application has been approved.
DoorDash drivers who have their DasherDirect card can fill up at any gas station, and not only will they be able to pay with their card, but as recognition from the company, they will be reimbursed 2% of the total amount of the final fuel load. The latter applies exclusively and only for refueling.
On the other hand, you will have instant access to your earnings from the app, including user tips. In addition, you can access AllPoint's more than 55,000 ATMs nationwide.
Remember that since the DasherDirect card is not a credit card, you will only be able to use it as a debit card, so you will not be able to pay in installments.
What are the fees for using the card?
While there are no monthly maintenance fees for the card, or when withdrawing money from an ATM, the DasherDirect card charges additional costs depending on the transactions and movements made from your account.
Foreign transaction: 3% of the total transaction.
Direct Deposit: $4.95 per reload.
Card replacement: $5.
Balance Refund Check: $3.50.
Bill payment by physical check: $1 per check.
Non-network ATM transactions: $2.50 per transaction.
Account inactivity fees after 12 months with no transactions: $2.50 per month.
Requirements to apply for a DasherDirect Card
Only some people can get a DasherDirect card, as it is only for DasherDirect employees. So, to apply for this card, the conditions are:
Be a DoorDash employee.
Have the latest update of the application.
Be over 18 years old.
Have a valid and current driver's license.
Residing in the US.
Have a Social Security Number.
How to withdraw money from ATMs with DasherDirect Card
When you want to cash out from a DasherDirect Card, you can do so from any ATM that accepts VISA. As mentioned in the previous section, you will be charged a fee of $2.50 per withdrawal.
On the other hand, you may be charged an additional fee depending on the amount of money you withdraw, so you should look at the ATM screen to see how much the extra expense is to be sure of the additional charges that will be applied for each transaction.
Once you are at the ATM, insert or bring your card close to the reader and choose "Checking Account" when the ATM asks you from which type of account you wish to make the transaction. Next, you will need to insert your pin, enter the amount you want to withdraw, and that's it!
How to apply for a DasherDirect Card
To apply for your DasherDirect card, you first need to know that you need to be a DoorDash employee. If you already meet this requirement, all that remains is to follow a series of simple steps:
Log in to your smartphone's app store.
Download the "DasherDirect" app from the App Store or Google Play.
Sign in or register.
Go to the "Earnings" option.
Select the Bank icon.
Locate the "Payment Options" button.
Next, select "Others".
Click on "DashDirect".
You will have to register in the program with your data.
Apply for your DasherDirect card and wait for it to arrive at your home to start using its benefits.
What do I need to apply for my DasherDirect card?
To be eligible for the DasherDirect Card, you must be a DoorDash employee. Now, you need to provide personal information to apply for your card and be part of the benefits program. These personal details include:
Cardholder's full name.
Valid and current driver's license or ID issued by the state government.
Applicant's current address.
Social Security number.
After completing your information and requesting the card, you will receive it at your home address in approximately ten days. However, you can use the virtual wallet to make immediate payments before your prepaid DasherDirect Visa card arrives in the mail.
References