The Woman Within credit card is a card issued by Comenity Bank to offer you a better option to make your purchases in the store. This store is exclusively for women, where they can find all the women's clothing and accessories they need.
With their credit card, you can get everything you want from the store and pay for it more conveniently even if you don't have enough funds in your bank account. However, it would help if you took precautions to avoid payment complications in the future.
Women Within Credit Card Bill Payments
Should make credit card payments from this store on the agreed date to avoid hindering your credit history and starting to cultivate unnecessary debt. The procedure for paying your card is quick and simple. Although you have different alternatives among which you find:
Online payments
The best choice is to manage your entire account through Woman Within's online platform. When you enter the main page, you will find a menu on the right side with different options. The fastest way is to click on "card," where you will see a menu with a pink button that indicates "pay my bill."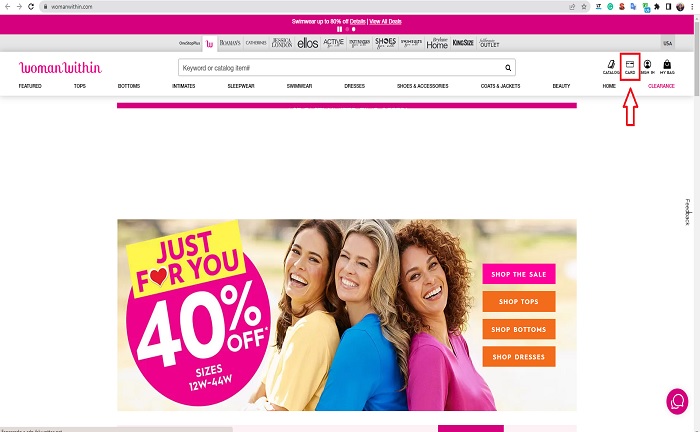 Pressing it will redirect you to a new page with the procedures to make the card payment. Log in with your card number and evaluate the current debt. You can pay the minimum amount or the total amount.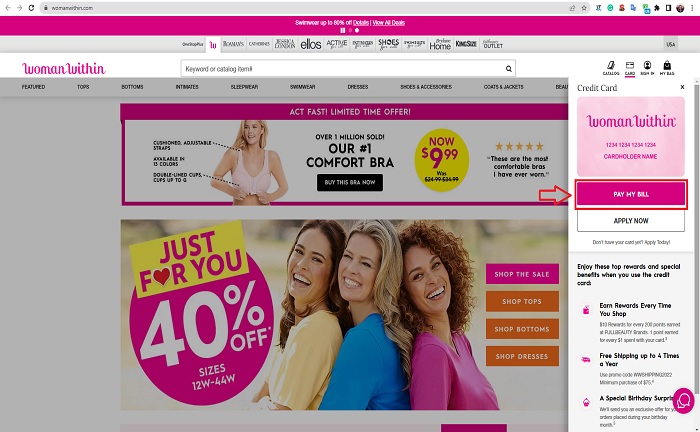 Another alternative is to log in with your account. Instead of going to "card," go to "register" and follow each detailed step. This way, you will register your card, and you will be able to evaluate your movements, expenses, available balance, and other information at any time.
Once inside, you can go to "pay" and add a current account with which you will make the payments of your debts from that moment on. Should note that this is the recommended alternative because payments are made immediately, and you can choose to activate automatic payments.
Payments by phone
You can request assistance completing your payment by contacting Woman Within's customer service. By calling 1 – 866 – 776 – 9859, one of the available agents will attend to your request and indicate the payment process.
Having your Woman Within account number and credit card on hand is essential to provide the requested information as the request is processed.
Payments by mail
Checks or money orders should be sent to Woman Within, PO Box 659728, San Antonio, TX 78625 – 9728. Payment by mail is one of the least reliable means because payments may be delayed or returned due to errors in the information.
Therefore, the idea is to send it at least five business days before the debt due date to avoid being overdue and paying the late payment penalty. It is necessary to consider weekends or holidays on the days close to your payment date.
Woman Within Credit Card Benefits
Credit cards for in-store purchases are popular in the country, with almost every retailer offering one to their customers. With the Woman Within credit card, you enjoy a $10 savings on orders of $25 or more.
Plus, they offer a $10 bonus on your first statement. For every dollar spent, you earn 1 point that you can save and spend at any of the full beauty brand stores. If you earn 200 points, you will get a $10 reward certificate easily redeemable at Woman Within.
For the month of your birthday, you will receive exclusive offers to purchase as many collections as you want. To enhance your benefits, four times a year, you will be eligible for free shipping on orders over $75.
Is this credit card profitable?
It is essential to consider that the card has an APR of 27.74% and does not allow balance transfer. It does not have an introductory APR for purchases, and its regular APR percentage is higher than the national average.
Furthermore, it has many benefits, but it is essential to consider its cons to ensure you have the means and willingness to make payments at the right times and not have more debt than you want.
Payments must be made by the due date. Otherwise, there will be a $41 late fee. But it's not all bad, your grace period is 25 days, and over-limit fees are $0.