Kay Jewelers is one of the world's leading diamond jewelry companies. The company allows purchases in both physical and virtual stores. They also offer various discounts and personal advise through the platform's chat for their customers to have a successful purchase.
In addition to these benefits, they also offer the Kay Jewelers credit card for the regular customers to finance their purchases. The card has certain advantages such as access to special offers, long term payments, interest free purchases, and much more. We will tell you how to log in and pay for the credit card in the following lines.
KAY Jewelers credit card login
The first step to making payments from the platform is to learn how to log in. This process is fundamental to carrying out any online transaction. Customers can pay for their purchases, pay their monthly bills, view their daily transactions, have an estimate of their expenses, and more.
To log in, it is necessary to create an account. Comenity Bank issues KAY Jewelers credit cards. This financial entity has a digital space from its platform to attend to customers' procedures and online transactions.
Create an account
In your preferred search engine, type "KAY Jewelers credit card" and click on the first link your search returns. You can also look on the back of your card and follow the link; usually, this URL appears as https://d.comenity.net/ac/kay/public/home. You can copy and paste it.
When you enter the platform, you will see the main screen, and you should go straight to the "Sign In" button.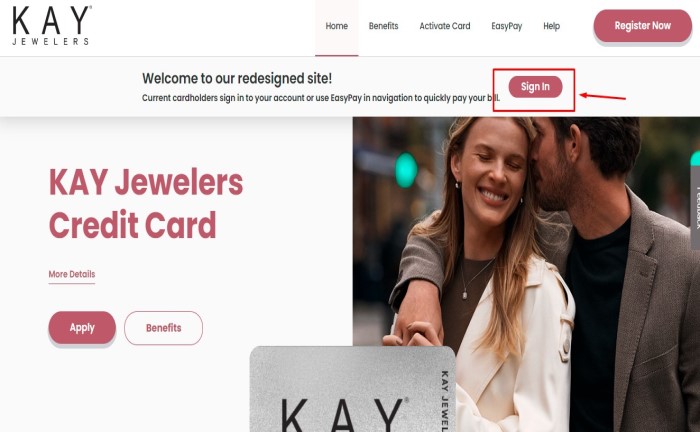 You will immediately see a pop-up window where you must enter your data, but you need to go straight to "Need online access? Register now" since you don't have an account yet. This phrase is located at the bottom of the box, as shown in the following image.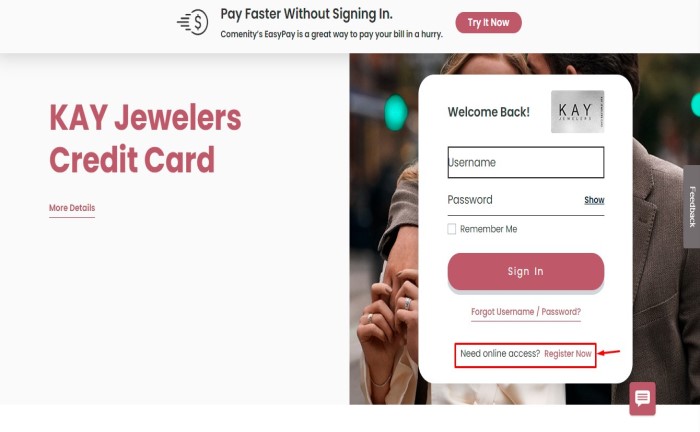 A new window will open where you must complete a form with your or the cardholder's information. This is basic data that is used to create the account. Fill in the boxes with the following information:
Credit card account number
Zip or Postal Code
Type of identification, which can be your Social Security number or an alternative identification.
Last four digits of the SIN
When filling in the data, please verify that all the information is correct. After checking, click on the "Find my account" button, and your profile will be created.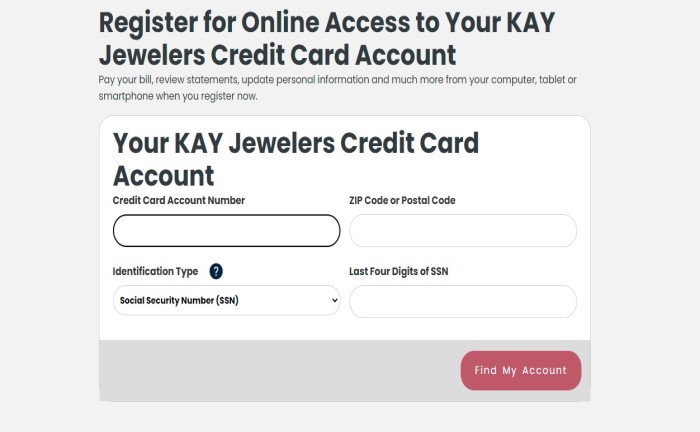 KAY Jewelers login
Once you have your account, you can log in seven days a week, 24 hours a day. As previously mentioned, the entire online processing of the Kay Jewelers credit card is done directly from the Comenity Bank platform.
You have access to all transactions, financing and special offers for frequent customers from this space. Follow these three steps to log in:
Step One: Log in to the Comenity Bank platform from this link https://d.comenity.net/ac/kay/public/home
Step two: Within the page, click on "Sign In".
Step Three: Enter the requested information such as username and password and click on "Sign In."
After completing all these steps, you can log in directly to your new account and perform any transaction.
KAY Jewelers credit card payment
The credit card offers three ways to pay your monthly bill. Unlike other cards, it does not offer payments through postal mail or calls to a special phone number. However, it does have the following alternatives:
Online
Easy Pay
Text message
After completing all these steps, you can log in directly to your new account and perform any transaction.
How do I pay my Kay Jewelers bill online?
Credit card customers have access to bill payments from the Comenity Bank website. After creating an account, follow these instructions:
Log in with your details, as shown in the segment above.
Within the page, click on the "Payments" section.
Choose the option "Pay Invoice".
Fill in the requested data to make the payment: current account number and routing number.
Select the amount to pay; it can be the minimum amount registered by the bank, a higher amount, or the total balance of your account.
Follow the next steps and pay your invoice
How to pay for the Kay Jewelers credit card with Easy Pay?
The Comenity Bank website also allows you to make the payment from another space called "Easy Pay." As the name implies, it is a way to make a quick and easy payment. In addition, with this alternative, you do not need to create an account or have a password. Just follow these steps:
Enter the Comenity Bank website with the link we gave you above.
When you click on "Sign In," the "Easy Pay" ad will appear at the top of the page; click on "Try it now".
Fill in the information on the form:
Credit card account number

Zipcode

ID

The last four digits of your Social Security number
Click on "Find my account"
Follow the steps indicated by the platform and pay your bill in seconds
How to pay for the Kay Jewelers credit card by text message?
If you do not have Internet access, the way to pay with a credit card is by text message. However, to be able to choose this alternative, you must set up the text messaging services from the web portal. If you have done so, follow these steps to pay:
Log in to your text messaging application
Send "PAY" to the number 36313
Follow the instructions you receive until you complete your payment.
Remember to have your checking account number, amount, routing number, and credit card ready. Payments made before 08:00 p.m. will be processed the same day.
Was this Content Helpful?