Jewelry lovers like having a card or something that allows them to shop quickly from their favorite jewelry stores. That's where having a Jared credit card can help you, and you can buy your favorite jewelry products from the famous Jared The Galleria Of Jewellery.
If you have a Jared credit card, you must be wondering where else can I use my Jared credit card? You can use this credit card at more than 270 stores of Jared The Galleria Of Jewellery, present in 41 different states of the USA.
Jared Credit Card
Jared credit card is a typical financing card issued by the Comenity Bank to let the buyers enjoy some exciting benefits. However, you cannot use the Jared credit card at many places as it's a store-branded credit card, and its usage is minimal.
You can use this card at the different branches of Jared jewelry stores located in 41 states of the USA. There are almost 274 stores of Jared The Galleria Of Jewellery present. And you can shop at any branch using this excellent credit card.
Although, many other stores fall under the ownership of the same company as Jared, for example, Kay jewelers.
You cannot use the Jared jewelers card at the Kay jewelers store because both stores have different cards for their customers.
This card doesn't offer many benefits, but people interested in jewelry can avail of this card for various purposes.
The maximum benefits that you can enjoy using this Jared credit card are:
● There is no annual fee on this credit card.
● You can get an excellent financing period of 12 to 18 months on minimum purchases of $1000 to $5000.
● You can avail various birthday and anniversary offers and get the most desired product.
How To Perform Jared Credit Card Login?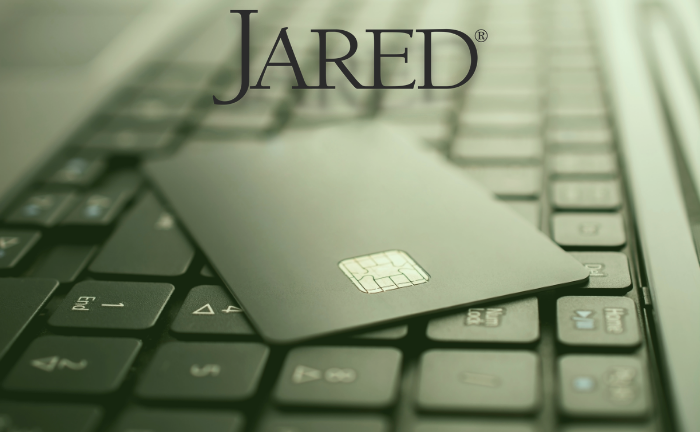 When you log in to your Jared account online, the credit card allows you to pay bills and other payments. If you want to know how to log in to your Jared credit card, then follow these easy steps. These steps are discussed below:
Step-by-step guide on logging into the credit card account
Step 1:
Open any searching browser on your device. Open the official Jared website.
Step 2:
On the main page of the Jared website, you will see an online banking form option. Click on that option and fill in the form to sign in to your credit card account.
Step 3:
The first thing you need to enter is your username and then your password. If you don't remember the login details, press the remember me option. This will save your information and help you log in without asking for the details again.
Step 4:
If you are done entering information, click on the sign-in button. This will help you get connected to your card account. In case you are unable to sign in, re-check the entered information. You may have entered the wrong information.
How To Make Jared Credit Card Payments?
After learning where else can I use my Jared credit card, you should be glad to know that you can make payments through your credit card. There are three easy and quick ways by which you can make payments, and I have listed those ways below to help you understand the process better.
Online
If you've logged into your account successfully, paying bills is very easy. You need to fill in the necessary details by selecting payments, paying the bill, and entering bill details and your current bank account number. The fee will be deducted from your account.
Phone
Suppose you want to pay your bills or payments by phone, dial or call 1-800-877-8194. The instructor will provide you with guidelines; follow these to make quick payments.
Mail
If you don't find both the ways as mentioned above of payments feasible and want to make payments through the mail, send the mail to this address of comenity bank.
Jared The Galleria Of Jewellery,
PO Box 740425,
Cincinnati,
OH 45274-0425
How To Apply
Learning where else can I use my Jared credit card is suitable for those who have applied for or have got their credit cards. But, if you haven't applied for the Jared credit card, follow this easy and quick process and get excellent benefits and rewards on your favorite jewelry products shopping.
● First, open a searching browser on your phone and go to the official website of comenity bank.
● Once you have opened the website, click on the prequalified button. After that, you will see the Jared The Galleria Of jewelers page and click on the get prequalified now option.
● Then you will see a sign-in/login page asking you to enter your credit card credentials if you already have an account or create a Jared credit card account.
● You need to enter your first and last name, email address, phone number, and password, and at the end, agree to all the terms and conditions mentioned in the form.
● If you successfully qualify for the prequalified race, you can create or get your Jared credit card by submitting a simple application.
Was this Content Helpful?