Grocery stores are stores where you can buy any product or item you may need at the moment. Food, household products, cleaning products; in short, you can find everything you need in the same establishment.
Nowadays, many of the grocery stores in the United States have upgraded and advanced in accordance with new technologies, allowing more and more payment methods to join their management systems that provide greater ease of payment to users.
Now, although checks are a somewhat outdated payment method, they are still in circulation and you can pay with them at many grocery stores that you should know about. Here I bring them to you after extensive research.
Are checks still accepted at Grocery Stores?
Despite the scepticism of many people, checks are still being used to pay bills or grocery store payments. In fact, the vast majority of grocery store chains in the U.S. still allow their customers to cancel their purchases with checks.
Checks are documents that are also called "money orders", to which the sender subscribes an amount of money that will later be deposited. And these will be allowed or accepted as long as the holder is present and the MoneyCenter service is active.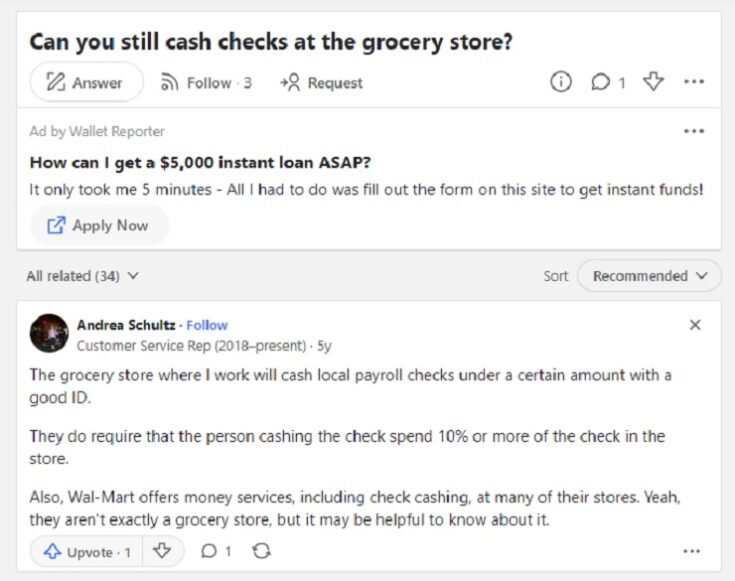 Since, we have to remember that in order for the money that is on the check to reach the receiving account, the supermarket must contact an extension of the issuing bank so that its veracity is guaranteed and it's certain that the funds in that account cover the amount to be paid.
So it can be a somewhat tedious and time-consuming process depending on the fluidity of the cash registers operating, as well as the availability of the bank where the check is issued. But, if you wish to pay the invoice for your items with this method of payment, you should not be denied the right.
This happens regardless of the reason for which the check is issued, as in the case of payroll payments, maintenance, liquidation, aid or government support programs, among others. As long as your identity is verifiable, it will be accepted at the cashier's desk.
Thanks to these slight inconveniences, many people prefer to continue using current methods that provide a simpler and faster way out. Such as instant payments through digital platforms, cash, credit or debit cards, among other alternatives.
Which are the Grocery Stores where I can pay with checks?
In case you have a check and don't know where to cash it, don't worry. If it's grocery stores you're looking for, we're happy to announce that there are multiple options where you could go and where you'll get away with your shopping without any hassle, such as:
Walmart
Target
Albertsons
Giant Eagle
Smith's
Safeway
Gas stations or gas stations such as Chevron.
Vons
7-Eleven
Among all of them, definitely, the company that is most recognized should be Walmart, which has managed to install almost 5,000 stores in the North American territory. That's not including those branches that are outside the country, which also handle these payment methods.
However, we must keep in mind that each store has its own private policies regarding check cashing and payment. For example, Vons only accepts checks that come from a personal or payroll account.
Something similar happens with Safeway, who, although they accept almost any type of check under almost any business name, do this under the condition the client spends a minimum. In the case of this company, they require the user to spend at least $1500 before their check can be processed as a payment or cashed.
Can I cash a check at a Grocery Store?
Along those same lines, you may not necessarily be looking to make a purchase, but need help cashing the money posted on it. And, again, we are happy to announce that you can easily perform this process at some grocery stores.
Among the most common grocery stores or convenience stores where you could take your check would definitely be Walmart. Since they have multiple extensions and a quite functional MoneyCenter, so you can easily go to any of their stores in the country.
However, we must point out that each one has commission policies or restrictions for cashing some checks. We return to the example of Walmart, where they will be happy to help you cash the check, but the interest to be paid for this transaction will depend on the amount written.
| | |
| --- | --- |
| Check Amount | Fee |
| Amounts between $200 to $300 | $6 fee |
| Amounts between $1000 to $2000 | Minimum fee of $4 |
If at Walmart you are interested in cashing a personal check for a minimum amount of $200 or $300, you may have to pay $6 for this process. But, when it comes to higher amounts above $1000 or $2000, you will have to pay a minimum of $4 at the cashier's desk.
In addition, we must point out that it is practically impossible for any of the grocery stores mentioned above to make a cash payment for cashing a check. Since only banks can do it.
Instead, in these establishments or convenience stores you would make a digital deposit or transfer to your bank account. For this reason, these grocery stores apply interest rates for doing this job.
References