You might think that peer-to-peer apps can only be used to send and receive money, right? Well, Cash App, for instance, has another option for any emergency, which is to borrow money from them. This feature can help you pay for anything if you do not have funds.
But of course, borrowing money has a similar function as a loan, meaning that you will later have to repay the amount taken from the app. There are various payment methods to repay the borrowed money, which are easy to use in just a few seconds.
Even though this is a real feature, not every Cash App user have this advantage available from the beginning. Still, if you have enabled this option and want to use it, you should learn how to do it properly. A few requirements can increase your chances of getting this feature up and running.
Eligibility requirements for Cash App Borrow
While it is true that this is a new feature in Cash App, you still have to fulfill some requirements if you want to unlock the borrowing option. The company has yet to specify what those requirements are, but from information received by customers who have already had the chance to use it, we have detailed some of the conditions:
Location.

From all of the US states, a few are selected for the feature. There is no information on which they are, but it can affect the outcome.

Cash App usage history.

It is not specified if making a lot of transactions can help, but it does say that it helps unlock this feature.

Active Cash Card. This card provided by the company can be a determining factor, but you will have to activate and use it regularly.
Credit history.

There is no limit on your credit score to start borrowing, but just like your bank, you should always keep a good credit history. It will show that you are responsible with your money.

Direct deposits.

If you have set these up in your account, then chances are that the option becomes available.
These requirements are not very clear and specific, but Cash App will present all the information in due time. Still, if you have completed some of these, check the app constantly to enable the borrowing option.
How to use Cash App Borrow if you already have it
Open Cash App on your mobile device.

Tap on your balance tab. It is located in the bottom left corner of your screen.

Under the

Banking

section, look for the word

Borrow

. If it appears, tap it to activate it.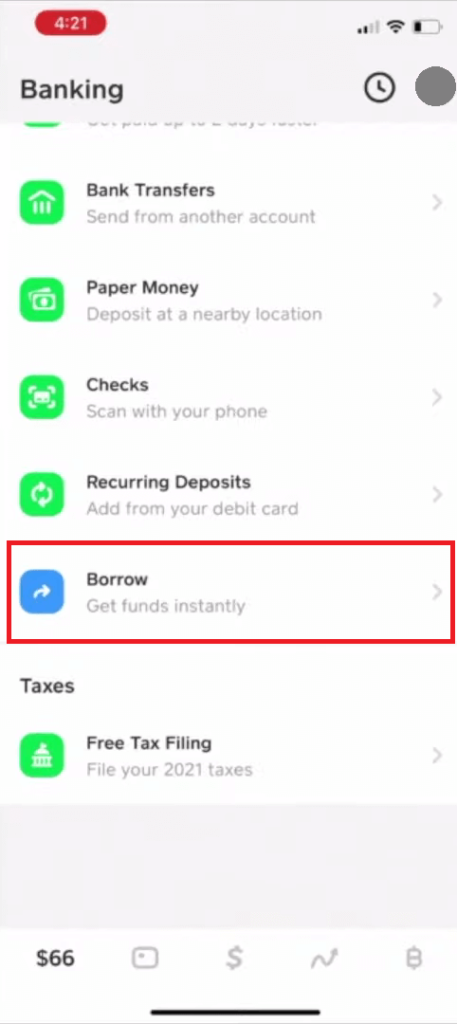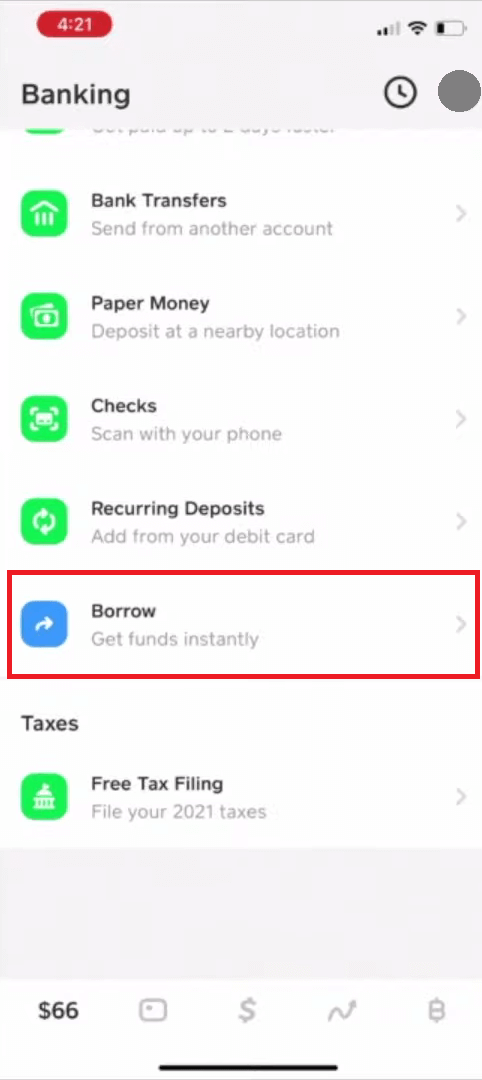 Read all the information regarding this feature and tap

Continue.
With that, you can instantly borrow money from Cash App. If you do not know how, then you have to:
First, look at the limit you can borrow. With that in mind, tap on

Borrow

to proceed.

Choose the amount you need, whether it is predefined or custom.

Review the borrow details and tap on

Next.

If it is your first time, select your desired repayment method.

Confirm the repayment method details and tap on

Next.

Enter your Cash PIN.
And just like that, you have money in your account that you can use to buy things or send money to someone.
How much can you borrow from Cash App?
You can borrow from $20 up to $200. The latter becomes available if you deposit at least $1,000 at any time. It is not much, but you have some way to get out of any emergency if needed.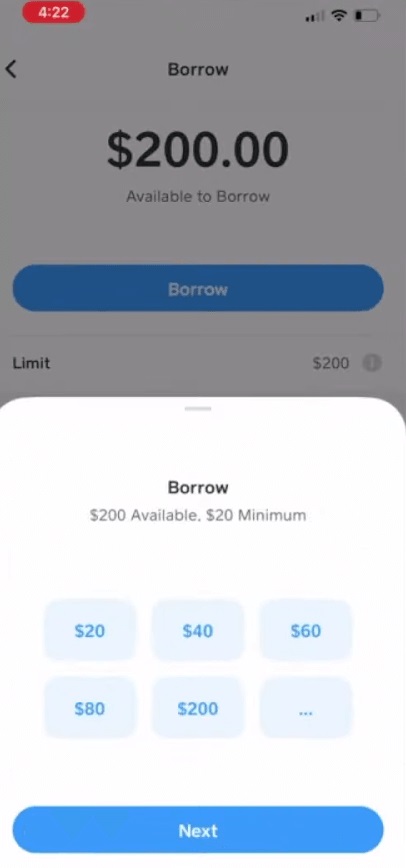 The limit can be affected if you do not repay the loan on time and how much money you deposit and keep in your account. But as a service, it also comes with some fees. If you borrow money from Cash App, you will have to pay an additional flat fee of 5%. For example, borrowing $200 means you must repay the loan with an additional $10.
On top of that, if you do not repay the loan in time, you will have a 1-week grace period to fulfill the payment. If you do not do it, you will be charged a 1.25% fee for every week that passes without paying.
Loan Repayment methods
You will have three options available, and you can change them at any point depending on how you feel most comfortable:
As you get cash.

A small amount (10%) will be deducted from any deposit to your account. This will continue until you fully pay your loan.

Four weekly payments.

Every week you will have to pay a set amount from the total. If you have to pay $210 (fee included), then you need to pay $52.50 every week until the due date.

All at once.

If you choose this option, you will have to repay the full amount in one go.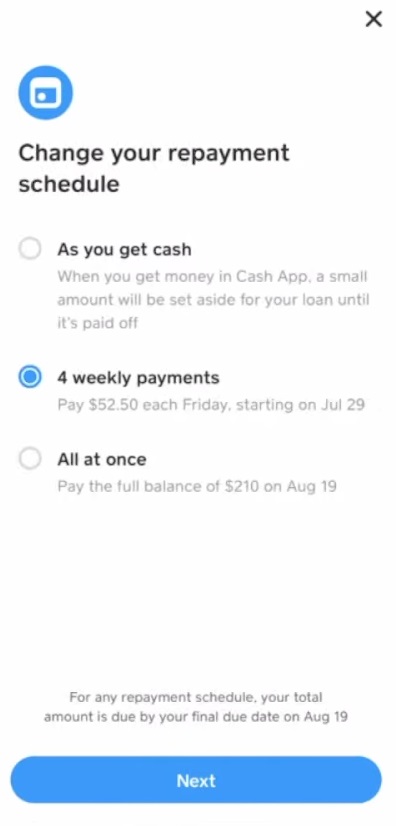 Repaying the borrowed money is important, and if you do not do it nor have the amount available, on the due date, Cash App will deduct it from your linked bank account or debit card.
Do not miss the borrow feature from Cash App
It is quite a great opportunity if you have this feature on your phone. Relying on this money can get you out of any sticky situations. Although, you will have to repay it in a short time.
This feature must be used reasonably since you must repay in the next weeks. On the other hand, you can always resort to other apps that can give you a loan, but Cash App offers simplicity and ease in managing your money.
If you are not interested, you can always choose not to unlock it. However, we still recommend that you do so; you never know when you may need it.