The advancement of technology makes selling easier thanks to digital applications, where you can go shopping without leaving your home, something unthinkable several years ago.
Shopify has become one of the best-rated platforms for businesses that want to sell their items or services online, allowing more customers to access their products. However, running a store doesn't always work out, which can be more of a loss than a gain, so the best option is to cancel Shopify.
Tips before deactivating Shopify
If you have weighed all your options and decided it is best to cancel Shopify, consider a few things before deactivating your store.
Create a backup of your store database and export all CSV files, including your billing history and gift cards, if possible.
If you work with third-party applications, cancel their service so that you will not be billed for their payment methods.
Pay off all the pending charges that your store may have.
Disable auto-renewal to avoid additional charges.
If you purchased a custom domain on Shopify, transfer it to an external domain.
If you purchased a domain from a third party, remove it from your store through the Shopify admin. Otherwise, you probably won't be able to recreate it on another website. To do this, go to the domain registrar and modify the DNS settings. Remember that the HTTP you purchased from Shopify will be valid for up to 90 days upon your request to deactivate the store.
How to back up your database on Shopify?
In case you want to reopen your store in the future, it is essential to make a backup of your Shopify business. The database contains different CSV files, which you will have to export in parts, as it is impossible to export the entire store in one go.
You can start by exporting the products, customers, orders, discount codes, gift cards, and all the relevant economic information.
How to export products from Shopify?
To export your store's products, follow these steps:
Log in to the control panel.
Select "Products".
Click on "All products".
Click on the "Export" button.
Select all the products you want to export.
Choose the type of CSV file to export.
Then click on "Export products".
The same procedure can export financial data, orders, customers, discount codes, and gift cards.
Does Shopify offer a free trial?
During 2020, Shopify opted to offer 90-day free trials due to the economic crisis resulting from the COVID-19 pandemic. After several months, the offer ended, leaving only the 14-day free trial.
Previously, Shopify had the option to access 1, 2, and 3-month free trials (30, 60, and 90 days), but this is no longer the case.
If you've been offered a 14+ day plan, it's probably a scam, and you should inquire about how to cancel your Shopify free trial.
How to cancel Shopify free trial
After making sure you have done all the above steps correctly, so you don't lose any important information related to your store, it's time to cancel Shopify. To do this, follow these simple steps:
Go to the control panel.
Click on Settings.
Then select the "Plan" option.
Click on the "Deactivate store" button.
Review all the available options in case you're not entirely sure of your decision (you can opt for the Pause and Build a plan, or, why not, create a new store.
If you are still adamant about canceling Shopify, click "Deactivate Store".
Choose the reason why you want to cancel your Shopify subscription.
Click "Continue".
Enter your password to confirm the process.
Finally, click on the "Deactivate now" button.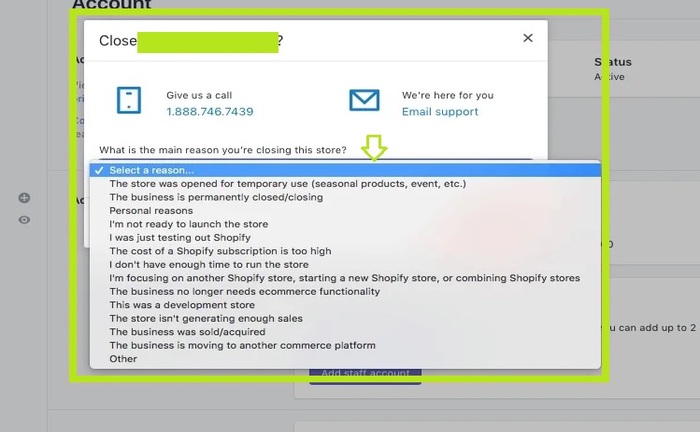 You have now requested the deactivation of your account. In a few seconds, you will receive an email asking you to confirm the cancellation completely. If you've had second thoughts and want to keep your store or make a transaction that you had forgotten about, you can reopen the store, as Shopify offers a 2-year warranty.
Alternatives to closing Shopify
In case you're not sure about closing your Shopify store, you have several alternatives you can look into until you decide what to do with your business and this platform.
Pause your store
You can opt for the "Pause and Build" plan. This means that your store will still be available, but you will not be able to receive payment for the products (this option reduces cost). If you choose to pause your business, customers will be able to access the website but will not be able to purchase any of the items for sale.
This plan is perfect for seasonal businesses or stores that are only open during a determined period. If you select this option, you will be able to access the following information in Shopify:
Dashboard.
Basic information about the performance of your store.
Virtual Showroom, i.e., a display of the items that are for sale in your store (although you can't buy them).
Sell your store on Shopify Marketplace.
Just as Facebook has its Marketplace, Shopify also has an option called "Exchange Marketplace". You must first pay for the Pause and Build plan to sell your store.
Move your store's information to another platform.
If you already have orders and customers secured on Shopify, you don't want to lose them, so we recommend that you import all your data and export it to another platform.
If you want to know more about unsubscribing from other platforms and applications, go to this link for all the information you need.
References