People commonly subscribe to different digital platforms that offer a free trial period, usually lasting up to 30 days. To request this trial, you must first become a member, so you have to provide your card information in order to access the free month.
After this free trial period, we often forget to cancel the membership, so we start getting charged for each passing month. This is why we must be very aware of these subscriptions, which can sometimes be misleading. This can happen with any platform, such as Craftsy.
What is Craftsy?
Craftsy is an on-demand subscription website where you can purchase different online craft courses and access videos on various hobbies, crafts, and other general lifestyle topics of interest.
The professional online instructors working with the platform are specialized entrepreneurs of their respective crafts who aspire to grow by sharing their knowledge with people in the community who want to learn new techniques or get started in the field of their choice.
In addition, Craftsy has an online store where different products are for sale so that users can stock up on everything they need for these crafts, such as project kits related to each category.
What kind of courses does Craftsy offer?
Craftsy has more than 1500 online classes available on different types of hobbies and for all skill levels, from the inexperienced to the knowing professionals. Among the categories you will be able to access on Craftsy are the following:
Fabric Crafts

Quilting
Sewing
Embroidery

Yarn Crafts

Knitting
Crocheting
Weaving + Spinning

Food

Cake Decorating
Baking
Cooking

Art

Drawing
Painting
Photography
Paper Crafting
Jewelry Making

Living

Home Decor
Gardening
Woodworking
Writing
Fitness
Yoga
Fun For Kids
What does your membership include?
If you wish to continue with your membership, knowing you can cancel it at any time, you can save $17.89 if you opt for the annual plan ($89.99). On the other hand, if prefer to pay a monthly fee, the price is $8.99. If you have already paid for your subscription, you will be able to:
Access more than 150 online classes.
Participate in live events exclusively for online users.
Receive a weekly newsletter with recommendations.
Receive instructions on different hobbies and pastimes.
Renew your membership without hassle.
Download free resources.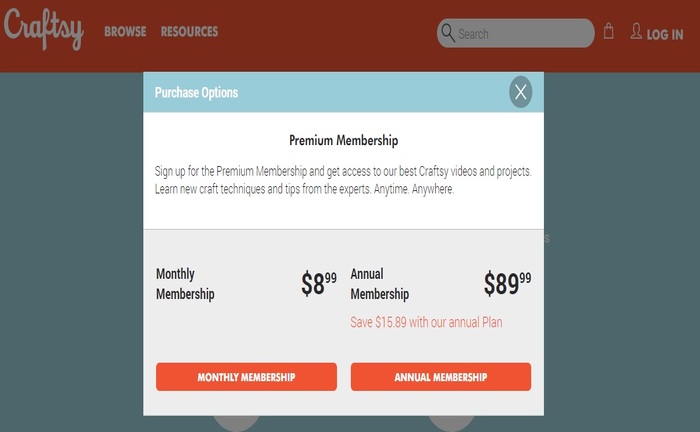 How to cancel Craftsy membership with Apple
To cancel your Craftsy membership from your iOS device, you must:
Log in to your mobile device's "Settings" section.
Go to the "Subscriptions" tab.
Tap the Apple ID to confirm your identity.
Under "Subscriptions", click on "Craftsy".
Select "Cancel Subscription".
Next, verify that your membership has been canceled by returning to the main screen and going back to "Settings>Subscriptions". If "Craftsy" no longer appears, your membership has been successfully canceled.
If Craftsy still appears listed among your subscriptions, it means the cancelation process was interrupted, either due to a bad internet connection or problems with the platform.
How to cancel Craftsy with Truebill (Rocket Money)
Truebill is a platform exclusively dedicated to canceling memberships to different services, in case you can't do it by conventional means. When you sign up for Rocket Money and Truebill, you can cancel your subscription to Craftsy and any other platform you are paying for but have forgotten about or are no longer interested in.
Truebill informs you about all the memberships you have subscribed to and don't remember, and you don't have to worry about unsubscribing from these subscriptions since they will do it for you.
Why can't I cancel my Craftsy membership?
If you still need help figuring out how to cancel your Craftsy membership and have already followed the steps above, verify that your internet connection is working properly. If your internet is not working with WiFi, try using mobile data.
If you have verified that your internet is not the problem, then there might be an issue with Craftsy's servers. In this case, it is advised that you try and contact them using the information we will list further down.
Tips to cancel your Craftsy membership
Here are some tips to keep in mind when signing up for Craftsy so you can cancel your membership anytime.
Remember to cancel your membership before the trial ends if you are on a free trial.
Contact Craftsy through their different means of contact so they can assist you with the cancellation. They usually respond immediately, as customer service is important to maintain their reputation.
You can cancel your subscription from a Mac computer. Just follow these steps:
Go to the Mac App Store.
Click on "Craftsy".
Click on "View info".
Go to "Subscriptions".
Locate the "Manage" option.
Then click on "Cancel".
Remember to verify that your unsubscription has been completed by repeatedly returning to the main menu and performing the above steps. You will no longer see Craftsy among your subscriptions if the process has been successfully completed.
Where can I contact Craftsy?
In case you need advice on how to cancel your Craftsy membership, the best thing to do is to contact them through any of the different methods available during business hours.
Email
If you intend to contact Craftsy via email, remember to do so on business days. Otherwise, you will receive a response during the next business day. You can send any Craftsy membership cancellation inquiries to raftsy@program-director.net.
Phone
If you prefer more direct communication with a customer service representative, you can call 1-888-891-7203 from anywhere in the country.
Operating hours
Monday to Friday from 8:00 am to 4:30 pm (Central Time).
Saturdays and Sundays from 8:00 am to 12:00 pm.
Non-working days
Please refrain from calling or emailing on holidays, as there will be no customer service available. The days on which Craftsy does not attend are the following:
New Year's Day
Martin Luther King Day
President's Day
Easter
Memorial Day
Independence Day
Labor Day
Columbus Day
Thanksgiving and the day after
Christmas Eve (closing at noon)
Christmas Day
References
Was this Content Helpful?