Through ADP you find the best solutions in human resources and payroll for your small business; it has complete services for small businesses to achieve their business objectives. They have excellent technical support active 24 hours a day, seven days a week.
It is an alternative with which you can make all payroll payments in just minutes, in addition, you will have effective advice to make the path of growth more effective. Likewise, in your company account, you have a magnificent dashboard where all pending tasks, the next payment date, and important alerts are detailed.
There are other apps like DailyPay which sometimes deduct a fee from payroll. Some business owners use it as an alternative because DailyPay's transfer times are not very late. However, ADP is still a highly recommended option for this activity.
How to access Automatic Data Processing payroll?
Relying on ADP payroll services means being part of the more than 1,000,000 companies that are part of its great community. Once you enter Automatic Data Processing's online page, you will see that you have the possibility to have three months free to try the services and decide if you are ready to hire them as permanent in your company.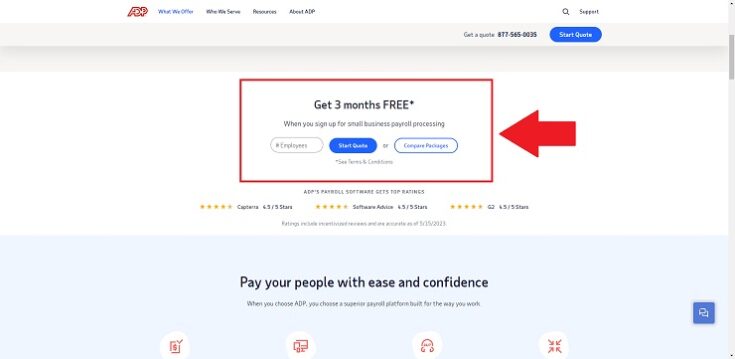 Payroll services have excellent benefits, you will be able to make sure you have a much faster and easier payroll processing. Likewise, they offer a self-service for employees and managers that they can access from the online page or through the mobile app.
You can be assured that you will have payroll professionals with the certification to prove it, available 24 hours a day to attend to your requirements. In addition, integration into the company is easy thanks to the business software you have access to through which you can track time and have human resource systems.
Now, to access all these benefits you must initiate a quote from the online site or request it through the customer service number 800 – 225 – 5237, so they will give you all the details and requirements.
Choose the payroll service that best fits your needs
When you access Automatic Data Processing's services, you will see that there are different payroll alternatives, each one adjusted to the type of company you have and the needs you present. According to the type of payroll you choose, you will enjoy different benefits and options in the software you will begin to have access to.
Payroll for small companies
You can do payroll in a few steps or program it to be automatic
You have access to payroll taxes, they are calculated and paid on your behalf
The software makes payroll fully automated to avoid any errors
Access to federal, state, and local compliance support
Ability to request help from specialized technical support every day at the time you require
Simple self-service for employees
Payroll for medium and large companies
You can configure it to your needs, with flexible options for what you need and with a pleasant integration with Human Resources
All employee data is automatically synchronized
Access to simple and flexible payment options
Mobile app options for employees and managers
Benefits of ADP payroll
One of the main benefits you get with ADP payroll is the automation of your company's payroll, being able to do the whole procedure completely online. In addition, you can keep track of all processes in real time through the professional dashboard to which you have full access.
| | |
| --- | --- |
| Benefits | Description |
| Complete human resources package | You will have administrator, talent acquisition and outsourcing tools. |
| Your employees will have access to | Your employees will have access to your pay stubs, benefits information, retirement plans, and even the job itself. |
| Customized plans | Some payroll options can be structured according to your needs. |
It has a complete human resources package
This is an option when you already have a company large enough to have a human resources department, in these cases, Automatic Data Processing takes care of finding the best one using its specialized tools.
Along with payroll administration, you can get a manager for employee benefits, talent acquisition tools, and outsourcing tools. This option was designed with the mission that you save your team time and you can be sure that all company processes are completed in a timely manner. The mission is for you to have the best automated human resources services.
You can give access to your employees
In addition to offering good alternatives for your company, it also has options for your employees to be comfortable. By working with Automatic Data Processing, you can give your employees access to view their pay stubs. It is also a convenient software that allows you to change the necessary information about your employees.
In the same way, they have access to information such as available benefits, retirement plans, and other options related to their pay and the work they perform, all this within the same system.
Customized plan possibilities
Although there are things you cannot change within the program, there are payroll options that can be structured according to what you need in your company. You have the freedom to choose whether you want to purchase only payroll tools or you prefer human resources services at your disposal as well.
How is the entry process in Automatic Data Processing?
As mentioned before, the process is simple and fast. You can carry it out just through the online page or, also, through the mobile application. When you enter the digital platform go to "Sign In", of course, this is after you have contracted the plan you need in your company.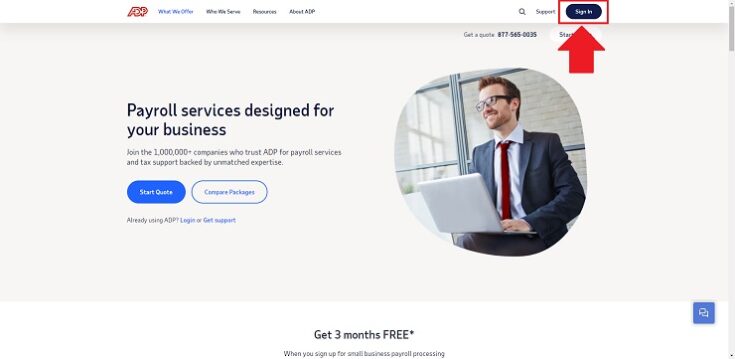 In the following steps, follow the instructions provided by the page until it is time to add the login data you created when you signed up for your plan.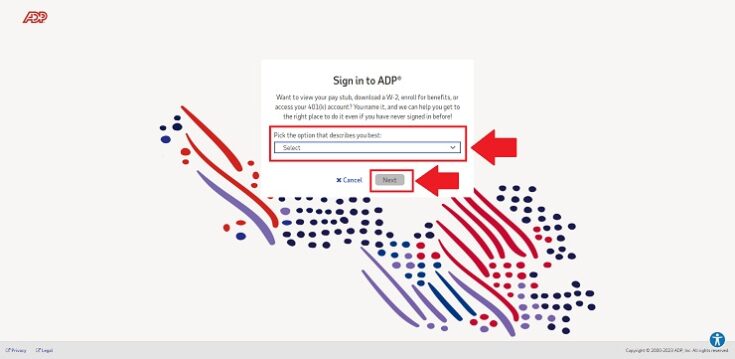 During the whole process, the application explains in detail the procedures to avoid errors or mistakes. You must indicate whether you are an administrator or an employee before entering your user ID and password.
Once inside, you will find the task panel and all the options you chose in the contracted plan. As we said before, if you have any doubts, you can contact technical support, which is available 24 hours a day, all week long. You must understand how each option works to avoid mistakes.
References