Multinational companies, such as Nike, are known for offering different payment methods to maximize all types of sales. From the smallest products to the most expensive ones, there will always be a way to pay for them.
Nike gift cards are a good way to pay for all types of apparel stores sell. You can use them digitally or spend in physical stores with them, such as retailers.
How to use the Nike gift card?
It is useful to be knowledgeable about the different presentations of Nike gift cards. They come in digital and physical forms but don't be alarmed if you have purchased one and received a document with a photo because it is genuine.
This card can be used not only in a physical Nike store because there are multiple ways to do it online where you can access many products, even some not available in your nearest store.
The Nike app and its official website are some sites where you can add a gift card as a payment method. Converse is an ally of the company; thus, you can enjoy your card in their retail stores and website as well.
How can I use it within Nike.com?
When you enter the company's official website, start adding everything you want to buy to the cart. Remember not to exceed the set amount of your card because you will not be able to complete the purchase.
When entering the payment block, check the option "Do you have a gift card, product coupon, or promo code?". Because the main payment method is by credit card, Nike has a separate block for other payments.
Now, it will ask you for two pieces of information, namely the gift card number, and the PIN, to proceed with the purchase. You can get these two pieces of data from the back of the card; type them into the box on the PC.
If your card is digital, go to the email you received with the digital card because there you will find the requested data. Please copy and paste it into the corresponding box.
Below the data, there is a button where it says "Apply". Press it to proceed with the purchase. If it exceeds the card amount, it will only be deducted from the total amount, and you will have to pay the remaining amount.
A nice bonus is being able to use multiple gift cards at the same time. If you have four $25 gift cards and your order is $100, you would only have to go through the same procedure with each card to complete the $100.
What stores can you use a Nike gift card in?
In all official Nike stores in the United States, it is possible to use the gift card without any problem. In addition, as it is allied with Converse, any retailer belonging to that company will also accept the card.
If you don't know where to use your gift card, Nike's web offers a service where you enter your location, and it shows you a map of all the stores belonging to the company near you.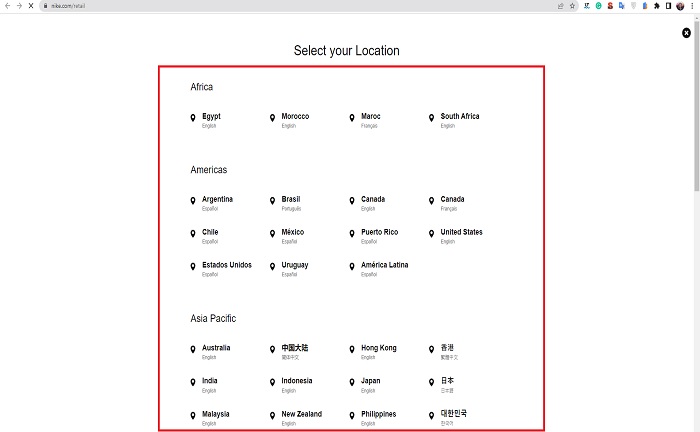 However, people prefer to use Nike gift cards online due to the ease of the procedure. No need to leave your home and you make all the required orders without spending too much on your card.