One of the most cringeworthy and challenging questions an interviewer would ask you is, "Where do you see yourself in 5 years?"
No one is sure about his future then how can you tell others where you would be in 5 years. An interviewer also doesn't expect a perfect answer from you.
So, don't worry about having a clear-cut picture of your future. Such questions are asked just to know your perspective about your future and how well you fit for this job.
Thankfully you can answer this question quickly and easily following some simple tips. But before you prepare for this question, you should know why you are asked this question and what the interviewer expects to hear from you.
Understanding this will help you prepare for your question and respond carefully to your dream position. 
Why does an interviewer ask this question?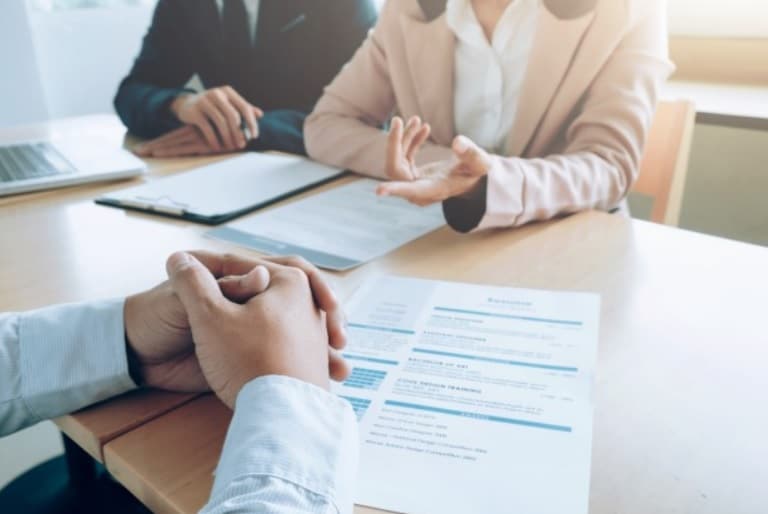 An interviewer asks this question to know whether you will stay in this position for a long time or not. The basic purpose is to know whether your long-term plans align with the company's goals and job position.
Hiring an employee and training him is a company's long-term investment and employers want the employees to stay with them for the longest.
If you tell long stories or brag about doing some unattainable things, you have lost the opportunity right on point. The interviewer is not interested in your long schemes or your doubtful anticipation about the future.
Talking about an advanced goal might let them think that you are overqualified and will get bored by this position.
They want to know that you have some sense of your career growth. You will stick to your goals, work hard and align your plans as per the company's requirements.
They want a sincere and long-term employee who puts his blood and sweat to let the company grow. Anyone whose goals don't involve the company's betterment would not be on their priority list.
➡LEARN MORE: How to Prepare for a University Interview
How should you answer?
Though answering such a question is tricky, the following simple tips can help you sidestep this question:
Always be honest in your response and keep your future goals connected with the job and industry. A fabricated answer would never influence the interviewer.

Don't sound vague in your response. You will appear as you are not interested in your growth or the company's growth.

Search before the interview to be clear about your career path. Choose a career that you want to follow and align with the company's position. If you are unclear about a particular career, approach the same field professionals to know their perspectives. Contact your friends, colleagues, and alumni to get a clear picture of the field.

Add to your answer how enthusiastic you are for this position. A rationale to occupy the position that matches your interests and skills alleviates the interviewer's concern about leaving the job sooner than two years.

If you apply for a job that does not advance to a higher position, emphasize your response on mastering a skill while at this position and be its expert in the next five years.
A sample response
Consider you have been interviewed for an HR position and are asked, "What your career goals are or where you see yourself in five years?"
Your answer should be like this:
In the next five years, I want to learn as much as I can with the organization. I am excited to work in this position at the company as it matches my skills and qualifications. Down the line, I would like to seek opportunities to expand my knowledge and support my job.
I would like to participate in projects geared towards leadership training. I am aware that the company has a volunteer team, and I am looking forward to being a part of this team.
I have planned to finally reach a supervisory or management role where I can mentor other employees and new recruiters.