In today's world, technology development is at its peak. Even the main concern of the 4th industrial revolution is technical advancement and innovations. Therefore, scientists, engineers, and developers are putting their efforts into making efficient and automated systems. Hence, the demand for tech professional jobs has increased in 2021.
However, you have to carefully select your skillset to survive in today's industry and earn handsome pay. This industrial era is quite different from traditional ones. It entirely focuses on the latest skills and knowledge instead of a conventional college degree.
Therefore, you must learn the latest technical skills to get the highest-paying tech jobs today. But don't worry! If you are new to the tech world and don't know what to learn now for a better future, this article will help you find the latest fields currently demanding in the industry.
Six profitable tech jobs for you to enroll in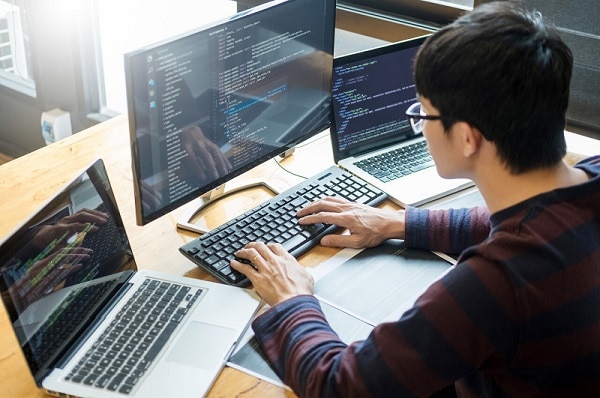 Data scientist and AI engineers
These fields share almost the same algorithms and find their application in robotics, finance development, AI-based intelligent systems, and many more projects. These engineers are mainly experts in stats and develop programs to process statistical data for predicting the future.
You must know data plotting and visualization techniques, along with stats and AI algorithms, to get the job as a data scientist.
Average Salary: $150,000/year
DevOps engineer
These engineers are aware of both the development life cycle and automation tools. It works as an intermediary between hardware and software engineers. They oversee the code releases and help to improve the planning and deployment.
It will help if you have a firm grip on programming, hardware concepts, and collaborative skills for these tech jobs.
Average Salary: $134,793/Year
Cloud computing expert
If the organization is working on the cloud, a cloud-computing engineer oversees the cloud activity and security and maintains the entire system. These experts also help access existing database infrastructure and provide practical solutions to move the database to the cloud servers.
You should learn various cloud computing frameworks and databases to get the cloud-engineering job.
Average Salary: $128,793/Year
➡LEARN MORE: The Microsoft Internship Program
Computer hardware engineers
These engineers deal with computer hardware components and are utterly familiar with chip architectures, sensors, actuators, circuit boards, and many more. They boost system efficiency by improving the hardware.
Further, they work on making custom chips designed perfectly for a specific project. They can also change the hardware in existing systems with advanced ones to meet modern-day demands. You should know different chip architectures and hardware optimization techniques for these tech jobs.
Average Salary: $114,600/Year
Embedded engineer
As the world is moving towards automation, embedded engineers are beneficial for the industry nowadays. These engineers have a massive grip on interfacing sensors and networking protocols and develop programs to automate systems by taking data from the sensor.
Anyone with a specialization in FPGA development, network programming, chip architecture, and ground-level programming can work as an embedded engineer.
Average Salary: $89,864/year
Web App developers
Because of the importance of website and mobile applications for any business, project, or startup, web app developers are in demand nowadays. They develop a responsive web app that is available on both browsers and app stores.
Web app development offers two types of tech jobs, frontend and backend development. You have to master at least one of the above fields to get the job as a web app developer.
Average Salary: $75,840/Year
Final words
In 2021, when the whole industry seems impressed with technical innovations and development, there are great chances of getting some high pay tech jobs if you have any tech skills.
However, if you don't know anything about the tech world and want to get an idea of the latest and in-demand technical skills in the market, you can check the six best tech jobs above for better insight. 
Was this Content Helpful?