To get a job in a bank, people need previous experience, although some positions offer first experience, especially to young people who need to enter this field of work. Although experience may not be required, having a degree in a finance-related field is essential.
There are many jobs that a significant bank offers since there are several positions to be filled depending on each person's job type. Here are the 10 most basic banking jobs in this field to compare their prices per year and per hour worked.

What is the primary banking industry?
The banking industry is one of the industries that are in constant movement. One could distinguish at least three sections into which this sector is divided. On the one hand, there is commercial banking, which is aimed at businesses.
Then there is retail banking, which is dedicated to the individual customers of each bank. On the other hand, investment banking refers to corporate finance, everything related to the variables and metrics handled in a bank.
These three main sections allow institutions to provide their customers with different financial services, such as debit and credit cards, loans, savings and checking accounts, ATMs, etc.
How many jobs are available in major banks?
There is a great variety of jobs and positions that are requested in a bank since, as there are several sectors with different specializations, generally, there is a need for trained employees with previous experience and studies in finance, as well as skills that allow them to perform their duties correctly.

On the other hand, there are less demanding ideal jobs for young people without experience who want to enter the banking sector, for which a degree is not required, but at least studying a career related to the job.
Important: The annual income for each position has been extracted from an average yearly salary based on information gathered from Indeed, ZipRecruiter, and Zippia.
Some of the most significant job positions within banks are the following:
1. Bank taller
One of the most requested banking positions is the Bank Teller, who is in charge of having direct contact with customers and carrying out different procedures performed in the entities, such as check cashing, money transfers, and receiving payments and cash deposits, among others.
To fill this position, applicants must have excellent communication skills and a predisposition towards the client, good customer service, and a lot of patience, in addition to being able to deal with and have a quick response and resolution capacity in the event of urgent unforeseen circumstances.
The bank workshop must also be aware of everything the bank offers, such as loans, cards, payment types, interest, and all the information the client may require about their financial situation.
Average salary per year: $32,043.
Average hourly wage: $15.41.
2. Banker
The banker is the person who works for the financial entity and is in charge of gathering the clients (both physical and legal) to give them solutions and promotions which they can easily access.
The clearest example is the loan since the bankers are in charge of granting these loans with a percentage of the interest rate, with which the bank manages to earn money and profit from these credits given to customers.
In short, the banker is the person in charge of helping and accompanying the customer in different financial processes, advising them on any questions they have about finances.
Financial analysis skills, knowledge of technology, and quick problem-solving are generally required. That is why, being a position that requires specific knowledge, candidates who want to apply for these positions must have graduated with a degree in finance, business, economics, or accounting.
Average Annual Salary: $42,455.
Average hourly wage: $20.41.
3. Loan processor
The loan processor analyzes the entity's financial status through risk analysis to present solutions to unexpected problems. They are in charge of verifying client information to decide whether or not to grant them a loan, depending on their credit profile, monthly income, and other variables.
This position requires a bachelor's degree in finance, business administration, or accounting and previous experience in insurance, lending, and other financial services.
Average annual salary: $50,045.
Average hourly wage: $18.79.
4. Mortgage consultant
Mortgage advisors handle everything related to a particular business. They do not usually work with several companies at the same time.
Among their main tasks is the search and analysis of the credit history of a company or person so that, according to their mortgage needs, they can reach an agreement on the type of mortgage the client can afford.
In addition, they are advisors regarding loans and the companies that grant them, allowing the client to choose the lender that best suits them according to the interest rates and payments of the loan.
To fill this position, human resources managers generally require applicants to have completed high school and have experience in the field. Still, those with college degrees in real estate, finance, economics, and other areas will have a better chance.
Average annual salary: $62,258.
Average hourly wage: $26.73.
5. Investment Representative
The investment representative is dedicated to giving financial advice to clients about the investments they can make, the money available for these actions, possible consequences, etc. In addition, they can sell products and services offered by their employer.
Generally, a bachelor's degree in business administration, economics, finance, or accounting is required to fill this position. Having a license with FINRA (Financial Industry Regulatory Authority) adds several points when competing for the job.
Average annual salary: $58,905.
Average hourly wage: $29.45.
6. Credit analyst
The credit analyst is dedicated to consulting the credit histories of companies or individuals who wish to apply for a loan. An application analysis will be made depending on the points and their credit history, among other variables.
Financial institutions that need a credit analyst usually require applicants to have university degrees in careers such as economics, statistics, and finance, economics, and knowledge in different areas related to ratio analysis and financial statements.
Average annual salary: $64,163.
Average hourly wage: $24.87.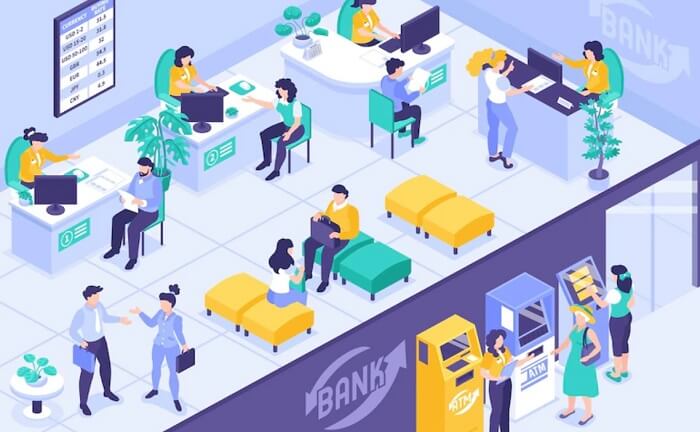 FAQS
What other jobs at major banks can you find?
In addition to the abovementioned positions, other job openings available at major Banks are, for example, Underwriting Assistant, Accountant, Investment Banker, Chief Financial Officer, Branch Manager, or Internal Auditor.
Is major banks a good career path?
Working in the financial sector is an excellent career path since several positions are needed. Also, this professional field will provide job stability and help you constantly grow, developing your skills and putting them to the test.
Can I get a job at the bank without an exam?
No. It is necessary to pass an exam with questions related to the position and knowledge about the field to work in the financial sector. It is done to evaluate the applicant's ability and know-how qualified they are to fill the vacancy.
References
Was this Content Helpful?