The Council on Foreign Relations (CFR) offers students interested in international relations valuable hands-on experience through its CFR internship programs. These programs are aimed at undergraduate and graduate students and focuses on U.S. foreign policy and international affairs. If you want hands-on experience in this field, CFR Internships are an excellent option!
At the Council on Foreign Relations (CFR), you'll explore the fascinating world of international relations and foreign policy. As an intern, you'll have a unique opportunity to learn and grow while contributing to a renowned institution promoting global understanding. Several internship opportunities require a commitment of 14 to 18 hours per week, and the pay for these positions is $17 per hour. Still, most importantly, you will be working with experts in foreign policy, with constant training to gain experience in the field.
CFR Internships Summer 2023 are awarded through the Robina Franklin Williams and Blavatnik Programs. Interns can choose from two types of internships based on their preferences: the Blavatnik Internship Program or the Robina Franklin Williams Internship Program. Interested in internships can select the hybrid mode (50% remote and 50% in-person) or work remotely.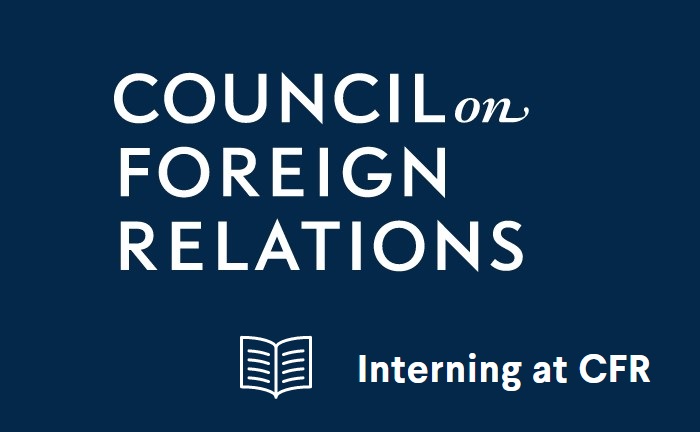 Both programs offer different benefits for their interns. Blavatnik and Robina's fellows are hired semi-annually through the year for assignments in CFR's New York and Washington, DC, locations. Some essential internships offered by these two CFR internships programs are Podcast, Teaching and Learning, DC Video, and Japan Studies (advanced research skills in both Japanese and English).
If you opt for the Blavatnik CFR internship, you can explore various domains such as research, program management, and communications. As an intern, you can participate in diverse tasks, including conducting research, drafting and reviewing documents, coordinating events, and assisting various departments.
The Robina Franklin Williams Internship Program is open to all aspiring undergraduates and graduates passionate about political science, economics, international relations, and related fields. This program provides equal opportunities to everyone who meets the requirements, so take advantage of the chance to apply for an internship!
Are Council on Foreign Relations internships reliable?
Absolutely! Internships are an excellent means for individuals to gain valuable experience and augment their income. A long-standing history of over 100 years speaks to their trustworthiness and dependability, making CFR a commendable option. Many comments on websites like Glassdoor, Indeed, or CFR internships Reddit support this.
During my internship, I met the Operations Manager, Mbale CFR Mr. Magezi Herbert. Such a visionary man. #ClimateAction pic.twitter.com/VPdlmilx5Q

— Ivan Odongo (@ivanodongo_) April 16, 2023
Many students who have had the opportunity to intern at the CFR (Council on Foreign Relations) have confirmed that their experience exceeded expectations. Not only were they able to enrich themselves intellectually, but they were also able to earn money for every hour they worked.
This internship aspect proved particularly beneficial, allowing these students to achieve financial independence. The CFR internship program is a highly sought-after opportunity that benefits those lucky enough to participate.
"Being at CFR has been a very nice experience. Every single employee I've met has been very kind and helpful, and they all talk to each other as if they were close friends. The work is fulfilling, and it seemed like I was actually doing something that matters and was impactful."