Today, thousands of applications seek to make life easier for their users. One of the most widely used are delivery apps, among which we find the DoorDash application.
With so many application options, we can overlook the different benefits or services they offer. In DoorDash, we find the DashPass service, which, when used correctly, could save you a lot of money on delivery.
Is DashPass worth it?
If you don't like to cook or go out and prefer to order delivery from restaurants, of course, it will be worth your while to purchase this service from DoorDash.
By subscribing to DashPass, you will save money because it offers users unlimited deliveries from selected restaurants. At these restaurants, you will receive a 100% discount on the delivery amount for orders over $12.
You can enjoy these incredible promotions if you are in certain locations in the United States or Canada.
What does DashPass do?
DoorDash offers the DashPass service, which allows you to reduce delivery fees, but only at certain restaurants fully. To know whether the order is eligible, you must know if the restaurant accepts it.
What benefits does DashPass offer?
Through DashPass, it is possible to enjoy discounts on service and delivery fees. By subscribing, you can save $4 on orders.
In addition, more and more restaurants are accepting this service, so you will most likely find your favorite restaurants through them.
There are no special requirements to sign up for DashPass so you can do it anytime.
You need to add your credit card to your DoorDash account, where you will be charged $9.99 per month or $96 per year. This amount will not vary regardless of whether you have previously used the service.
By meeting all the criteria, you will be able to enjoy all the benefits offered by DashPass.
What are the limitations I should be aware of with DashPass?
Not all restaurants accept DashPass. However, most of them do. To find out which restaurants accept DashPass, you can check through the app or the official website.
Once you log in, you will see the restaurants eligible for DashPass, marked with a green check mark. Another limitation is that your order must total $12 in food or $25 in groceries. Otherwise, you will not receive the discounts.
Finally, to get the savings rate back, you must place at least three monthly orders on DoorDash.
How are service fees reduced by signing up for DashPass?
Delivery fees are reduced from $3.99 to $0.00, and fees and estimated tax amounts are reduced from $8.51 to $5.04. Thus, the fees are reduced from $12.50 to $5.04 per order.
Thus, with one order, you will save half the monthly subscription fee. Only the sales tax is included, and it is up to the subscriber to decide whether to add a tip for the dasher or not.
DashPass for students
DoorDash is always thinking about students and offering them better rates, so they have introduced a student plan for DashPass. Users who sign up for this will reduce monthly rates from $9.99 per month and $96 per year to $4.99 and $48, respectively.
How do I sign up for the Student DashPass plan?
Before signing up, it is important to note that the Student DashPass plan works on a trial basis. Because of this, it is not available to all customers, so there is a possibility that the option may not be available to you.
You can follow the steps below to confirm whether you will be able to enjoy this service or not. Subscribing through the mobile application or DoorDash's official website is possible.
In addition, if you already have a DashPass Standard plan and wish to switch to a student plan, it will not be possible until the current subscription is completed. To switch, you must complete and cancel the subscription before the next payment cycle.
How can I subscribe through the application?
If you wish to subscribe through the application, you only have to download it to your phone and enter the application. Once you are in, select the icon in the upper-left corner of the screen.
Proceed to tap the "Get $0 shipping rates with DashPass" option and select "Student DashPass Plan." After doing so, you will be prompted to enter your information and must complete it as part of the verification process.
Click "Verify Student Status" and choose an annual or monthly plan. Finally, select "Get DashPass," and you should receive a confirmation that your registration has been completed.
How can I subscribe through the website?
On the other hand, the steps are very similar to subscribing through the DoorDash website. You have to log in to your account.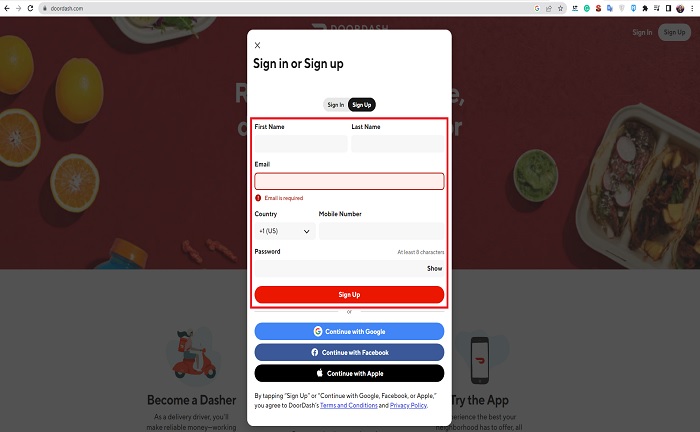 Through the website, select the icon in the upper-left corner where you will see different options, and select "Get free shipping."
Just like through the app, select "DashPass Student Plan," followed by filling in your personal information, "Verify Student Status," choose the type of plan, either monthly or yearly and click on "Get DashPass."
How do I know when my payment cycle ends?
You can log in to the DoorDash app or through the website. Go to the "Account" section in the bottom-right corner and then "Payment Details."
In this part, you will be able to see the date of the next subscription charge or the start of your next payment cycle. On this same date, you can cancel the current subscription.
References
Was this Content Helpful?