There is no building in which there are no complaints about annoying noises since there is always a neighbor who plays loud music late at night, or barking dogs, among other sounds that can be disturbing for tenants, especially for those who share a wall.
Suppose you have tried to talk to the neighbor who generates noise, but you do not receive any response, or he does not change his attitude. In that case, you have the alternative of communicating with the administration of the building, the respective owner, or the real estate company from which you rented the apartment. It is through the letter of complaint for noise nuisance.
How do I write a Neighbor's apartment noise complaint letter?
If you notice that the noise from the neighbors still does not stop even after asking them nicely, the next step is to notify the building owner to take action. If you do not receive a response from the tenant causing the nuisance, warn him or her, in good faith, that you will notify the building manager to reach an agreement.
For this, you should write a letter of complaint, explaining everything that happened, the reason for the complaint, the noise schedule, how they affect their daily performance, and any other details that may be useful to add to the letter.
Take note of each time you hear these noises to present a schedule. You can even record the sound to present it as proof of the annoying noises.
When should I write a Neighbor Noise Complaint Letter?
The first thing you should do in case of noise nuisance is to discuss it with the tenant who is making the noise. If you are tired of repeatedly asking your neighbor to stop the noise, but you receive no response from them, and they have not changed their attitude, it is time to go to your landlord.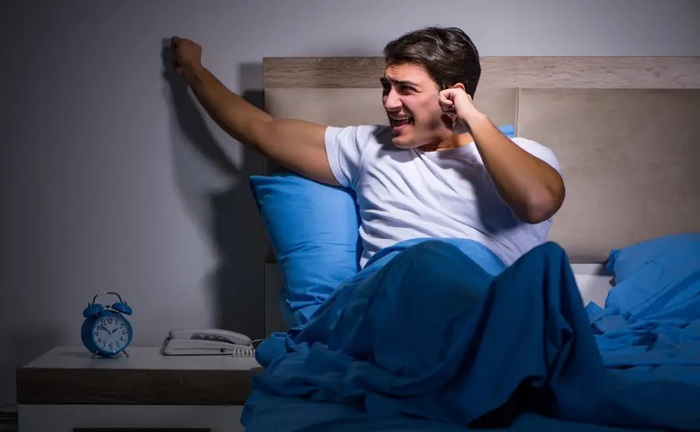 Among the methods you can use to make the tenant come to his senses and end the annoying noises, you can choose one of the following.
Collect evidence of the noises
It is important to document each time this type of annoying sound occurs, either through multimedia content (video, photo, or voice recording) or, also, you can write down each event in detail. For example:
March 1, 2022: Shouting neighbors arguing from 1:15 to 1:45 am.
February 24, 2022: Dog constantly barking from 8:00 pm to 11:00 pm.
Talk to your neighbors
First, you must talk to the neighbor who is making annoying noises. If they ignore, disrespect, or do not respond or solve the problem, inform them that they will be reported to the administration.
This process can be intimidating, especially for shy people, since you will have to tell your neighbor about your nuisance (if you do not dare to confront him, you can leave a note under the door).
It may be that the neighbor is not aware that you are making annoying noises, such as talking loudly, so with a single warning, you may be able to solve the problem without the need to go through an intermediary.
Knocking on the wall
If, after trying to contact the annoying neighbor, you can't find him, or he doesn't listen to you, you can try knocking on the adjoining wall, which you share with the tenant, as a sign of being fed up with his noises.
Inform your landlord
If the neighbor causing the noise has not done anything, it is time to go to the real estate agent, landlord, or landlady to tell them about the problem and file a formal noise nuisance complaint.
Quiet enjoyment clause
Look for the quiet enjoyment clause in the lease. This section explains the hours of silence agreed upon for all neighbors, allowing all tenants to coexist peacefully and without being disturbed.
The hours of silence vary according to each lease, so you should verify this information to collect evidence and present it to the landlord to prove the integrity of the complaint. If possible, quote the clause as it is stated in the lease.
Noise Ordinance Law
While not all cities have a noise ordinance law, most do. A lawyer can be hired to corroborate this information, but to avoid going to these lengths, you can present it to the tenant and, if the tenant does not react, send it to the landlord in the noise nuisance complaint letter.
Below, you can download some samples of a neighbor's noise complaint letters for guidance in writing a neighbor complaint.
SAMPLES NOISE COMPLAINT LETTER TO NEIGHBOR
What to do if my neighbors continue to make noise?
If you have alerted your neighbor about their annoying noises, and you have already sent the letter of complaint to the owner of the building, you will have no choice but to opt for one of the following options:
Seek out a tenant's association in your place of residence.
Call the police and file a noise violation complaint.
Consult a lawyer to help you with legal matters.
If there is no solution, move to another apartment.
What should I write in a Neighbor's Apartment Noise Complaint Letter?
Among the essential information in the letter of complaint to your landlord, you should include the following:
First and last name of the person writing the letter.
First and last name of the addressee (landlord).
Address, floor, and apartment of the rental.
Detail the inconvenience with the neighbor (annoying noises, loud music, barking dogs).
You can attach audiovisual material as evidence.
Propose a solution to the problem.
Comment on the consequences that these annoying noises generate in your daily life, such as sleeping problems, concentration problems, and other possible effects that you could have in the future.
Ask the building owner for a response to solving the problem or warn that you will evict the apartment for non-compliance with the law.
This last point is optional, as it is unnecessary to terminate the lease, but you can add it in case of a second letter or notice proposing a specific time for the problem to be solved.
If the neighbor is already aware of what has happened, mention it in the letter, along with any other details that may serve as verification of the annoying noises and constant notifications without response.
You can also collect the signatures of several neighbors who suffer from these annoying noises, as it will support your argument.
References
Rahul PanchalMarketing. "Complaint Letter to Landlord about Neighbors: 4 Templates – Writolay." Email, Letter, and Copywriting Templates Hub, September 7, 2020, https://writolay.com/complaint-letter-landlord-neighbours/.
Polyanskiy, Vlad. "How to File a Noise Complaint | How to Make a Noise Complaint." Best Digital Sound Level Meter For Your Smartphone, September 4, 2021, https://decibelpro.app/blog/how-to-report-a-noise-complaint/.
"Tenant Noise Complaint Letter." San Francisco Leasing and Property Management, http://therentalsource.com/tenant-noise-complaint-letter/.