The pandemic taught us that it is not good to depend on a single income, as there is no such thing as a secure job. A good way to earn extra income would be to sell products through eBay, an online store.
If you want to enter the world of online sales, using eBay is a good option. First, you should know that eBay works with business and personal accounts, each with its differences.
What does the eBay personal account offer?
It is your best option if you want to sell products that you have never used and don't have a registered company. A personal account is used for sporadic and informal sales. In this regard, there are some advantages and disadvantages that you should be aware of.
| | |
| --- | --- |
| Pros of an eBay personal account | Cons of an eBay personal account |
| Save money because you will avoid the double tax fees of business accounts | You have a limit of 10 listings |
| Have a full-time job because it does not require a lot of time | If you exceed the listings limit, there will be large fines |
| Save money on marketing campaigns | Low visibility |
| | The lower chance of making sales |
| | Poor customer service compared to a business account |
It's time to get to know the eBay business account!
This kind of account is intended for people who want to sell full-time. It also works for those who have a large stock of products. Know your advantages and disadvantages before taking this option.
| | |
| --- | --- |
| Pros | Cons |
| Users have promotions or discounts that will help them significantly increase sales | If a store does not develop a long-term operation, making profits could be slower |
| Access to better tools such as Selling Manager Pro and Promotion Manager | Profits are made slowly |
| It will help increase the visibility of the brand or store | Large investments in marketing |
| Higher probability of making better deals | There is no guarantee of immediate access to all the platform's tools |
| Business accounts are protected by law | Double tax payments |
| Access to subscriptions that will help improve sales | eSwap-eBay integration |
| Allows the user to list more than ten products | |
| Customer service is fast and effective | |
eSwap-eBay integration is an extra benefit of business accounts
Among business account advantages, the eSwap integration tool provides inventory management solutions. With this tool, you will be able to track your stock accurately.
A dashboard allows you to make all the existing arrangements and synchronize your inventory in real time, thus saving time in manual updates.
How do I register on the eBay platform?
Log in through your browser on the official eBay website
At the top left of the page, look for the "register" option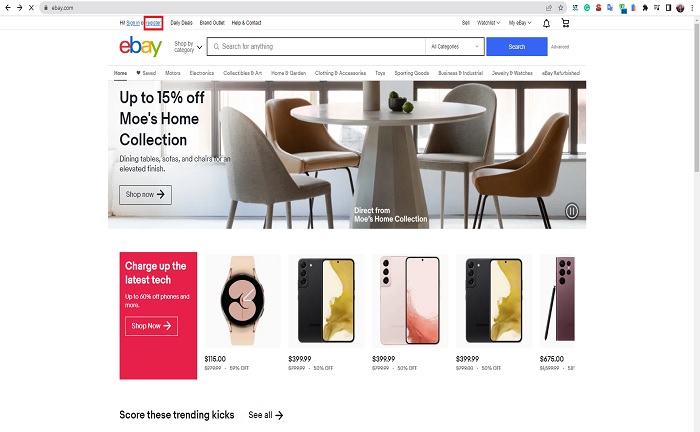 Verify your identity
Choose whether you want to create a business or personal account, and you will be asked for certain information accordingly.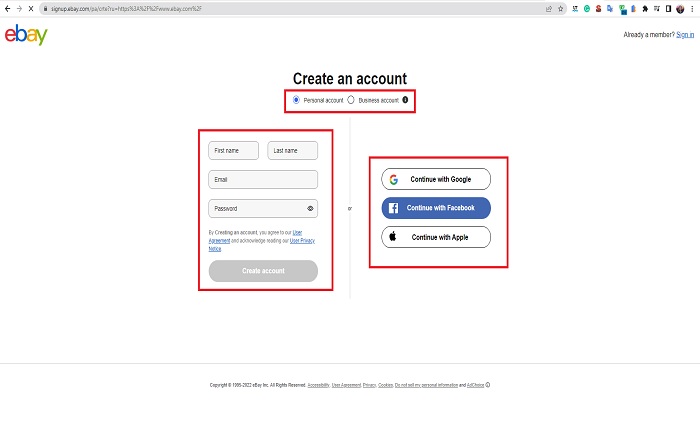 For a business account, you will be required to provide your business name, home address, phone number, email address, business category, and details of the products to be sold
For a personal account, enter the user's name, home address, phone number, and email address
Verify the email address
Choose the name by which you want other eBay users to find you
I already have my eBay account; how will I receive my payments?
To receive payments for your sales, you need to synchronize your eBay account with Payoneer.
I don't have a Payoneer account; how do I create one?
When you log into your eBay account for the first time, you will be given the option to enter your Payoneer account or create one. Select the option to create one.
Click "No, help me create one."
You will be redirected to the page where you will initiate registration by selecting the "Individual" or "Company" option, depending on the type of account you wish to set up.
Enter your information correctly and match your eBay registration information.
Create a password and choose a security question.
Enter your company's or authorized representative's bank account information.
I already have a Payoneer account; how do I synchronize it with my eBay account?
When you log in to your eBay account, select the option to enter a Payoneer account.
Enter your existing Payoneer account information.
You will receive a confirmation message, and you will be able to receive your payments.
I accidentally created a personal account; how can I change it to a business account?
Log in to your eBay account.
Under the eBay tab, look for the "Personal Information" option.
Select "My Account."
Find the "edit" link and select the "change account type."
Click on "company" and enter all the information required for a business account.
When finished, select the "switch to business account" button.
How do sales limits work for both accounts?
Business and personal accounts will limit the products to offer (listings) to save your users time understanding the platform's policies.
In addition, this is also done to help beginners create a manageable stock to ensure good customer service. Being new to sales, you may find it difficult to meet customer demand, so it is advisable to start small.
As you successfully meet customer demand, eBay will begin to increase your listing limits. The increase will depend on customer ratings and sales numbers.
For business accounts, listings have insertion fees and a final value fee when the product is sold. This fee may vary depending on the size and type of business you own. Meanwhile, these listing fees are paid for personal accounts when you have more than ten listings.
How can I contact customer service if I am having problems?
There are two ways to contact customer service: through the help portal or by phone.
How can I contact eBay through the help portal?
The best way to get help is to log in to the official eBay site. At the bottom or top, look for the "Help & Contact" option, and you will be redirected to another page.
This page contains articles, links, and questions to help you solve the most basic problems.
If you cannot find the solution to your problem, you will find the "Contact Us" option at the bottom. Choose the category that best matches your situation.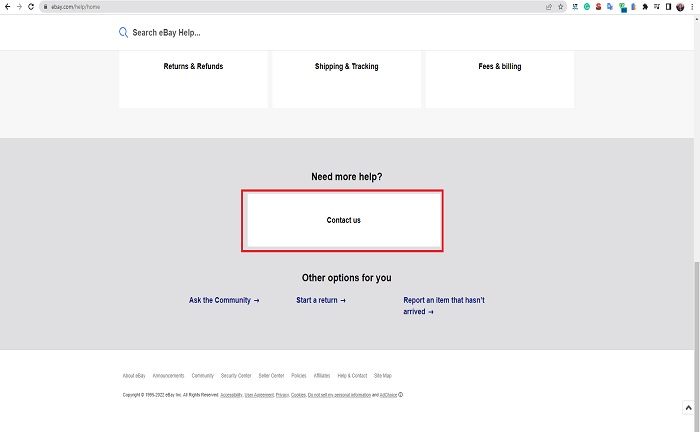 Support articles will be suggested based on your choice to help you solve your problem.
If this option didn't work either, on the left side of the page is the option to "Chat with our auto attendant." By selecting it, you will be able to talk to an AI.
How can I contact eBay by phone?
if you cannot resolve your problem by selecting the "Chat with our automated assistant" option, you will be offered to "Contact an agent." Click on this option and enter your phone number for an agent to call you back.
What to do in case of fraud?
eBay has a hotline to handle fraud cases only. By calling 1 866 961 9253, you can get help and report the fraudster.
Frequently asked questions about eBay accounts
This section contains many questions about personal and business eBay accounts. Here we go!
How much do eBay business accounts cost?
Please note that there is no upfront fee to get a business account. However, you must pay a $50 monthly fee to take advantage of other tools. Although this may seem like a large amount, it will be fine compared to the sales you will make on the web.
Are business accounts cheaper?
In theory, no, but they will be more profitable over time because you can expand your business, share ads, and much more.
Do you require a tax ID to sell on eBay?
You don't need a tax ID, but income from sales counts as disposable income. However, if you want to have an official store, a tax ID is required.
How much can you sell on eBay?
You can sell anything you want on eBay! You can add 50 products per month for free, and if you pay the monthly fees, you can add as many categories as you want.
What is the difference between personal and business eBay accounts?
Simple: Business accounts sell large listings, and personal accounts sell a few listings.