There is certainly no doubt that the US is one of the costliest nations for pursuing your higher education and studies. A scholarship can be a valuable form of financial aid towards accomplishing your goals, especially if you are a student dreaming of studying in one of the United States' most renowned colleges and universities.
Dozens of colleges grant an impressive amount of financial aid and scholarships to both US nationals and International students, and you can avail it too. 
Nonetheless, if you are looking for some of the best places to study abroad on scholarship, you have come to the right place. Stated below are some of the best colleges and universities across the United States that offer outstanding scholarship programs and ease a significant load of the financial burden off your shoulders.  
About Scholarships
The best thing with scholarships is that it is a type of funding that students do not need to return. A merit-based scholarship is granted to a student upon an athletic or academic achievement. In contrast, a need-based scholarship is awarded after taking into consideration a student's financial status. 
Students can even be eligible for scholarships based on exceptional traits, talents, hobbies, community service participating, unique background, etc. Some colleges and universities award ample scholarship funds to students that can easily cope with their living expenses and tuition fees. 
There are so many predetermined rules on how you can apply for a scholarship. Still, it mostly depends on the institution itself. Some universities and colleges may want you to fill out an application form. A few others might need a written note.
Best Colleges and Universities in the US that Offer Scholarships to International Students
Columbia University is a private institute that provides at least some form of a need-based scholarship to approximately 50% of its students. The average amount of need-based scholarships sums up to around $59,297. 
They also provide one-time grant awards that are given in cash form. Columbia University does an outstanding job of reducing your tuition fees to quite an extent.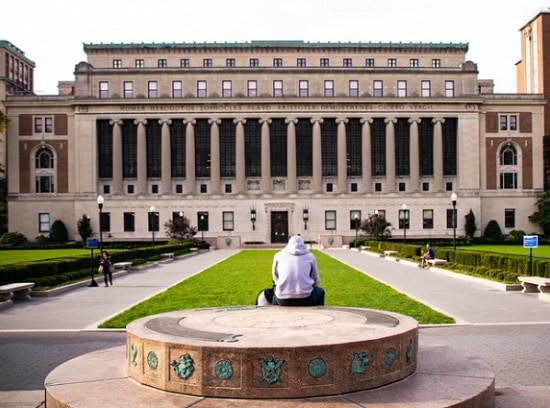 Amherst College also works on a need-based scholarship program. It provides financial aid to some extent to the most financially needy students in different parts of the world. 
After you have gained admission into Amherst College, the faculty will determine your monetary needs and eventually offer you a scholarship award equivalent to your requirements. 
The financial aid award is also commonly referred to as an aid package. It comprises gift aid (grants and scholarships) and employment, both. 
Duke University also provides an excellent scholarship program that is called the Roberston Scholars Leadership Program. Under this scholarship, students can benefit from fully-paid tuition, fees, and even a dorm room. 
This program also grants money for students who accomplish 3 domestic summer experiences. The students who exhibit strong leadership skills, character strength, highbrow curiosity, and cooperation are the winners.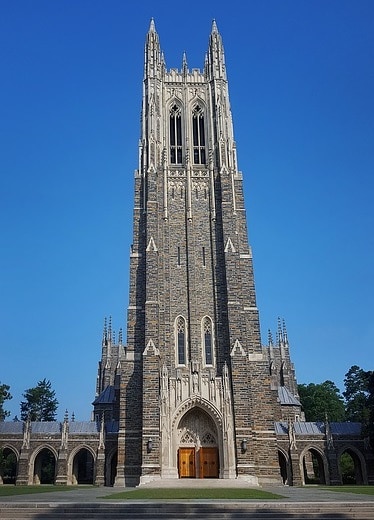 Wesleyan University also provides scholarships to international students. However, they are only granted to specific students based on their demonstrated needs and outstanding academic qualifications. 
Wesleyan University has a Freeman Asian Scholars Program that offers scholarships comprising fully-paid tuition fees to 11 brilliant and intellectually capable Asian students for their 4-year bachelor's degree programs. It also provides financial aid for 30 international students exclusively chosen from a pool of 600 candidates. 
Clark University is another renowned university in the United States that introduced the Clark Global Scholars Program applicable for 1st-year students who have attended a reputable school abroad for a minimum of 4 years and international citizens who are going to an institute in the United States. 
You can even qualify for a scholarship of approximately $15k-25k every year for 4 consecutive years (provided your academic standards fulfill the scholarship criteria).  
Berea College is indeed the only college in the United States to offer 100% financial funding to all of its registered international students. This scholarship is applicable for the 1st year of their enrollment. 
It entails a mixture of scholarship and financial assistance covering the fees, board, room, and tuition expenses. This program enables students worldwide to save up to $1000 every year to ease some of their financial burdens. 
The University of Oregon also grants over $1 million in scholarships and financial assistance to its international students at graduate and undergraduate levels. The ICSP Scholarship is one of the most famous scholarship programs. 
It is an excellent tuition-waiving scholarship. It extends from complete tuition equal to 15 credits/term per annum. The scholarship can be based on academic merit, financial requirements, or the ability to make unique presentations to distinctive people. 
Illinois Wesleyan University Scholarships
The Illinois Wesleyan University awards merit-based scholarships to competent international students with a brilliant academic record and excellent entrance-exam test scores. The award ranges between $16k-30k every year and can also be renewed for 4 years. 
If you are a capable international student, you can also be eligible for 2 complete tuitions President's International Student Scholarship program for up to 4 years of academic study.
➔ READ MORE: Postgraduate Scholarships.
Government-Funded Scholarships for International Students in the US
Fulbright Foreign Student Program

 
The Fulbright Foreign Program is one of the most renowned US Scholarships for international applicants funded by the US government. 
It provides scholarships to young professionals, artists, and graduate students to study in the United States for a year or so and is open to a wide array of fields, except medicine. 
Hubert Humphrey Fellowship Program

 
The Hubert Humphrey Fellowship Program is a non-degree form of a scholarship program that is eligible for international students and qualified experts who want to pursue an academic course for 10 months or so in the United States. 
This funding does not back degree programs; however, you can study and improve your know-how in specific fields at academic institutions across the United States. 
Click to rate this post!
[Total:

0

Average:

0

]