When it comes to quitting the job you were spending a lot of time on, the correct way to do it is to use a resignation letter. This document reflects the reasons why you are resigning and the opportunity to express how you feel about it. Your employer must receive this in order to finalize the resignation process.
But how exactly should it be written? Although this document seems straightforward, there are things that you should keep in mind when writing it. On top of that, the procedures on how to deliver it to your employer depend on the company you were working for.
Either way, it is important to know all the details of a resignation letter. We will discuss key information on what to include in your letter, as well as what you have to do to resign with good manners.
Reasons for a resignation letter
Resigning is a decision that needs careful thought. You may not know if you will find a new job once you leave your old one. But whatever the reason, you need to explain it to your boss to keep relations on good terms.
Sometimes, the reason may simply be that you've found a better opportunity elsewhere. Other times, you have no choice but to resign, due to family issues. So here are some examples that, if you feel that is happening, you can use:
You have been offered another job with a higher salary. It is quite normal to want a raise if you have done a great job; getting more than you earn is a great opportunity, but you just have to explain that there is a new job option you want to pursue.
Flexibility in your schedule. You could also argue that you want a better schedule to manage your time. Some companies have strict work schedules, so if you do not feel it is for you, politely resign.
Lack of respect from bosses and co-workers. Receiving respect from the people you share your time with in the company is also important. If you are not treated the same way, continuing to work is not the best option.
Poor management in the company. One thing that can harm your workspace is poor management. You can get distracted or even hurt by things that are out of control.
Thinking about the family first. You also have to make your family a priority. If for some reason you are going to move to another location away from where you work for family reasons, give clear notice of what is going on.
How to make one
Before we go into the structure of the resignation letter, we have to inform you that this next sample can be used for resignation in general. This is because you can find online numerous templates in which the purpose of the use is specified.
Now, let us proceed with the content of this letter:
1. Introduce your personal data
On the upper left corner of the resignation letter, you should write your personal data. This includes your name, address, city, zip code, phone number, and email address. You should also include information about who you are writing to, including the name of your employer, his title, the name of the organization with its address, city, and zip code.
2. Write your intentions of resigning and your last day of work
The purpose of the letter is to inform your employer that you will no longer be working there. Make your intentions clear and do not forget to mention your last day of work.
3. Explain why you are leaving
This is the part where you have to get to the point. Write your argument, detailing all that has happened for you to make this decision. Do not think of a complex story, it is better to keep it short but understandable.
4. Add any information that can support your reasons
This part is optional but it is still recommended. If there is extra information that can support your resignation letter, include it. This not only helps you stay on good terms with your employer but also helps them to improve the company in the future.
5. Express your gratitude
Tell your employer how you feel about being part of the company. It does not matter what you want to say as long as it is positive. We also recommend that you do not write too much, be concise with just a few things.
6. Offer to help with the transition
Since you are leaving your job, it means someone is going to take your place. Add in the resignation letter that you can help train and guide your replacement for a short period of time. Another way to help is by providing profiles of some candidates you think are capable of doing your old job.
Resignation letter template you can use
Here is a template that you can modify if you need to. Just click here to download and use it, and do not forget to follow the structure.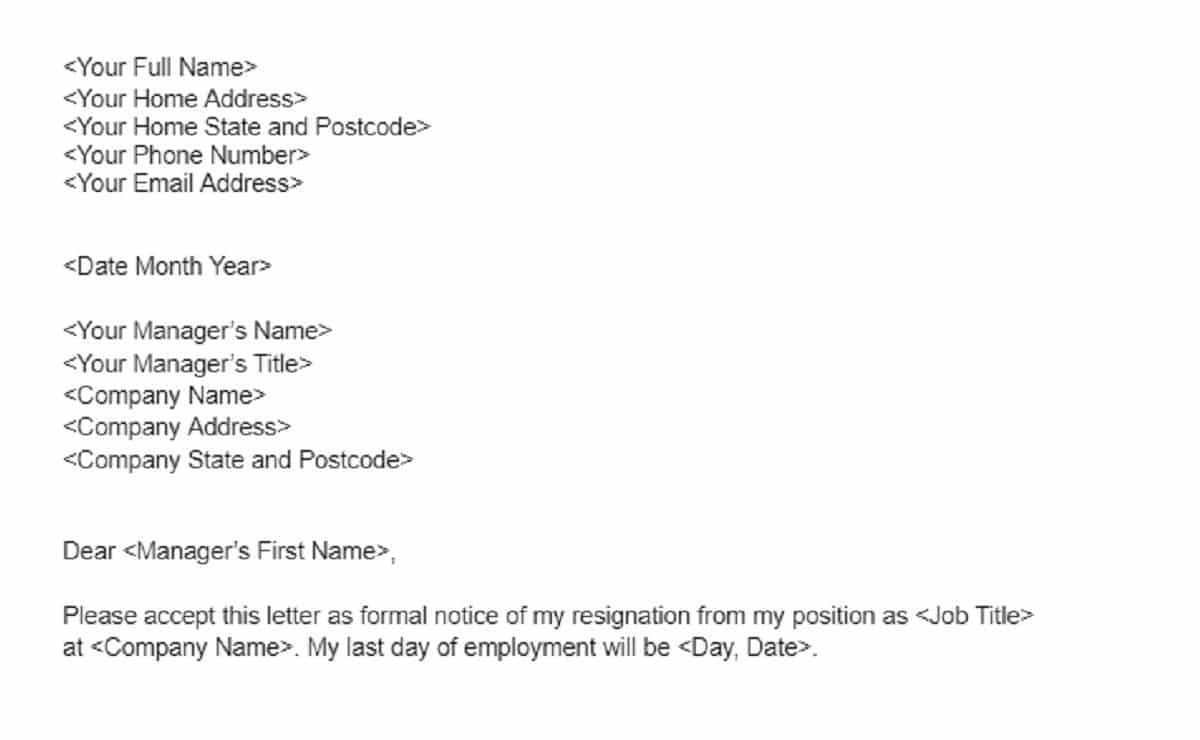 FAQ about a resignation letter
Should I submit a resignation letter with or without notice?
It depends on where you work. If you want, you can simply give your resignation letter and leave immediately. However, it is recommended to give a 2-weeks notice to your employer.
Should resignation letters be handwritten or emailed?
Again, your company's policy may dictate how you resign. Hand-delivering a handwritten letter in person is the best way to resign properly, although if you find it impossible, you can send it by email.
When should I submit a resignation letter?
Once you know when you want to resign, you need to send your letter 2 weeks in advance. This is because your employer has to prepare to look for a replacement
To whom should I send my resignation letter?
Not only do you have to send it to your employer or supervisor, but the HR department must also receive it.
What else should I do before I resign?
You can say goodbye to your coworkers, managers, supervisors, and of course, a final one to the person to whom you wrote the letter. Keep it professional and if possible, do not lose connection with them. In the future, you might need their help and vice versa.