Swift Freight Forwarders has become the most widely used freight forwarding service in the United States over the years. Throughout the nation, they have a number of strategically located locations that function as a network. So, if you've ever wondered "Is there a Swift terminal near me," let us tell you that you probably have one closer than you think.
Each branch has its own specific function, some serving as training terminals for new drivers and others as a dispatch center. Although not all of them fulfill these two functions, it will depend on the case and the terminal.
Swift Terminal near you by the city
For those who are looking for Swift Terminal nearby, it is ideal to review this map because you will find all the options you can go to. It all depends on the city where you are.
Swift Terminal nearest me in California
Passing through the state of California, you can find several branches of Swift Transportation. Although all of them are good, in the table below you will find only the best rated with an average of 3 to 4.2 stars.
| | | |
| --- | --- | --- |
| Site | Address | Phone Number |
| Swift Transportation - Jurupa Valley Terminal | 3575 Wineville Rd, Jurupa Valley, CA 91752, | +1 951-360-0130 |
| Swift Transportation | 901 D'Arcy Pkwy, Lathrop, CA 95330 | +1 209-647-7500 |
| Swift Transportation | 221 E D St, Wilmington, CA 90744 | +1 310-547-8216 |
| Swift Dedicated Terminal | 14392 Valley Blvd, Fontana, CA 92335 | +1 909-507-2125 |
| Swift Transportation - Otay Mesa Terminal | 6933 Calle De Linea, San Diego, CA 92154 | +1 800-396-1978 |
| Swift Transportation | 1475 Hwy 99W, Willows, CA 95988 | +1 800-800-2200 |
| Swift Transportation | 363 Nina Lee Rd, Calexico, CA 92231 | - |
Swift Terminal near me in Texas
In the state of Texas, it is possible to find several Swift Terminal branches ready to help you. All of them have a contact number, but it is necessary to be patient because sometimes they take a long time to answer; due to the inconvenience, many have asked the reason and it turns out that they take a long time to answer because of the number of requests they receive per day. In addition, the average score given by customers is between 3 and 4.2 stars.
| | | |
| --- | --- | --- |
| Site | Address | Phone Number |
| Swift Transportation - Lancaster Terminal | 3250 N Longhorn Dr, Lancaster, TX 75134 | +1 972-224-9646 |
| Swift Transportation - Houston Terminal | 5419 Mesa Dr, Houston, TX 77028 | +1 888-787-0275 |
| Swift Transportation - Laredo Terminal | 1101 Carriers Dr, Laredo, TX 78045 | +1 800-966-0983 |
| Swift Transportation - El Paso Terminal | 1001 Diesel Dr, El Paso, TX 79907 | +1 915-516-6500 |
How to find a Swift terminal near me?
Go to their website, under their Swift transportation "locations" section.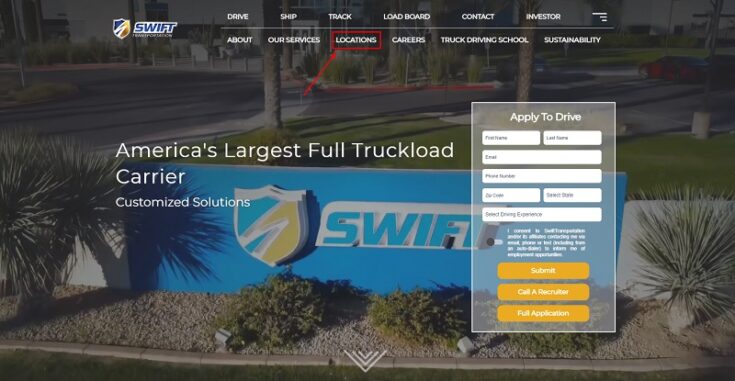 Here you will be able to find a terminal near your current location.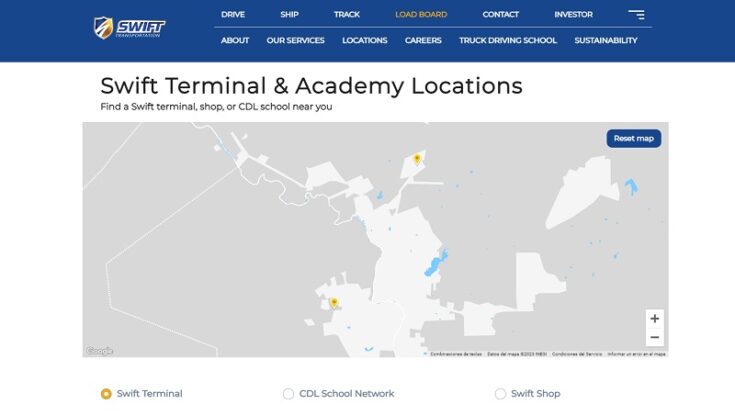 When you enter this page you will find a map of the United States where each of the terminals is marked.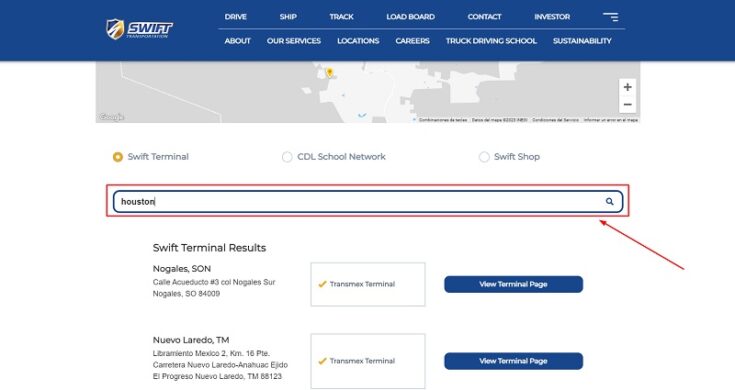 Although you can use this map to find the nearest terminal to your area, it is advisable to make use of the search engine below.
In this search engine you will only have to include your city, state, or zip code and the different branches will be marked in front of you.
Below you will find a list of Swift transportation terminals available in the area you have specified.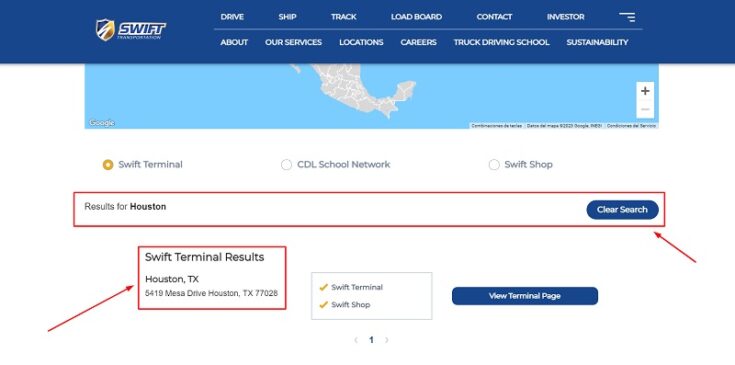 In addition, the system allows you to go to the website of each terminal and check the services available there.
How many Swift terminals are there near me in the United States?
Swift has a total of 35 terminals strategically distributed throughout the United States to facilitate the transportation process for drivers. They function as an interconnection network for receiving and shipping packages across the nation. Similarly, at a certain point, these terminals are rest points for drivers to arrive and take their time.
Not all of these terminals offer the same services, as 10 of them offer Swift's automotive school service. More specifically those located in Fontana, CA, Phoenix, AZ, West Valley City, UT, Lewistown, ID, Corsicana, TX, Kansas City, MO, Memphis, TN, Waco, GA, Columbus, OH, and Richmond VA. The rest operate purely as stop-over terminals.