One of the most popular and in-demand jobs for young people is those in public service, specifically in gastronomy as a waiter. It is a job position that does not require experience and helps students pay for housing, food, and essential services.
If you are looking for a server job near me, here is a guide with information about compensation, best-paying jobs, what companies are hiring, where you can find a part-time serving job, and more.
Description of a part-time serving job near me
A job of this type requires you to be able to communicate well with customers, as well as possess sales skills. By its very nature, it requires you to be fast and agile and to avoid making mistakes when taking down the order that the diner requested.
The description of a part-time serving job also requires you to be able to help clean the premises, make payments and have a good relationship with your colleagues so that the restaurant runs smoothly.
It is a job that requires an excellent predisposition since you are dealing with other people who, in some cases, will want to demand things at all costs. For this reason, you must also be patient and be able to keep your wits about you under pressure.
What should the server job resume look like?
As with any job search, the resume is a determining factor for a job interview. The Curriculum Vitae, as it is formally known, is your presentation sheet before human resources.
It is essential that it is well presented and ordered with all your information. Remember that with it, you are showing yourself to recruiters. It is expected that the personal description is in the first part, then by the studies carried out, and then the labor antecedents. For example:
Indicate the name and location of the place (restaurant, business, etc.) where you worked as a server.
Remember to specify the time (month and year) when you started working in the position and the date of termination. If you are still in the position, refer to it as "Currently."
List the responsibilities you had while working in that server job. For example, if you were a cashier, explain what tasks you performed and if you were a waiter.
Finally, indicate if you received any award or achievement as "Employee of the month." This is very common in restaurants and will look amazing in your resume.
Where to find part-time server jobs near me?
Nowadays, finding a job in this customer service area is very easy. You don't need to leave your resume anywhere in your city.
You only have to create a good resume and upload your data to one of the leading job search platforms. Among them, it is worth mentioning.
LinkedIn
Glassdoor
Indeed
Zippia
You can also find restaurant server jobs near me at major food chains such as Applebees, LongHorn Steak House, Olive Garden, and TGI Friday's.
If you are interested in working for any of these companies, log on to their website and go to the "Work with us" section. Most of these companies currently have their own human resources area from which you can apply online.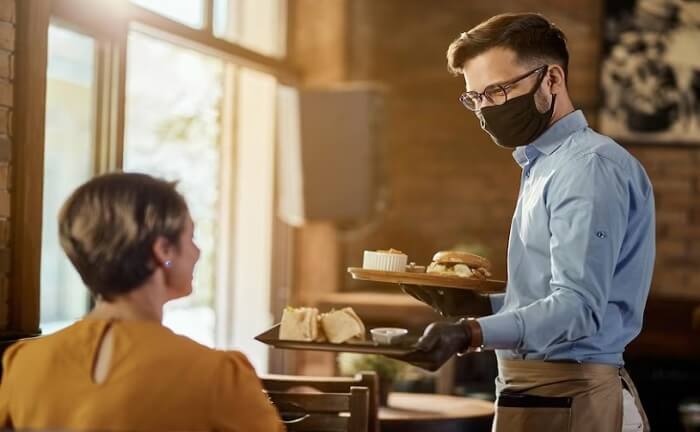 What are the highest-paying server jobs?
If you are looking for serving jobs near me hiring, either part or full-time, here are the highest-paying jobs, their requirements, and some things to keep in mind:
Applebee's Restaurant Server
Salary: $18,926 – $52,802 per year.
Competitive Wages: $10 – $30 (hourly) plus tips.
Flexible schedules.
Growth opportunities.
You must be 21 years or older to apply and be able to mobilize and stand for 4 hours.
Experience is not required but is a plus.
If you are interested in applying, please apply through the company's website at www.appleamericancareers.com.
Buffalo Wild Wings Server
Salary: $8.8 – $11.4 hourly (depending on state minimum wage).
Entry-level job.
Flexible hours.
Cash Referral Program.
Medical, Dental, and Vision benefits.
Olive Garden Host
Payment varies by location ($25,000 – $38,000 yearly estimated).
Free meals.
Weekly pay.
Flexible schedules
Medical and dental insurance
Discounts on travel, cell phones, etc.
Career opportunities in management
Typically, the salary in a serving job near me varies by state. Keep in mind that the federal minimum wage is only $7.25 (per hour). Democrat Joe Biden's administration has proposed raising it to $15. However, each local government has its setup.
In this sense, the highest-paying server jobs vary from $15 to $50 (at best), depending on the locality and the company. Considering this, the average server job near me is about $18.
What requirements do companies look for in this type of work?
The essential requirement is to be of legal age (21 years old) since these jobs usually sell alcoholic beverages. It would be best if you also were authorized to work in the U.S., in case you are a migrant. Depending on the company, you may be required to have the following:
Experience in customer service (as a server or bartender, depending on the position).
Ability to be a multi-tasker. Keep in mind this is a job in which you must be able to move quickly and stay on your food for several hours.
Spanish language skills (if the restaurant is located in a neighborhood with a high Hispanic population).
FAQS
Can you become a server with no serving experience?
Most of the jobs in this sector are that you do not require any experience. They may require a high school diploma and some customer service skills. Some companies need at least one year of experience, but they are only some of the majority.
What server jobs pay the most?
The catering server jobs near me pay the most. The average salary is $33,737 (hourly $16.22). In second place is the bartender server, whose average salary is $32,591. Generally, a service worker in food chains earns around $29,901 per year ($14.38 per hour).
Where is the best place to work as a server?
According to other employees based on data provided by Indeed, the best places to work as a food server jobs near me are:
Texas Roadhouse*
Olive Garden
The Cheesecake Factory
Waffle House
*The listed companies have been rated between 3.8 and 3.5 stars out of 5.
References
Was this Content Helpful?