Presenting electronics or recyclable metal products to earn extra income at home is becoming more and more common. Thus, more and more scrap metal fields are offering payment plans in exchange for the delivery of these kinds of materials that would normally have ended up in the trash.
Although each field usually has its own method of operation regarding the purchase and payment of these kinds of materials. That is why if you are looking to get into this kind of business it is worthwhile to get organized and have a strategic work plan.
Knowing not only what each scrap yard near you offers, but also the materials they usually work with and how well they pay for it gives a solution to the question, "Which is the highest paying scrap yard near me?".
Scrap yards near me in Houston
Those in Houston can visit the scrap yard centers we recommend below. Each one will be happy to assist you and you will be able to negotiate the recycled scrap you have at home, and you can make some good money!
| | | |
| --- | --- | --- |
| Name | Address | Phone Number |
| Houston Scrap Metal Recycle Center | 11801 W Montgomery Rd, Houston, TX 77086 | +1 281-636-2711 |
| C & D Scrap Metal Recyclers Co., Inc. | 6775 Bingle Rd, Houston, TX 77092 | +1 713-862-5588 |
| Prestige Auto & Metal Recycling | 7615 E Mt Houston Rd ste B, Houston, TX 77050 | +1 832-770-9953 |
| Houston Scrap Metal | 12100 Eastex Fwy Rd, Houston, TX 77039 | - |
| Astro City Scrap Metal | 4530 N Shepherd Dr, Houston, TX 77018 | +1 713-697-2999 |
| Southside Scrap Metal | 3515 Almeda Genoa Rd, Houston, TX 77047 | +1 713-738-3178 |
| Airline Scrap Metal | 9907 Airline Dr, Houston, TX 77037 | +1 281-405-0301 |
| Gessner Scrap Metal Recycling | 5524 Gessner Rd, Houston, TX 77041 | +1 281-501-3558 |
| Morris Scrap Metal Co. | 5706 Old Spanish Trail, Houston, TX 77023 | +1 713-926-3984 |
| H-Town Scrap Metal | 10400 SW Plaza Dr, Houston, TX 77074 | +1 832-786-8687 |
Nearest scrap yard in Dallas
If you live in Dallas and have recycled scrap metal, these are the best places to take it! They are open from 8-9 am to 4-5 pm, so try to visit them during those hours or your visit will be postponed for another day.
| | | |
| --- | --- | --- |
| Name | Address | Phone Number |
| Action Metals Recyclers | 3514 Botham Jean Blvd, Dallas, TX 75215 | +1 214-421-9981 |
| Green Earth Metal Recycling, LLC | 4115 Botham Jean Blvd, Dallas, TX 75215 | +1 214-428-3702 |
| Sunrise Metal Recycling Llc. | 4801 Botham Jean Blvd, Dallas, TX 75215 | +1 214-428-4681 |
| Okon Metals | 5901 Botham Jean Blvd, Dallas, TX 75215 | +1 214-426-6566 |
| Oak Cliff Metals - Dallas Yard | 8242 S Central Expy, Dallas, TX 75241 | +1 214-946-2267 |
| Palladium Metal Recycling, LLC | - | +1 972-416-5151 |
| Lane Recyclers | 11521 C F Hawn Fwy, Dallas, TX 75253 | +1 469-248-0783 |
| Cyclone Recycling | 11221 Tantor Rd, Dallas, TX 75229 | +1 214-421-8603 |
| Lake June Scrap Metals | 11511 Lake June Rd, Balch Springs, TX 75180 | +1 972-288-0174 |
| Sunshine Recycling | 2019 Ruder St, Dallas, TX 75212 | +1 972-869-0845 |
Other highest-paying scrap yards near me, recommended by All About Careers
Because there are so many scrap yards out there, it can sometimes be really difficult to find the right one. This is because each one usually works with its policies and rules of payment and material handling, which directly affects the possibilities. So before heading there with your materials, it's worth checking the field's guidelines.
Dade Scrap Iron & Metal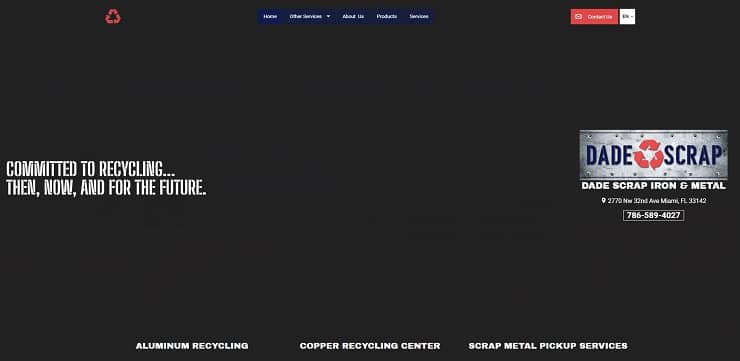 This center has its sights set on helping the environment by recycling iron and metal materials. As one of the largest facilities in the eastern United States, it is an ideal option for those who have recycling materials and don't know where to direct them.
Frank's Scrap Metal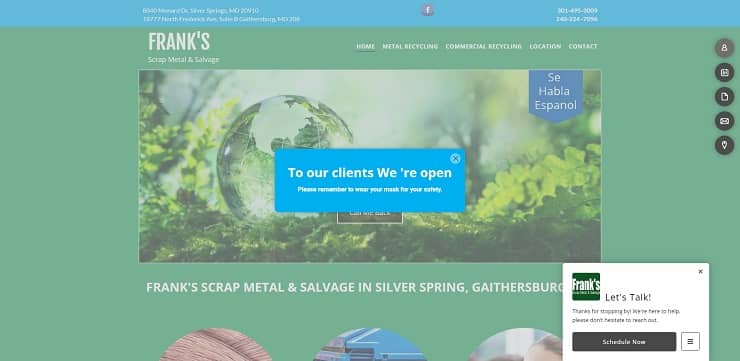 This commercial recycling center offers to collect metal materials that were intended to be discarded but can be given a second life. Rather than ending up in a scrap metal field, this center seeks to make the most of the product in a reuse process.
Utah Metal Works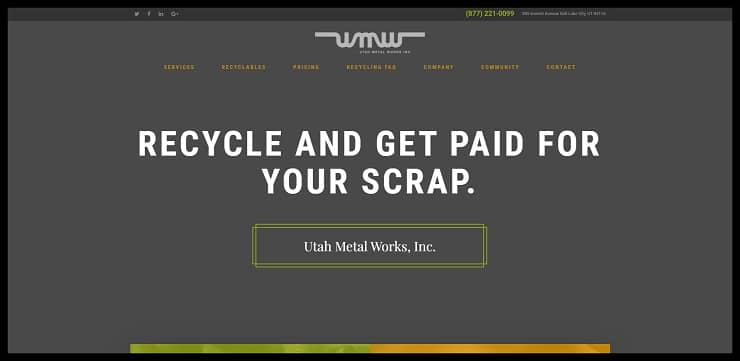 This recycling center encourages this custom in the state of Utah by offering pay-as-you-go packages for your accumulated scrap metal at home. Such is the case that it is positioned as a high-level national center where tons of scrap metal is recycled under advanced processes.
📍 Address: 805 Everett Ave, Salt Lake City, UT 84116, U.S.A.
✆ Phone Number: 8013645679
🌐 Website: http://umw.com/
Langley Recycling Inc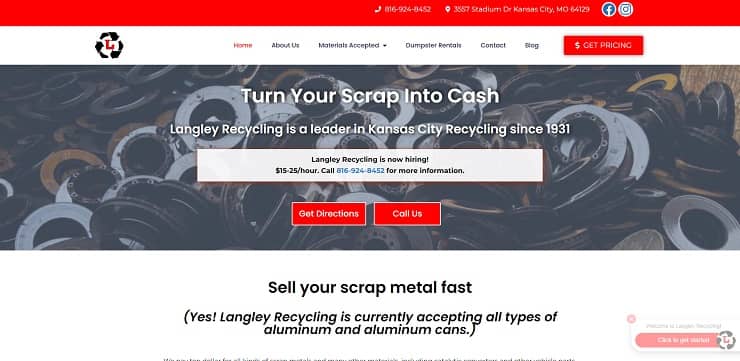 Langley Recycling Inc. is a company that coordinates the process of buying, selling, and recycling scrap material that would normally end up in the garbage. Giving the opportunity to reuse this type of compound that could be so harmful to the environment as raw material.
SA Recycling
This scrap yard is considered one of the largest in the state of Texas and has the facility not only to receive scrap materials but also to carry out the recycling process with them. It is thus positioned as an exceptional option to take all that you have at home instead of throwing it away without any use.
Texas Salvage and Surplus Buyers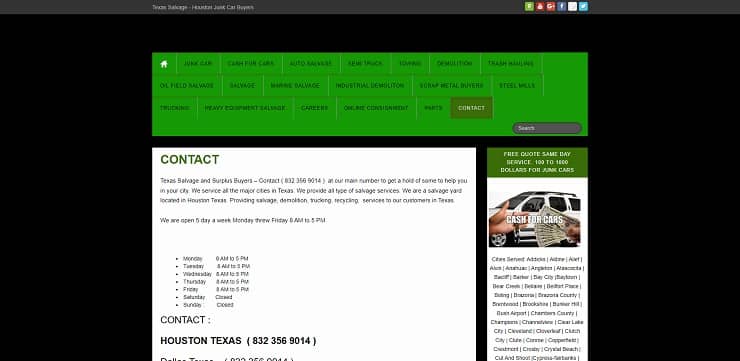 Texas Salvage and Surplus Buyers is another one of the great salvage yards you will find in the state of Texas. Specializing mostly in junk cars, this is a center that receives all kinds of materials for later sale to third parties that can reuse them or to recycling companies.
Sgt. Scrap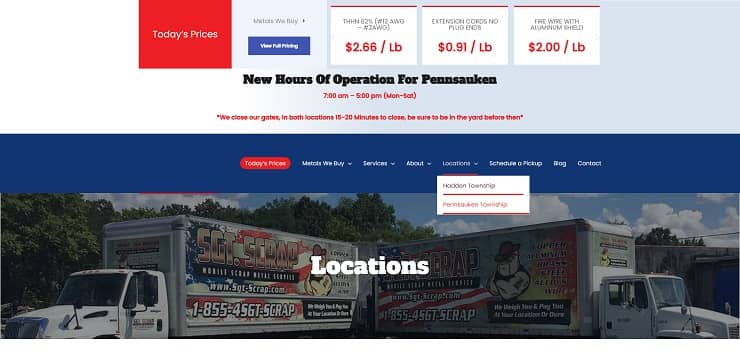 Sgt. Scrap is a company committed to the collection and treatment of scrap materials either for resale or later reuse in the form of recycling. The company's goals are to build a reputation and encourage people to recycle.
Salvage America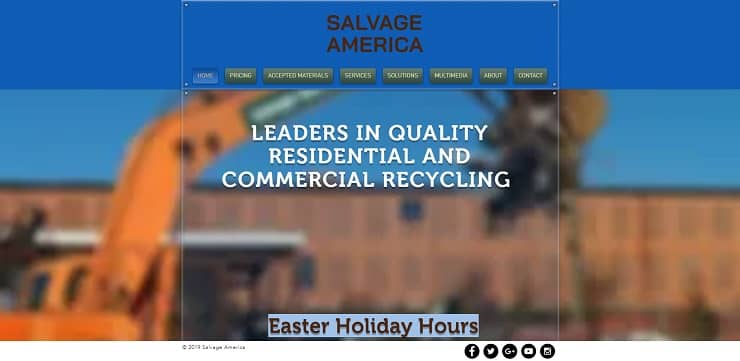 This is a leading company that has 3 main objectives: recycling on its own, providing materials to other companies that recycle, and managing the recycling business. They not only recycle with their own resources but also encourage others to recycle through them.
27 Recycling
27 Recycling is a scrap metal trading center that focuses its services on the buying and selling of scrap materials. Whether it is on a personal basis or to larger recycling companies, this center is definitely a place to consider when you have scrap materials at home.
How many scrap yards are there in the USA?
It is difficult to determine the exact number of aluminum scrap yards and metal scrap yards in the United States, as there are many small, privately owned operations in addition to larger, well-known companies.
However, according to the Institute of Scrap Recycling Industries, Inc., there are approximately 7,000 scrap metal recycling facilities in the United States. These facilities process and recycle a wide variety of materials, such as metals, paper, plastics, and others searching for a new lease on life.
Within the 7,000 scrap metal recycling facilities, it is safe to assume that there are a significant number of metal scrap yards and aluminum scrap yards.
These yards play an important role in the recycling industry by collecting, processing, and selling scrap metal and aluminum scrap to manufacturers and other companies.
The number of scrap yards in the U.S. is likely to continue to grow as demand for recycled materials increases and more attention is paid to sustainable practices. It is important that these scrap yards operate responsibly and prioritize safety in their operations to ensure the well-being of their employees and the surrounding community.
Where is the best place to find scrap metal?
Scrap metal can be found in a variety of places, depending on the type of metal you are looking for. Some of the best places to find scrap metal are junkyards, construction sites, auto repair shops, and even scrap metal yards.
These places usually have surplus metal that can be sold for a profit or reused for do-it-yourself projects. Junkyards are perhaps the most obvious place to find scrap metal.
These companies specialize in buying and selling scrap metal, so they often have a large inventory of different types of metal.
But in general, it will all depend on the case of scrap materials you are looking for, since, construction sites, repair shops, and even scrapyards handle different types of metal. So each of these is an option to look for as long as the type of metal you have in mind is among the possibilities.
What is the highest-paying scrap metal?
Scrap metal recycling is a booming industry, with millions of tons of metal recycled each year. If you want to make extra money selling scrap metal, you may be wondering which metals are the most valuable.
The answer to this question depends on several factors, such as current market demand and the quality of the metal. In general, the scrap metal that pays the most is usually copper because of its components and reusability.
Copper is a versatile metal used in a wide range of industries, from construction to electronics. It is also a relatively rare metal, which means it is in high demand.
Other highly profitable scrap metals include aluminum, brass, and stainless steel. However, the exact value of these metals will depend on a number of factors, such as their purity and current market conditions.
If you want to sell scrap metal, it is always a good idea to research and compare prices to find the best ones, since not all companies have the same pay ranges for metals.
What is the easiest way to get scrap rust?
Scrap rust is a common problem faced by many people, especially if they have metal objects or equipment exposed to the elements. Rust can be unsightly and can also weaken the integrity of the metal, making it more susceptible to damage or breakdown.
One of the easiest ways to remove rust from metal is to use a wire brush or steel wool. Gently scrub the rusted area with the brush or wool, being careful not to damage the underlying metal.
Another option is to use a rust-preventive solution, which can be found at most hardware stores. Simply apply the solution to the rusted area and leave it on for the recommended time before wiping it off with a cloth. For the more stubborn rust, you can use a power tool, such as a grinder or sander.
These tools can quickly remove rust from metal surfaces but should be used with caution to avoid damaging the metal.