If you are a Bank of America customer, you have probably asked yourself the question of how much money can be withdrawn through the ATM. This arises the question of what are the chances of withdrawing $5,000, an amount that most likely resonates knowing the rules of banking transactions.
There are aspects to consider before attempting to do this process, in addition to knowing the guidelines set by the bank for these amounts. That is why this section is perfect for you to understand everything you need to answer that and more possible questions.
Keep in mind that in banking matters you should not only know about how to manage credit card debts, what are the best LLC business accounts or how is the chargeback of Bank of America. The subject of withdrawing money is fundamental.
Related policies handled at Bank of America
The main issue that may impact the allowance of a withdrawal of $5,000 or less is determining the type of account you have. Each type of account, as well as the benefits and eligibility of each card, corresponds to different transaction and withdrawal services.
Fees and charges for Bank of America bank accounts may vary by account type and location. Some common fees and charges associated with Bank of America bank accounts are:
Monthly account maintenance fees, which may vary by account type and minimum balance required.
International transaction fees, which apply when you make a foreign currency transaction or ATM withdrawal overseas.
Overdraft fees, which apply when more money is spent than is in the account.
Fees for additional services, such as writing cashier's checks or transferring funds.
The average
daily limit at Bank of America ATMs is $1,000 to $2,500 per day,
depending on the type of account and ATM location. Therefore, it is unlikely that you will be able to withdraw $5,000 in a single day from a
Bank of America ATM
.
If you need to withdraw a larger amount, you may need to do so in stages or use other options, such as visiting a Bank of America branch or using another money transfer service such as Western Union. Under these conditions, you may be allowed to withdraw the desired amount in multiple transactions.
How do I withdraw money from Bank of America?
To withdraw money at this bank you can visit a Bank of America branch and withdraw cash in person, but you may be subject to additional fees. For that, you have to consider the cash withdrawal limits and fees before making a transaction.
On the other hand, knowing the maximum amount that can be withdrawn from a Bank of America ATM may allow you to process your withdrawal. However, there may be lower limits depending on the type of account and location of the ATM.
To withdraw Bank of America cash from an ATM you must do the following:
Visit a Bank of America ATM, where you will make the "Withdraw Cash" selection.
Enter the debit or credit card (depending on the service you subscribe to) and the PIN of the account.
The screen will show a section where you can indicate the amount of money to be withdrawn.
Thereafter, and if the conditions are met, the ATM will dispense the money and, along with it, the withdrawal receipt.
What are the benefits of Bank of America?
Bank of America offers a variety of benefits to its customers, including access to Online Banking and Mobile Banking to make transfers, pay bills and manage accounts online; as well as a wide range of checking and savings accounts with different benefits.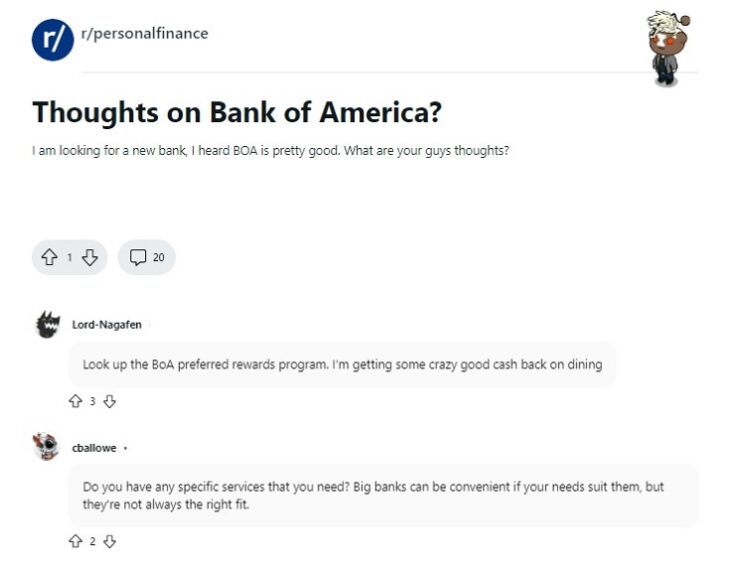 It also provides credit and debit card options with specific rewards and benefits, plus phone banking and online chat for customer support on banking services, international transfers, and foreign currency exchange.
There are even Preferred Rewards programs, which offer additional benefits to eligible customers based on their balance in Bank of America and Merrill accounts.
What types of accounts are there at Bank of America?
Like many other banking institutions, Bank of America gives its customers the opportunity to open different types of accounts depending on their activities, because although they all receive and send money, they all have a specific purpose.
This is because this bank wants to offer its users not only a secure system to store their funds but also to provide a measure of organization so that users and businesses can keep their finances structured.
Likewise, this works so that customers and companies can correctly carry out their economic plans for the future.
| | |
| --- | --- |
| Accounts | Description |
| Advantage Savings | A figure is sent to the savings account and the funds remain intact at the interest rates. |
| Advantage plus Banking | Allows unlimited transactions; includes debit card and cash withdrawals. |
| Advantage Relationship Banking | International transactions without any commissions |
Such is the case of savings accounts or Advantage Savings, where you send a figure to the savings account, and through interest rates, the deposited funds will remain intact—intelligently preserving your money and having it available when you need it.
On the other hand, they also offer the Advantage Plus Banking account service, which is a digital account with which you can make unlimited transactions. With the opening of this type of account, you can get a debit card for purchases and withdrawals at the ATM.
This Advantage Plus Banking account is one of the most common and easy to open in the United States. Since it presents a convenient way to mobilize the deposited resources, and they have programs for students where they will not pay the interest rate of $12 per month.
You could choose to open an Advantage Relationship Banking account, in which you can make international transactions without any fees, or Advantage Safe Balance Banking, a checking account that will not overdraw for insufficient funds.
References