ATMs are undoubtedly a very convenient day-to-day tool for withdrawing cash from our bank accounts. However, many of them impose certain daily withdrawal limitations that can put real strains on our needs. Thus proving insufficient to meet particular daily needs that we may have using cash.
If you need to withdraw a considerable amount of money from an ATM, such as $1000, you must consider certain differential factors that will allow you to do so. Therefore, it is important to know which ATMs can allow you to do so, exploring the available options and considering how to perform these transactions in a reliable and safe way.
How much money can you withdraw from an ATM in one day?
Something that many do not know is that the daily withdrawal limit at an ATM will depend directly on the card issuing bank and the type of account. Thus, in general, most banks establish their limit according to the characteristics of the account you have.
On average, this range can go from $300 to $1000 per day, depending on the type of account. However, some banks may allow withdrawals of up to $2000 or $3000 per day on certain accounts or for certain specific customers. It is, therefore, of real importance to know the limitation given in your bank account according to the characteristics allowed by the entity.
On the other hand, it is important to bear in mind that in addition to the daily withdrawal limit, ATMs may also impose limitations per individual transaction. Thus, it is recommended to verify the withdrawal limits and the different fees applied by each bank and its ATMs, thus avoiding unpleasant surprises and the charging of fees that have not been considered from the beginning.
Other considerations to measure
In addition to the aforementioned withdrawal limits and bank fees, it is significant to highlight the fact that ATMs may have limitations depending on the banking entity. It is therefore recommended to use ATMs belonging to your bank's network since this way, you can avoid higher fees and even eliminate them entirely on withdrawals.
Similarly, ATMs in public places or specifically vulnerable sites could lend themselves to fraud or identity theft. Thus, it would be advisable to use ATMs located in secure and well-lit areas or to opt for options closer to the banking institutions that avoid suspicious activities.
What ATM allows you to withdraw $1000?
Although it is not at all safe to withdraw $1000 from an ATM in the United States, different options raise this possibility depending on the type of account. However, here it will depend on what is established by the issuer of the card and even the ATM itself and the limits established there.
To make a withdrawal of $1000 or more, it is advisable to check the withdrawal limits of your bank account and the ATM withdrawal limits before making the transaction. It is also important to be aware of the fees applicable when using an ATM outside your bank's network, which may reduce the amount of cash you ultimately receive.
For example, some banks that allow withdrawals of more than $1,000 in a single day include:
Bank of America: Bank of America account holders can withdraw up to $1000 in a single day, but customers with premium accounts may have higher withdrawal limits.
Chase: Chase customers can withdraw up to $1,000 in a single day, but premium account holders may have higher withdrawal limits.
Wells Fargo: Wells Fargo account holders can withdraw up to $1,000 in a single day, but some customers may have higher withdrawal limits, depending on the account they have.
It is essential to note that these limits may change over time and may vary by account type and ATM location. Therefore, it is recommended that you check with your bank for ATM withdrawal limits and any other relevant information before making a large cash withdrawal.
What ATMs do not charge a fee?
When using an ATM, it is common for fees to be charged for the use of the service. However, some ATMs do not charge a fee. However, this may well depend on the policies established by each bank. The best way to avoid being charged a fee for withdrawing money from an ATM is to go to one of your banking lines.
Many banks offer free withdrawals at ATMs in their network. These ATMs can be found at bank branches as well as other locations, such as stores and gas stations.
How can I bypass the ATM withdrawal limit?
It is not advisable or ethical to bypass the withdrawal limits set by the bank at the ATM. Withdrawal limits are set to protect your financial security and prevent fraud and theft, which you will not be protected from if you fall into this trap.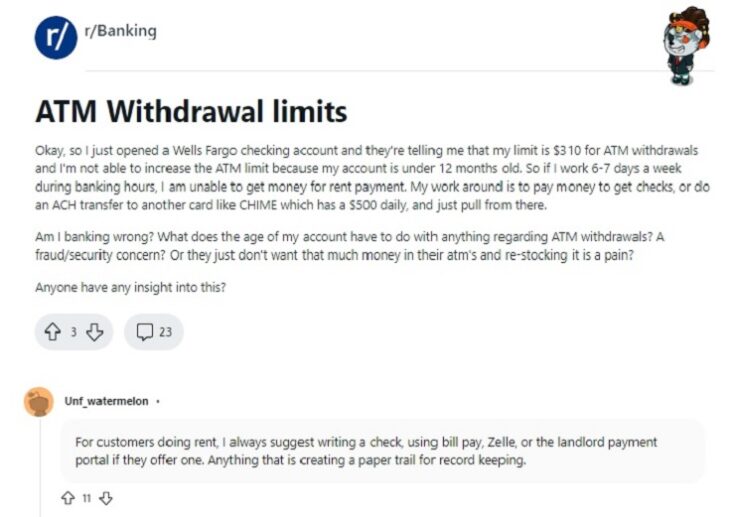 In addition, attempting to circumvent withdrawal limits can result in serious legal and financial consequences. If you are found to be trying to circumvent ATM withdrawal limits, you could face criminal charges and financial penalties, and you could lose access to banking services.
Instead of trying to circumvent ATM withdrawal limits, it is best to contact your bank for information on how to increase your withdrawal limit or explore other options for conducting your financial transactions. Your bank may offer options such as credit cards with higher limits or wire transfers to help you manage your financial needs in a safe and responsible manner.
References