Venmo and PayPal are virtual payment applications that allow users to send and receive money through the platform safely and efficiently. Although their main feature is the same (making money transactions), they have different options for handling and managing the money in the account.
While Venmo has more than 60 million users, PayPal has more than 200 million customers who choose its platform to make payments and receive money. This is a significant difference marked by an essential and notable difference: Venmo is only available to users in the United States, while PayPal is available worldwide.
Which is better: Venmo or PayPal?
Venmo is a platform for more informal payments, i.e., between family and friends within the United States. It has an option that turns it into a social network where you can see all the transactions of your friends, who can react to these money movements, something that might not be so good due to privacy policies.
On the other hand, PayPal has a more formal and professional tinge. It is used to send money as a payment method between employers and their employees or customers, and it is enabled in many countries, so it does not have the limitations that Venmo has.
In conclusion, the decision will depend on each user's use of the platform; for example, if a U.S. citizen wants to transfer to another U.S. citizen, they can choose Venmo. However, if a U.S. citizen wants to pay someone in another country, they should select PayPal.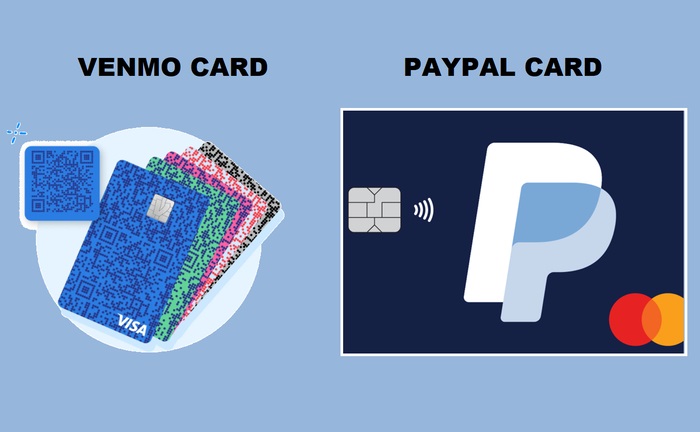 What are the differences between Venmo and PayPal?
The main difference between Venmo and PayPal is that Venmo is a platform used more among friends and family within the United States. It is worth mentioning that PayPal owns Venmo, so its structure is similar and easy to use. On the other hand, PayPal is used in several countries worldwide and allows commercial transactions between companies, so it has a more professional tinge.
In any case, anyone can send money with PayPal or Venmo as long as the requirements for each platform are met, such as paying the corresponding commissions. As for fees, Venmo charges a fee to send money to a bank account or debit card.
However, PayPal also charges higher fees depending on the type of transaction and the amount of money being sent. Therefore, these fees are variable and can be found with a PayPal calculator.
FACT: You can apply for credit and debit cards from both companies.
Why can't I link Venmo to PayPal?
Although PayPal owns Venmo, the two accounts cannot be linked due to limitations in Venmo's and PayPal's security policies. Venmo is used for informal payments and does not support credit cards, so it cannot be linked to the PayPal account.
However, there are alternatives to making these transfers from one account to another. You can use your debit card as an intermediary to send money from one platform to another since most banks do not charge fees for these transactions, although the platforms do when sending money.
If you use your bank's debit account, where you have linked your PayPal and Venmo accounts, you can send money from your Venmo account to PayPal and vice versa. You need to move the amount from one app to your bank account and, next, from the bank account to the other app.
How do I link my PayPal debit card to Venmo?
If you need to link your PayPal debit card with your Venmo account, you must complete a series of steps to complete the operation. It will only take a few minutes, and you can use your PayPal debit card to make transactions from Venmo through their mobile app.
If your PayPal card is verified and ready to use, you can send money and transfer funds from PayPal to Venmo.
REMINDER: Don't forget to verify that all card information is correct.
To link PayPal debit card to Venmo account, you will need to complete the following steps in order:
STEP 1: Download the Venmo app from your mobile device's App Store (iOS) or Google Play Store (Android).
STEP 2. Create a Venmo account if you don't already have one. To create an account, you will need to enter the requested information, such as your first and last name, email, and phone number.
STEP 3. With your account already created from the app, log in to your account and go to the top left and click on the three horizontal stripes.
STEP 4. You will see the "Payment methods" option in the settings section. Tap this option to continue.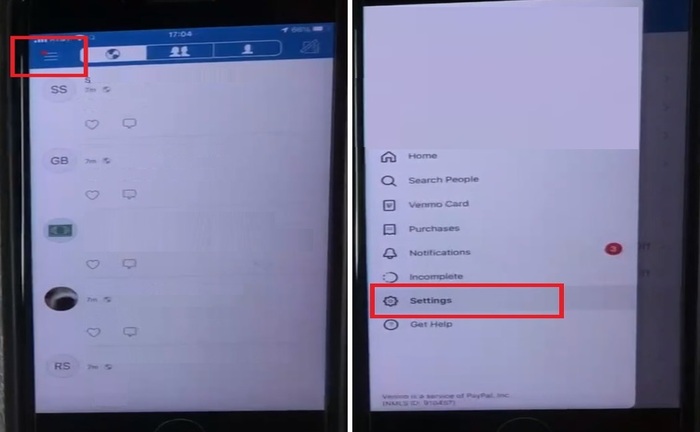 STEP 5. Next, select the "Add Payment Method" option.
STEP 6. Click "Add bank or card" on the next screen.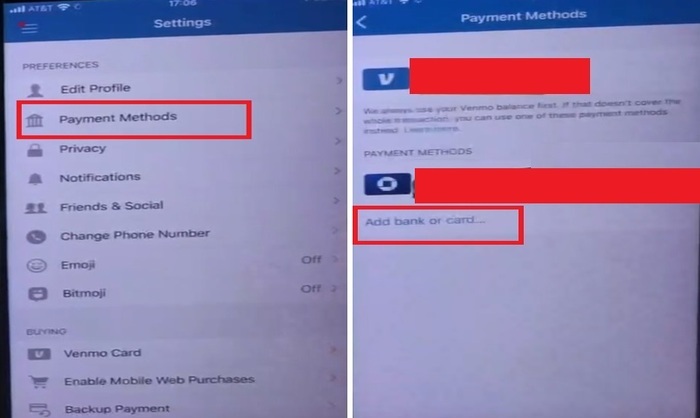 STEP 7. Select the "Card" option under "Bank", as shown in the image.
STEP 8. Enter your PayPal debit card information (card number, expiration date, and security code).
STEP 9. Then click on "Add".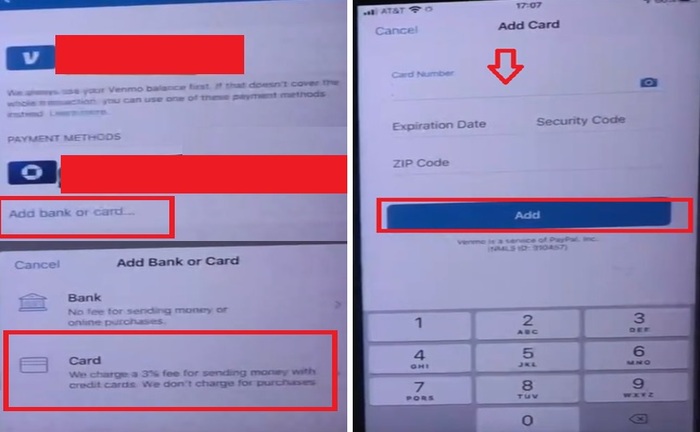 STEP 10. Once you have verified your card, you will be able to transfer funds from your PayPal account to your Venmo account using your debit card.
How do I set up Venmo without a bank account?
To use Venmo, you must have a U.S. bank account. Venmo does not allow users to register without a verified bank account. If you do not have a bank account and wish to use Venmo, it is best to open an account with a bank to obtain a debit card.
Why can't I add my PayPal card to Venmo?
For several reasons, you might have difficulty adding your PayPal debit card to your Venmo account. Venmo's official website explains that you should contact PayPal or Venmo's technical support for a personalized answer.
TIP: The best method of communication for these apps is usually through their social networks, especially Twitter.
Some of the most common errors that occur when loading your PayPal debit card to your Venmo account are:
Expired card: Make sure your PayPal debit card has not expired and is valid and in force, as this could be why you cannot link.
Incorrect information: Verify that you have entered all your card information correctly, which could be why Venmo does not allow you to add the debit card.
Over limits: If you have run out of funds on your debit card, you should check that the issuing bank has no limitations on the card limits.
Technical issues:

As with any app, Venmo may be experiencing maintenance or upgrade issues, so you should wait until later to try again or, if not, contact Venmo technical support.
References
"Solved: Is Venmo Balance Able to Be Transferred to PayPal … – PayPal Community." PayPal Community – PayPal Community, 20 Oct. 2018, https://www.paypal-community.com/t5/Transactions/Is-Venmo-balance-able-to-be-transferred-to-PayPal-balance/td-p/1631001.
The Stuff I Use Channel. Transfer Money Venmo To Paypal? . YouTube, 1 Nov. 2019, https://www.youtube.com/watch?v=hCz6tZzc_40.