In the United States, Fanatics is a company for fans of all sports who want to wear the best clothes related to their passion. They also have the best prices in the market and good discounts.
As everything in the technological era advances by the day, many methods have been developed to improve customer experiences. What better way to do this than with a Fanatics gift card?
How do I buy with a Fanatics gift card?
The procedure can be easy, but read this how-to tutorial before making any mistakes during your purchase.
To start, open the Fanatics web.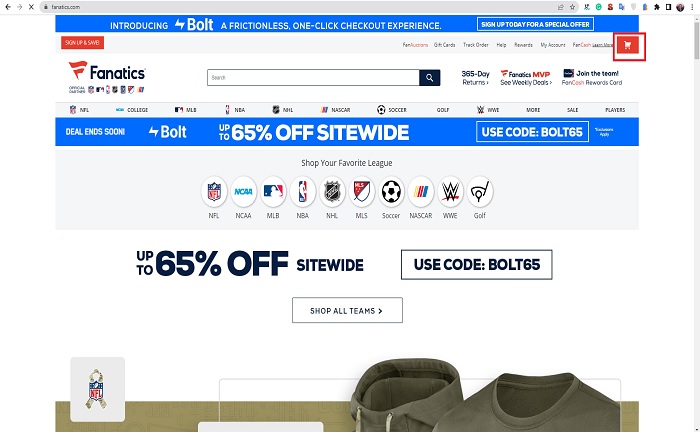 Browse through the entire catalog of available products on the platform and choose the ones you like the most. Select each and press the "Add to cart" button to proceed through the system.
After you have filled out your shopping cart, you can start the payment procedure. Before doing so, look for the Fanatics gift card to have on hand or the email address where you received the digital card.
You are ready to check out when you have the card at hand. Select the "Shopping Cart" option, where you will see all your chosen products and the total amount.
Continue with the shopping process, going to the payment section, where you normally make payments. When you reach the final payment step, you will be asked how you wish to cancel and select the "Gift Card/Electronic Gift Card" box.
After selecting the option, the platform will redirect you to a block where two grids appear, and you are asked for the card number and PIN. Enter the requested data to continue with the payment.
It is important to know that some Fanatics gift cards do not have a PIN. Please do not worry; this does not mean it is invalid for purchases.
Just enter the card number and ignore the PIN request grid, click pay, and it will proceed as usual.
Can I pay with a gift card?
Gift cards for most platforms are a payment add-on, as many do not represent large sums. Although in the case of Fanatics, they are available for up to $500.
But don't worry if your card is only $25; it doesn't mean you won't be able to buy the desired cap. If the invoice exceeds the gift card's amount, it will only be deducted from the full payment.
If the cap you wish to buy costs $50, but your card is $25, it will only be deducted from the full invoice and show a remaining debt of $25. Add a new payment method, such as your credit card, and you will have already paid the remaining amount.
However, if the bill is $20 and you enter a $5 gift card, the payment will be processed, and you will have an available balance of $5.
Moreover, if you have many gift cards, you can redeem them up to the full amount of the bill. Fanatics allows you to redeem up to 10 gift cards per order.
Will my gift card expire if I don't use it?
No. A Fanatics gift card is considered a solid or stable asset. In other words, it will in no way expire, regardless of whether you use it or not. Nor will the amount of money you have on it lose its value.
How can I check my Fanatics gift card balance?
It is important to know your gif card's available balance so that you don't worry about not being able to pay for a much-desired purchase.
Gift cards have a landing page where you can access the card's balance. At the bottom, you will see an option called "Gift Card"; select it, and it will send you to a block where you will be asked for the card information.
You only need to enter the card number and PIN to see how much is available. After you have entered all the information in the boxes, click on "Check your gift card balance."
References