If you are a student fan of snow sports, you should get your Ikon Pass student discount, with which you can get great benefits when entering a ski and snowboard slope.
In addition, you will have access to the most exclusive resorts in the area, as it is included in the price of the Ikon Pass college discount. On the other hand, your purchase will be protected thanks to "Adventure Assurance", with which you can claim your money in case you cannot attend the event, although you must meet a series of requirements.
What is the Ikon Pass and what is it for?
The Ikon Pass is a project of Alterra Mountain Company, which owns 15 resorts in different parts of the world. If you are a winter sports lover, you have probably heard about the Ikon Pass for students, a pass with discounts for students who meet certain conditions to access it.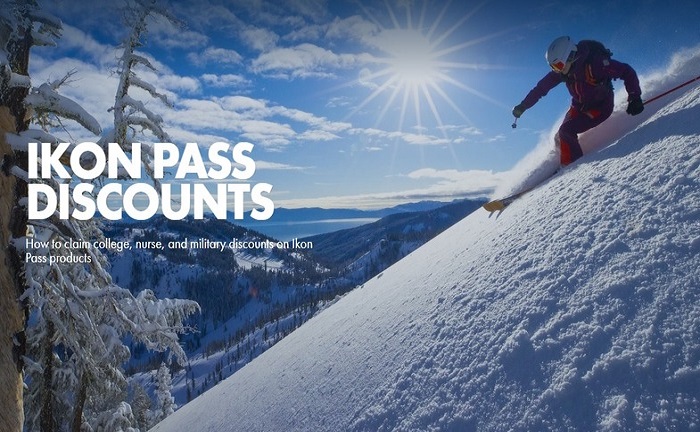 This benefit has different passes and prices, which are adapted to the needs of each student. There are more than 50 destinations available for those who get their tickets, and you can combine different tracks to get the pass of your dreams. In addition, you will enjoy the "Adventure Insurance", so you can enjoy your trip to the fullest, without having to worry about your money, in case something unexpected happens and you can't go.
What is Adventure Assurance and how do I get it?
Ikon pass Student discount holders can access "Adventure Assurance", insurance that allows the refund of the money in case the person cannot use his/her pass.
The basic Adventure Assurance plan is at no additional cost to eligible individuals, as it is included in the ticket. However, more comprehensive passes are available for an additional fee. For more information click here.
Types of Pass Coverage
Pass Protection
If the person cannot use his/her ticket, he/she can claim the money back in case of injury, illness, dismissal from work, or death (of the holder or family member), among others. An additional 7% of the total pass price must be paid to obtain the Spot Pass Protection.
Injury Insurance
This additional policy covers injuries and other eligible medical expenses while using the Ikon Pass. This insurance includes:
$10,000 in case of dismemberment, circulatory or heart malfunction, or accidental death.
$25,000 of coverage for medical expenses for accidents while using the pass.
What are the destinations included in the ikon pass?
There are more than 50 mountain destinations that you can access with your pass.
State/Country

Destinations

California
Palisades Tahoe.

Mammoth Mountain.

June Mountain.

Big Bear Mountain Resort.

Colorado
Aspen Snowmass.

Copper Mountain Resort.

Arapahoe Basin.

Eldora Mountain Resort.

Steamboat.

Winter Park.

Idaho
Sun Valley.

Schweitzer.

Maine
Sugarloaf.

Sunday River.

Michigan
Boyne Mountain.

The Highlands.

Montana
Big Sky Resort.
New Hampshire
Loon Mountain.
New Mexico
Taos Ski Valley.
New York
Windham Mountain.
Oregon
Mt. Bachelor.
Utah
Brighton Resort.

Alta Ski Area.

Snowbird.

Snowbasin.

Deer Valley Resort.

Solitude Mountain Resort.

Vermont
Killington – Pico.

Stratton.

Sugarbush Resort.

Washington
The Summit at Snoqualmie.

Crystal Mountain.

West Virginia
Snowshoe.
Wyoming
Jackson Hole Mountain Resort.
Alberta, Canada
SkiBig3.

Banff Sunshine.

Lake Louise.

Mt. Norquay.

British Columbia, Canada
Revelstoke Mountain Resort.

RED Mountain.

Cypress Mountain.

Panorama Mountain Resort.

CMH Heli-Skiing & Summer Adventures.

Ontario, Canada
Blue Mountain.
Quebec, Canada
Tremblant.
Austria
Kitzbühel.
France
Chamonix Mont-Blanc Valley.
Italy
Dolomiti Superski.
Switzerland
Zermatt Matterhorn.
Australia
Thredbo.

Mt Buller.

New Zealand
Coronet Peak.

The Remarkables.

Mt Hutt.

Japan
Niseko United.

Lotte Arai Resort.

Chile
Valle Nevado.
Which groups are eligible for discounts?
You can have discounts on all Ikon Pass products only for adults (+23) and young adults (13-22) if you belong to one of the following selected groups.
College: Enrolled college students.
Nurse: Actively licensed nurses.
Military: Active and retired military and their adult dependents.
What are the prices for 22/23 Ikon Passes?
Let's consider the following metrics to evaluate the ages of discount holders.
Adult: 23 years of age or older.
Young Adult: Between 13 and 22 years old.
Child: Between 5 and 12 years old.
Four and Under: Between 0 and 4 years old.
Now, let's take a look at the prices:
Ikon Pass
Adult: $1,179.
Young Adult: $879.
Nurses, Military, and College (Adult): $839 (up to 29% off).
Child: $389.
Four and under: $149.
Ikon Base Pass
Adult: $869.
Young Adult: $649.
Nurses, Military, and College (Adult): $639 (up to 16% off).
Child: $349.
Four and Under: $99.
Ikon Base Plus Pass
Adult: $1,069.
Young Adult: $849.
Nurses, Military, and College: $839 (up to 26% off).
Child: $549.
4 and under: $299.
Ikon Session Pass
4-DAY PASS
Up to 16% off.
Adult: $449.
Young Adult: $379.
Nurses, Military, and College: $379.
Child: $269.
4 and under: $269.
3-DAY PASS
Up to 16% off.
Adult: $369.
Young Adult: $309.
Nurses, Military, and College: $309.
Child: $219.
4 and under: $219.
2-DAY PASS
Up to 15% off.
Adult: $269.
Young Adult: $229.
Nurses, Military, and College: $229.
Child: $169.
4 and under: $169.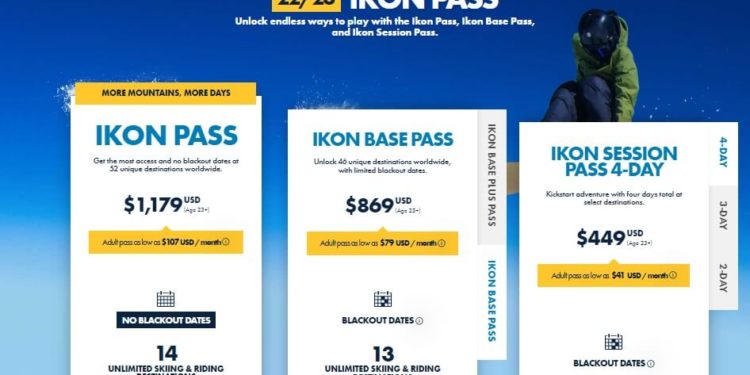 How to get an Ikon pass student discount?
If you wish to obtain discounts for your Ikon Pass, you must first verify your status through Sheer ID, the application used by Ikon Pass, to confirm whether or not you are eligible to purchase discounts on your tickets.
At the time of purchase, the cardholder must verify their identity with all the information requested in the Sheer ID and wait to be approved or rejected.
Steps to follow for Sheer ID verification
Please select the product you want to buy and add it to your cart.
Choose the name of the pass holder.
Click "Add X (nurses, military, or college) discount" as appropriate.
Enter the name of your university or college and the ZIP code on your nurse license, or select your military status (Active, Reservist or Guard, Military Retiree).
Select the hospital or organization (nurse), or designated branch of service (military) that appears in the dropdown list
Enter your current email address.
References: