Public Service Loan Forgiveness is federal student loan forgiveness offered by the U.S. government. In fact, Biden is still forgiving these student loans.
Basically, it's a way to help you with your student loan payments and keep it from becoming a debt you'll have for most of your life. Undeniably, having student loan refinancing from companies like USAA is great, but so is government assistance.
The PSLF will amortize any remaining federal student loan payments after 10 years have passed and borrowers are current in that period. The program's mission is to get students into low-paying careers, such as firefighting, nursing, government, public interest law, and military work.
Payment Plans Accepted by PSLF
To access the Public Service Loan Forgiveness program it is not as simple as applying for it once the necessary time has passed. On the contrary, there are different conditions to apply, among them it is necessary to have a payment plan that is among those accepted by the program. Among the options are:
| | |
| --- | --- |
| Plans | Descriptions |
| Standard payment plan | Monthly payments for 10 years, although it can be extended to 30 years depending on the case. |
| Income-Based Repayment Plan (IBR) | Monthly payments are lower compared to the other plans. The term is up to 20 years. |
| Income Contingent Repayment Plan (ICR) | Monthly amount depends on your and your family's income. |
| Revised Pay as you Earn (REPAYE) | Like the previous two, with pay-as-you-earn, the monthly amount is 10% of your discretionary income. |
Standard payment plan
With the standard payment plan, you will have to make fixed monthly payments for 10 years, however, there are alternatives that can be extended for up to 30 years if you do not have a direct consolidation loan.
The amount will be the same for the entire period, this ensures that you will make all the corresponding payments, including interest.
Now, from the moment you start paying your federal loan, you will be automatically enrolled in the standard repayment plan, although you have the possibility of changing to another plan of your choice. However, this plan is part of the PSLF conditions if you plan to apply for the program after the 10 years have passed.
As for the monthly payments, they can be as low as $50, but this is not always the case, so you should wait to know the amount of your loan, based on this the monthly payment is calculated. With this, we can say that the monthly payments can be higher compared to other plans.
Income-Based Repayment Plan (IBR)
With an income-based repayment plan, monthly payments are based on your discretionary income and the size of your dependent family. It is part of the IDR plans and this is one of the most popular since 2020. Monthly payments can be considerably lower compared to other payment plans.
The term of this plan is 20 years and it does not matter if the loan is for undergraduate or graduate studies. The monthly amount is estimated to be 10% of your monthly discretionary income. To access this plan, you must be up to date with the payments of all your loans, this is the fundamental requirement.
Income Contingent Repayment Plan (ICR)
The operation of the income-contingent repayment plan is the same as the previous one, the monthly amounts will be decided according to your monthly income and the size of your family.
It is one of the plans that meet the requirements for Public Service Loan Forgiveness (PSLF) after 10 years and you remain current on your loan payments.
Revised Pay as You Earn (REPAYE)
This method falls under the four IDR plans available, it is one of the newest considering it has been in effect since 2015, and it has the mission to help student loan borrowers have better management of their debts. Like the previous two, with pay-as-you-earn, the monthly amount is 10% of your discretionary income.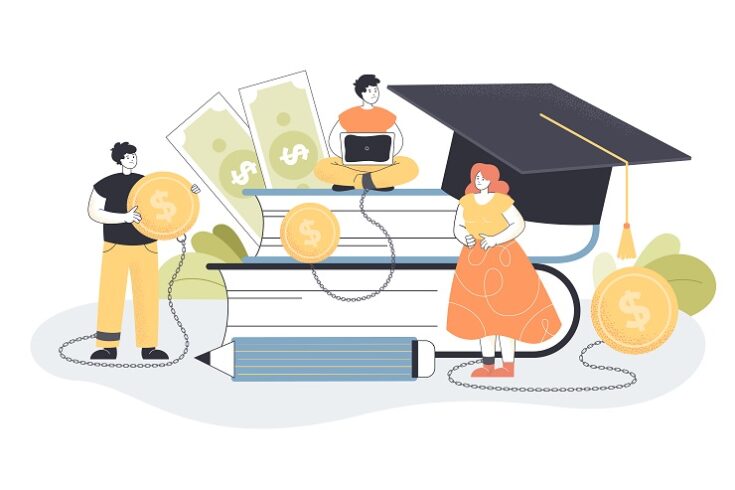 It is the ideal alternative if you have a modest income, it is also good if you don't mind if the monthly payment is higher than what you would have with a standard repayment plan.
If you are part of those who have a considerable loan, you can have some interest subsidized by the government to prevent it from accumulating in your monthly bills.
How do I know if I am eligible for PSLF?
You must meet certain requirements to be part of the Public Service Loan Forgiveness program, not everyone with a student loan is eligible. Some conditions are:
Have full-time employment with one of the qualified employers. You can find out which employers are eligible through Federal Student Aid's online site
Have a direct loan. Only loans applied for under the Direct Loan program apply. If you have a Federal Perkins loan, private student loan, or FFEL loan, you are not eligible
Be part of a qualified repayment plan as listed above. In addition, you must meet all installments within the specified time frame to avoid late or missed payments
You must have made all 120 qualifying payments that meet the 10-year time limit while working for one of the qualified employers. Therefore, it is advisable to know the options of employers before applying for the student loan
How to choose the most suitable repayment plan?
If you want to be part of the PSLF it is necessary to decide on any of the payment plans mentioned above, as you could evaluate, it is one of the eligibility requirements.
Now, the most suitable one for you depends on several factors. To begin with, the monthly amount you can afford to pay on the loan during the 10 years.
The ideal is any of the plans that adjust to your monthly earnings, although you should request all the precise information so that you know the pros and cons that you will have. In any case, you must make sure you have the necessary money monthly to avoid defaulting on the payments.
If you have any doubts, you can ask for advice from an agent specializing in student loans; they will be the best guide you will have and will be able to evaluate your situation so that you get the one that best suits your needs.
In these cases, it is essential to have all the necessary knowledge about the loan you will have and the amounts to be paid.
References