In today's world of finance, there are a series of procedures and issues that we must be aware of to know how to handle and comply with them to the letter. At this point, we refer to ACH transfers, which are widely used and represent an important procedure in banks.
Nowadays, it is not only essential to know about bank jobs, banks that allow instant overdrafts, or which banks cash checks. Undoubtedly, ACH transfers are also essential.
These transfers occur when they are made from one bank to another through the automated clearinghouse network. This is their security underpinning, and they include a vast array of user options.
What options can I pay with an ACH transfer, and what types are there?
These are used from one bank to another and are used to proceed to pay between people, pay for a service, bills, or deposits to employees of a company. Many applications related to storing or handling money, such as PayPal, Zelle, and Venmo, use this ACH system in their operations manual.
In this type of transfer, there are two very common procedures, one of them is the ACH credit transfer, which refers to sending money to a relative, friend, or acquaintance from another bank.
In ACH debit transfers, the money is automatically withdrawn for a recurring debt or bill to pay; this is done because it is frequent, and it is not necessary that one enters to make a management.
Which banks allow these ACH transfers?
ACH transfers can be made at most banks in the United States, including the following:
JP Morgan
Bank of America
Citigroup
Capital One
Being this service network widely used and with a speed of operation that depends on each particular bank and the commercial group NAACH (also known as the National Association of Automated Clearing Houses). NAACH rules guarantee that banks can execute payments the same day they are sent; this will depend on the service provided by each institution.
Do these ACH transfers cost anything?
This depends on the type of transfer, whether it is a credit or debit transfer. For credit ACH transfers, some banks may charge a fee ranging from $2 to $3, but they are usually free of charge.
As for ACH to debit transfers, these are entirely free of charge and are made in massive amounts for payroll payments in companies or discounts of monthly payments.
Regarding the applications that are related to the use of money such as Paypal and others related, here there is always a small commission system, as they are applications that seek an external income and to maintain themselves.
Differences between normal transfers and ACH
There are several differences in the case of these ACH transfers with the normal ones. Normal transfers between banks being carried out immediately, for example. Many times, the ACH transfers take days. Depending on the magnitude requested and the time required, each bank works differently on these objectives.
| | |
| --- | --- |
| Normal transfers | ACH transfers |
| Immediate transfers. | Transfers take a few days. |
| Domestic transfers are usually more expensive. | Transfers are cheaper. |
| Allow payments abroad. | Does not allow foreign payments. |
| Allow payments with Zelle. | Allow payments with Zelle. |
ACH transactions are usually less expensive than a domestic wire transfer; in addition, regular banks allow you to make payments or transfers abroad, which ACH transactions do not fully comply with.
Some banks offer the option of making these operations faster, and there are applications such as Zelle that allow these ACH transactions to be immediate because they first send the money to the recipient and in a matter of minutes it is deducted, without any commission if they are under an RTP network.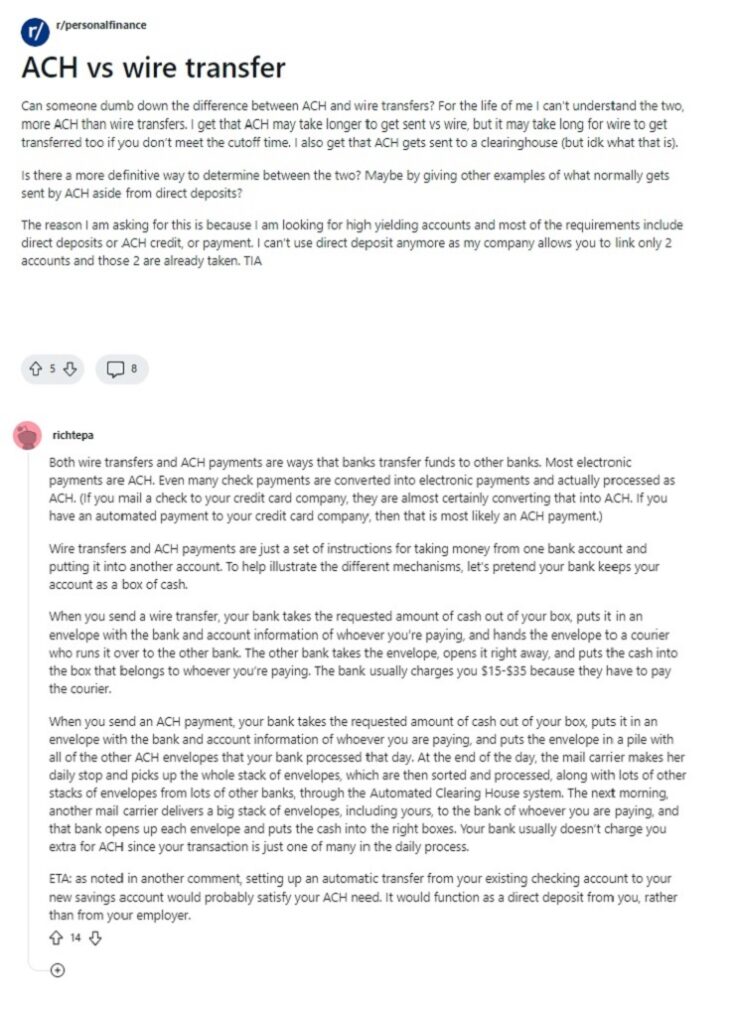 This RTP network is a real-time system used by certain banks to perform their operations. This system is run by Zelle which does not charge fees in some banks, in others a percentage may be deducted.
ACH Transfer Considerations
In this type of transaction, there are different considerations that we must consider if we wish to proceed, each bank itself has its own established policy regarding the amount limits.
Normally, these transfers operate under certain amounts allowed and regulated by the bank in question. Likewise, the hours of payment or making transfers is an important point to consider.
For example, from Monday to Friday in most of the banks, this management will not have any problem, but if we refer to holidays or Sundays, the transfer will be effective one working day later.
Many times, you must manage the time to do this and consider the available days to come. As for the funds, we must review this clearly; without money, you cannot make a discount or ACH transfer to another bank.
Sadly, you cannot make ACH transfers abroad. This type of operation is only done in these cases with U.S. banks, it is unlikely that foreign banks enter into this activity, and if they do, the commission could be huge.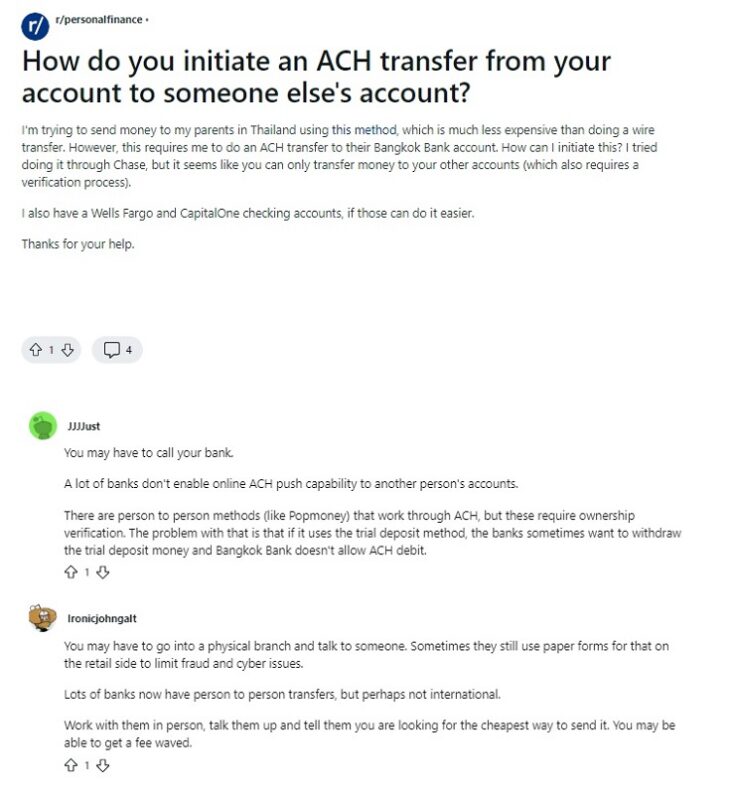 If we discuss the use of these transfers in savings accounts, there is no established limit; but we must consider the amounts to be treated, that these do not exceed the allowed amounts in a range of transfers made.
These transfers can also be assisted by calling your bank's customer service, but it would be better to do them online because many times these entities charge a percentage for the required assistance.
Future improvements
ACH transfers are increasingly used and required in the U.S., which is why in March of this year the NAACH network increased the limit of transitions from $100,000 to $1,000,000 for this year and the next.
These measures are expected to be much more optimized in terms of time to receive the payment, and the US Federal Reserve announced that by 2023 more options related to ACH transfers will be put in place.
A measure that benefits banks that have these transfers in process, for individuals who will be able to use them in a more feasible way, and for companies that cancel their payroll workers with this type of function or transaction.
References