With many options available, it can be challenging to determine which credit card is the best fit for your particular financial situation. However, reputable financial institutions such as Citibank employ pre-qualification as a valuable tool to simplify this process. In banking, pre-qualification is a critical link between preliminary interest and final commitment.
Pre-qualification gives individuals a snapshot of their potential financial prospects without requiring a formal commitment or affecting their credit score. This process allows you to assess your eligibility for various financial products, streamlining the decision-making process. By taking advantage of pre-qualification, you can effectively narrow down your options, focusing on the products that fit your financial profile and needs.
What does "pre-qualification" mean?
When someone wants to apply for a credit card, debit card, or loan, among other financial products, their creditworthiness must first be assessed. This initial evaluation is called pre-qualification.
During pre-qualification, the bank will review the applicant's financial information, such as income, debt, and credit history. Unlike a hard credit check, this evaluation does not affect the applicant's credit score.
After pre-qualification, the applicant will receive an estimate of the loan amount or credit limit that can be approved. If you decide to move forward, you must submit a formal application. The bank will conduct a more thorough review, including a credit check, before making a final decision.
IMPORTANT: Pre-qualification is not a guarantee of approval, but it can give potential borrowers a clearer idea of what they might get.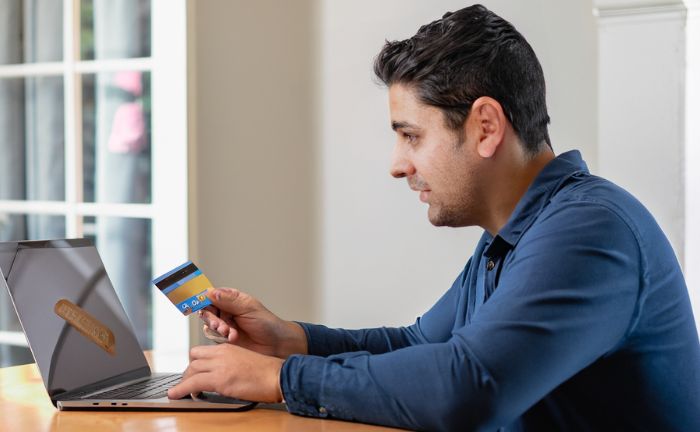 How Can I Apply for A Credit Card: Application Process
Applying for a Citibank credit card involves several steps that we will mention next. Still, first, you must know that you can (must) contact Citibank customer service if you have any questions or need assistance during the application process.
Before you begin the application process, checking your credit score is wise. This is because each credit card has different minimum requirements, and knowing your credit score can help you determine which types of cards you're eligible for. If it offers this service, you may want to check your credit score online or through your local financial institution.
Once you know your credit score, you can decide which Citibank credit card is right for you. Citibank offers a variety of credit cards, each with different features and benefits. Some cards reward certain purchases, while others may provide low-interest rates or other perks. Consider your spending habits and financial goals when choosing a card.
Citibank allows you to check to see if you are pre-approved for a credit card. Citi Pre-approval can give you an idea of your eligibility and help you decide which specific card to apply for.
Before applying, ensure all the required documents are ready. This usually includes financial documentation such as proof of income, identification verification such as your social security number or ITIN, and proof of age. Having these documents prepared in advance can help streamline the application process.
Read and understand the terms and conditions of the credit card application. This includes knowing the interest rates, repayment terms, and what happens if payments are missed.
Finally, Citibank offers multiple options for applying for a credit card. You can apply online through the Citibank website, over the phone by calling the Citibank consumer helpline at (800) 347-4934, or by visiting your nearest Citibank branch.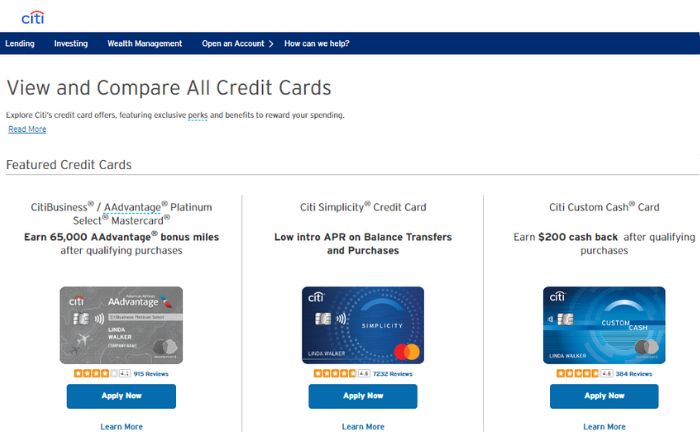 After you are approved for a credit card, compare offers to find the best option for your financial needs. When you compare cards, consider factors such as interest rate, annual fee, rewards program, and other features.
REMEMBER: Applying for a credit card is a big financial responsibility, so choose the card that best meets your needs.
Requirements to prequalify for a Citibank card
Applicants must meet specific criteria to obtain a Citi credit card in the United States. Here are some standard requirements to pre-qualify for a Citi card.
Applicants must be U.S. residents and U.S. citizens.
You will be asked to provide your Social Security number or another form of identification to verify your identity, like ID, passport, or driver's license.
Applicants must be at least 18 years old, although sometimes the minimum age requirement might be 21.
Generally, a minimum annual income is required to qualify for a Citi credit card. The exact amount varies by card and whether you're applying for the first time. For example, an annual income of at least PHP180,000 or PHP250,000 is required for first-time applicants.
Have a good credit score, which is, in the Citibank case, +700.
These general requirements may vary depending on the specific credit card type. Each card has its own rules, conditions, and eligibility criteria set by the bank. Therefore, it's essential to consider these factors when considering pre-qualification.
How Does Credit Card Pre-approval Work?
Credit card pre-approval operates through a systematic evaluation by the credit card company or lender. They initiate an initial review of your credit profile and financial information to assess whether you meet their specific criteria for approval. This process typically occurs without your direct involvement and relies on data obtained from credit bureaus and other relevant sources.
If you comply with the requirements set by the credit card company or lender, you may receive a pre-approved offer. This indicates that you are highly likely to be approved if you apply for the credit card. During the pre-approval process, the credit card company or lender examines various aspects of your creditworthiness, such as your credit score, payment history, income, and debt-to-income ratio.
They use this information to assess your ability to manage credit responsibly and determine the risk associated with extending credit to you.
REMEMBER: The final approval decision will be based on a more thorough evaluation conducted by the lender.
References