Have you ever wondered what it's like to work at Grubhub? Are you interested in working with the company, but as something other than a delivery driver? We have good news for you, because Grubhub offers various job vacancies to which you can apply, including one for customer care.
If you think it's a good idea to look for a Grubhub customer service job, you should first know the company's policies to give your best when you are interviewed.
What is Grubhub, and how does it work?
In recent years, fast food delivery companies have become a great ally for restaurants, as they can access delivery drivers easily and in a matter of minutes to the satisfaction of their diners.
Currently, one of the best apps for ordering food is Grubhub, created by the Grubhub Inc. company in Chicago in 2004 which offers jobs not just for delivery drivers but, like any other company, has other jobs available.
Among the jobs offered by Grubhub, we can name Data & Software Engineering, Finance & Analytics, Logistics & Operations, Marketing & Communications, Sales & Account Management, Product/Design, Drivers, and Grubhub customer service jobs.
To join Grubhub, you only have to enter their website or download the app on your smartphone and enjoy the benefits of food delivery from thousands of restaurants, which will deliver your order right to your door.
What should I do if I get a Grubhub customer care job?
If you are interested in working for the company as something other than a delivery person, applying for Grubhub customer support jobs is a great option. This area offers the best user experience and personalized attention to customers, restaurants, and deliveries.
Grubhub's customer service creates bonds between the company and its employees, corporate clients, and users to help and assist them in whatever they need and, thus, satisfy their needs, creating a bond of trust between both parties.
Which positions can I apply to within Grubhub customer care?
The teams that are part of the "Care" department and to which you can apply are:
Customer experience.

Training, processes, and quality.

Project management.

Personnel management.

Outsource partner management.

Front line operations.
Where can I apply for Grubhub customer service jobs?
You can find Grubhub's updated job offers by accessing their official job board at this link.
Why work at Grubhub customer service?
People who apply to work in Grubhub's customer service department can grow within the company and develop their professional careers. In addition, from the official website, they describe themselves as "a team of fun collaborators", which is why they offer an excellent working environment.
On the other hand, inclusion is one of the company's qualities since they hire people from different parts of the world who come to the country with the illusion of achieving a better life and fulfilling the "American dream".
A Grubhub customer service specialist will benefit from being part of a strong community with growth opportunities.
What should I do as a Grubhub customer service employee?
The job of these employees consists, basically, of attending to customers' requests and offering them the best experience so that they use the service again. This attention is personalized and is achieved by offering support through the website, emails, calls, or text messages.
In any case, Grubhub employees often help each other and change their positions to gain experience and help give advice to all users.
How much does a customer service employee earn?
A full-time Grubhub customer service employee earns approximately $14.00 per hour.
What does Grubhub take into account when hiring?
Among the values the company looks for when hiring their employees, we can name the following:
Pride in work

: Personalized service to restaurants, users, and drivers is their main purpose in the company.

Empathy

: Employees work as a team and help each other if one has an inconvenience. It is valued that

Grubhub customer service

can help with whatever is necessary.

Innovation

: The company is always ready to receive new ideas to improve service and solve problems creatively.

Analysis

: Data optimization is one of the main qualities measured when hiring a customer service employee.

Entrepreneurship

: Each employee must have the mentality of a boss, to give the best of themselves and to be able to make decisions as quickly as possible, assuming the risks that may arise.

Fun

: Friendliness is a characteristic of all workers. It is essential to make work as enjoyable as possible in a good environment, where enthusiasm and creativity are the main factors.
Grubhub employees' comments
Many employees leave reviews on websites about their experiences working in other areas the company offers. As you can see in the image below, there are very varied opinions, from people who "would never recommend working in Grubhub Customer Service" to "a "unique opportunity with flexible hours to study and work at the same time".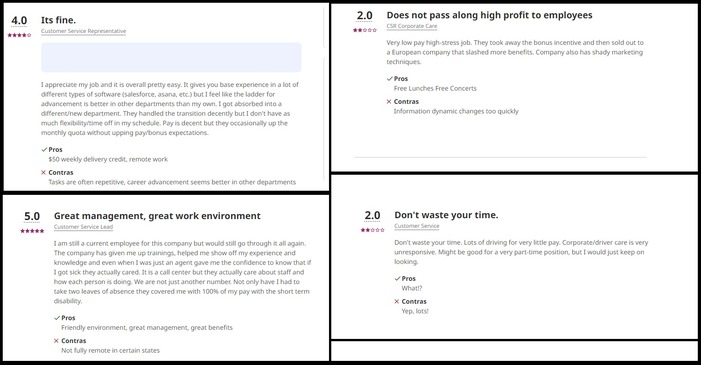 REFERENCES
Was this Content Helpful?