We find Credit Fresh among the different ways to borrow money and existing financial institutions. As Credit Fresh is not a very popular platform currently, we may feel insecure about using it and wonder if it is safe, so today, we have come to answer your questions.
What is Credit Fresh?
Credit Fresh is a website that is associated with different financial institutions. They are responsible for assisting by offering their technology and services to increase product offerings and allow users access to credit.
It is impossible to submit applications for a line of credit through Credit Fresh. However, access varies from state to state.
Should I be concerned about using Credit Fresh?
Credit Fresh is for online use and is easy and reliable. There are no hidden fees, and the payment terms are transparent, so there is nothing to worry about.
Moreover, according to Credit Fresh reviews, this platform is reliable and provides easy access to customer service.
Why should I use Credit Fresh?
The main thing is that Credit Fresh provides you with a great list of benefits. Through them, once you are approved for credit, you can get the funds in your bank account in less than a day, so the funding is very fast and can get you out of trouble.
However, this time may vary according to your bank, but generally, the transaction is very fast.
On the other hand, as mentioned above, Credit Fresh is a transparent platform, so it is safe, and you don't have to worry about fraud or scams.
Finally, as long as you meet your payments on time, you may become eligible to increase your credit limit or reduce your billing cycle.
What do I need to apply for a line of credit at credit fresh?
One of the main requirements is that you must be of legal age. This is a U.S. platform, so you must be a U.S. citizen or a permanent resident. If you are a resident, you must submit a bill that proves your residency, such as a utility bill.
In addition, you must have an active bank account and a steady, reliable source of income. For this, you must show a bank statement or proof of income. You must also provide your ID card or driver's license to prove your identity.
Finally, you will be asked to enter an email address and phone number during the application, so you must have both active.
How does Credit Fresh work?
Credit fresh works through lines of credit. These lines of credit provide you with a certain loan, which you can use as many times as you want as long as you pay them back.
They do not work the same way as the loans we are used to, as these must be repaid on a stipulated date. Whereas with lines of credit, they do not. You don't have a fixed date to repay your debts. You only have to pay a minimum amount at a certain time.
As long as you are not up-to-date with this payment, you will not have credit available and will not be able to continue using them. They are mainly used in case of emergencies.
What else should I know about Credit Fresh?
As your credit line is approved, you will have a limit between $500 and $5,000. This will depend on the requirements you met and your application. However, depending on your payments, the limit may increase.
To obtain credit, you must apply for it. Afterward, you can withdraw it as you wish in single or several transactions.
You will be sent an account statement 14 days before the due date of your debt. This statement will show you the minimum required payment, the date it is due, and your available balance.
How can I apply for a line of credit with Credit Fresh?
First, you must go to the official Credit Fresh website.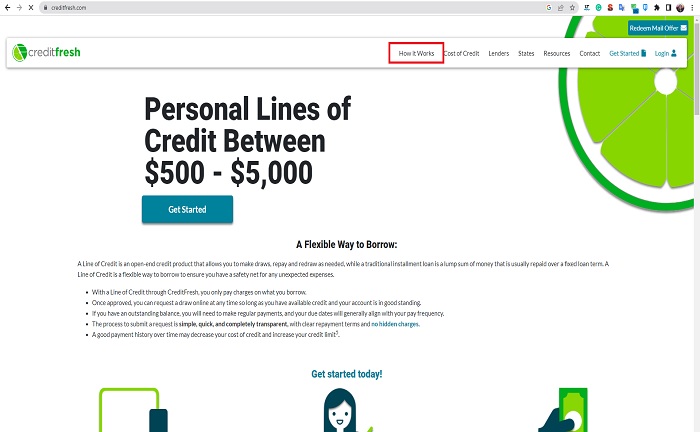 Go to the "How it works" section. Here you will find the option to "Start the process online." Then, select "Apply."
Next, enter your state of residence, followed by your email address. In this section, you can choose the credit limit you want.
Next, create your account by entering a password that meets the requested requirements. Proceed to accept Credit Fresh's terms and conditions.
Finally, enter your personal information, including your first and last name, date of birth, social security number, and phone number.
References
CreditFresh. "Personal Line of Credit, a Financial Safety Net | CreditFresh."

Personal Line of Credit, a Financial Safety Net | CreditFresh

,

https://www.creditfresh.com/.
Was this Content Helpful?