Going bankrupt is one of the worst episodes for anyone. The reality is that everyone can fall to this level. Even when your finances are in the best of shape, they can go down the drain. No one is prepared for losing all their money or assets, and recovering them is an even more complicated job.
One of the reasons that make the road after bankruptcy steep is that banks, institutions, and most people close the doors to borrowing, even buying a car. The reason is simple: whoever is bankrupt cannot pay a debt.
However, some car dealerships work with bankrupt people under specific criteria. Here, we are going to explain more about it.
Bankruptcy car loan officers and loans to obtain a car when bankrupt
Every lender you approach will review your credit history, especially when you have been through bankruptcy. This can be a determining factor in denying you credit or a car loan in some cases. While dealers only need to sell you a car.
Some people sign up with outside lenders, while others hire those that allow them to find a loan while in bankruptcy. Not all car dealers have these alternatives. However, we can help you by showing you three main loan options that benefit bankrupt people.
Credit Union
Banks and financial institutions offer programs called "direct auto loans." These entities work directly with the client and establish specific criteria, some more complicated than others, depending on the corporation.
In the case of a credit union, it is much more complicated to get a loan because the properties belong to the owners. But, if a person has been a member of these organizations for many years, goes bankrupt, and has a good credit history, they may qualify for a loan.
When a car loan is approved directly from a credit union a pre-approval is given, taken to a dealership, and a car can be purchased with the money.
Generally speaking, bankruptcy is of no interest to your dealer because you have pre-approval from a lender who will be responsible for your payments.
Specialty Finance Dealerships
Most dealerships in the United States are allied with outside lenders responsible for guiding customers. Some of these companies have distinct credit facilities called "Special Finance Dealers."
Unlike the traditional lender's job, in these cases, their role is to look beyond the applicant's credit history, especially when they are in bankruptcy.
The dealers that offer this type of resource work like this: they have a financial administrator who is an intermediary between the client and the lender. This person is in charge of evaluating the information collected by the lender, such as credit reports, pay slips, residency, job stability, and more, and securing the down payment.
If the customer qualifies for financing, an agreement is made with the dealer to select a vehicle and finalize the purchase and sale contract.
BHPH Dealers
Also known as "In-House Financing," BHPH dealers are private because they are your lender. Unlike the previous case, under this modality, the dealer is in charge of reviewing the financial conditions of the applicant.
The company reviews the requested documentation because they directly handle car purchases and financing. In general, they do not look at the credit report. Therefore, bankruptcy is not a significant barrier to overcome because they are not using your credit history to determine your ability to obtain a loan.
In-house financing is the most common avenue used by customers to buy a car after bankruptcy. While they don't look at the credit history, and that is quite attractive to the recipient, you need to consider these other trade-offs that come with the package:
BHPH dealers assign higher- than- average interest rates
You may need to make a down payment of 20% of the vehicle's value
Because the credit report is not applicable on loan, this credit will also likely not appear on your history, nor will it be reported to the credit reporting agencies. This means that if the appearance of this credit on the report is essential to you, it is best to check the company's policies before signing
If your bankruptcy did not end well or your credit report does not have good references, this type of financing is your only alternative to buy a car.
How did your bankruptcy end? It's a critical piece to get a loan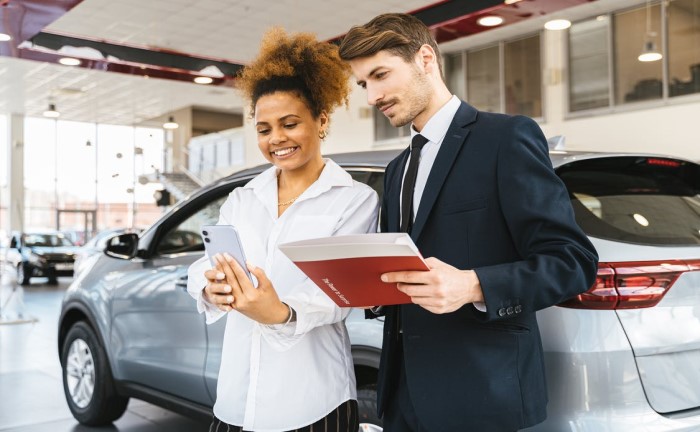 Now that you know the alternatives to get a car, it is also essential to consider how your bankruptcy ended or is going. The answer to this question will determine how difficult it will be for you to get a loan:
Discharged: if everything went as expected and your bankruptcy is paid off, you will have access to the three alternatives provided.

Dismissed with prejudice:

If your bankruptcy was dismissed with prejudice, something went wrong with your default, and you can't work with most lenders. Most likely, you will only have the BHPH dealer alternative.

Dismissed without prejudice: it means there was a clerical error, or you forgot to submit any documents. Ideally, you should resolve this issue before applying for any loans.
Chapter 7 bankruptcy: the best idea is to wait until this chapter is over to apply for a loan. Depending on the case, the waiting time is between four and six months.
Chapter 13 bankruptcy: this chapter takes years, and you can go through different circumstances before ending. You can only do so with court permission to borrow under these conditions. Only subprime auto lenders and BHPH dealers will likely be willing to finance your new car.